Los Feliz homes for sale: Why Los Feliz Is the Ideal Neighborhood for You.
Whether you are a newbie to Los Angeles fresh off the boat or you've lived here for years, you may have your eye on some Los Feliz homes for sale. Los Feliz is a major part of the community nature of this fine city, and thus it's very easy to feel part of a community living and thriving in Los Feliz. It's a neighborhood on the hillside of central LA, and it allows for easy movement and navigation throughout the city with plenty of major highways.
Add in the cultural and ethnic depth of the region, to and it's easy to see why everyone would like to move here. Is it for you, though?
Los Feliz, after all, does demand a certain kind of work from the homeowner. It's a part of L.A. that is built upon hard work, community togetherness and an appreciation of working as one for the betterment of the entire community. For that reason, Los Feliz is one of the best places that you can come to for a more satisfying home buying experience on the Eastside of Los Angeles.
With that in mind, then, why should you take a closer look at Los Feliz homes for sale? What makes living in this part of L.A. so great?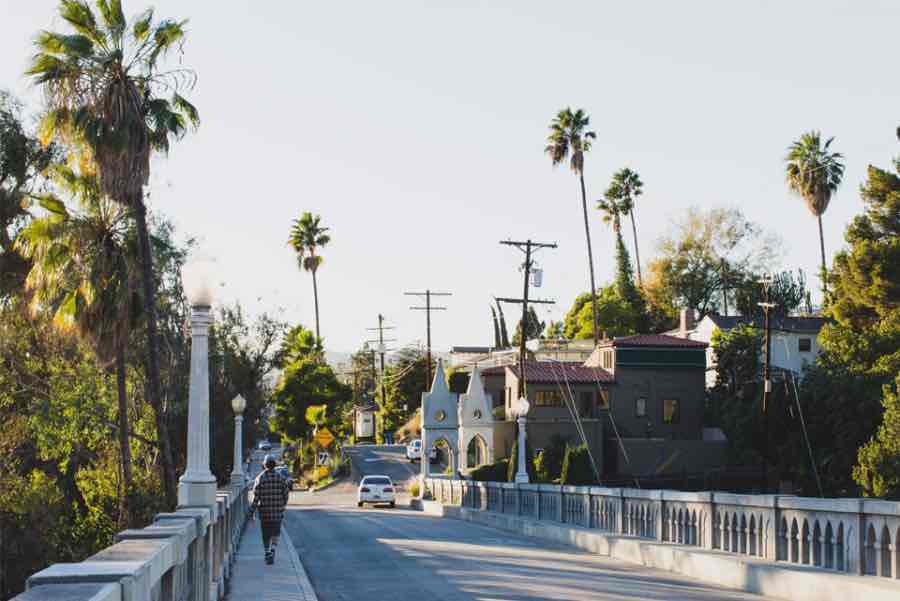 Shakespeare bridge entry to the Franklin Hills in Los Feliz
Los Feliz Homes for Sale: Is Los Feliz Right for You?
If you want to live in a community that is deeply diverse and rooted, then living here is just right for you. The sheer quality, depth, and consistency of the people here make it very easy indeed for you to live here and feel comfortable. Not only that, but you can easily settle into the general community and just feel like you are more part of the experience once and for all. The Los Feliz village is walkable and offers just about anything you could need for a healthy family-oriented lifestyle.
This helps to make sure you can get all the help that you need to really be part of the community, and benefit from taking part in helping others locally, too. Los Feliz thrives on "mom & pop shops" so it's coined one of the part of Los Angeles that makes sure you will feel part of the local community, so if you want to live in a location that's all about that community feeling then living here is for you.
That being said, it's also a location that is welcome to all. Despite the median yearly income is around $150,000, many houses here are run comfortably by people earning less than $90,000 a year. this means that you can see a future for yourself here so long as you are willing to work, support local business and contribute as much as you can to the whole community.
With that in mind, you should hopefully see that Los Feliz is a community for the inspirational progressive generation. You can come here and use the ample opportunity to help make a future for yourself, or you can use a successful past to set up here and find a community for life tucked away in one of the most desirable and coveted nooks one the Eastside of Los Angeles.
If you are someone who likes community togetherness and working as one, then you might just find that buying a home and living in this amazing part of Los Angeles is something you can get behind.
---
Los Feliz Real Estate | Los Feliz Homes For Sale | Los Feliz Houses For Sale
This article, Los Feliz homes for sale: Why Los Feliz Is the Ideal Neighborhood for You., was provided by Glenn Shelhamer of The Shelhamer Real Estate Group. If you are selling your Los Feliz home, I have a comprehensive marketing plan, including preparing your Los Feliz home properly that will help get your home sold in less time and for more money. Call me at 310-913-9477 or contact me to discuss how I will get your home sold.
For a mortgage, Pre-Approval contact Joe Tishkoff, from Skyline Home Loans
Original Source: SilverLakeBlog.com