Echo Park Houses For Sale

Search Echo Park real estate for sale. Browse photos, see new properties, search for houses, condos, and multi-family properties for sale in Echo Park, Ca 90026 and 90012.
Hello Echo Park CA!
Echo Park is a densely populated neighborhood in the central region of Los Angeles and is typically known as part of the Eastside of LA. Today Echo Park is known for its thrift-stores, The Dodgers, dive bars, and vinyl shops. Echo Park has come a long way from being a gateway to immigrants of the city at the turn of the century; to becoming the foundation of the culturally thriving community in Echo Park. Oh, and let us not forget the beautiful lake, from which the namesake is derived. That use to be a dump (literally) how quickly things are changing in Echo Park, CA.
Echo Park Real Estate: It's all about…Location Location Location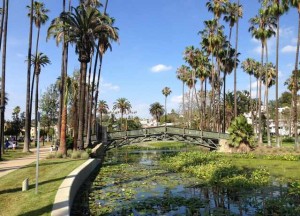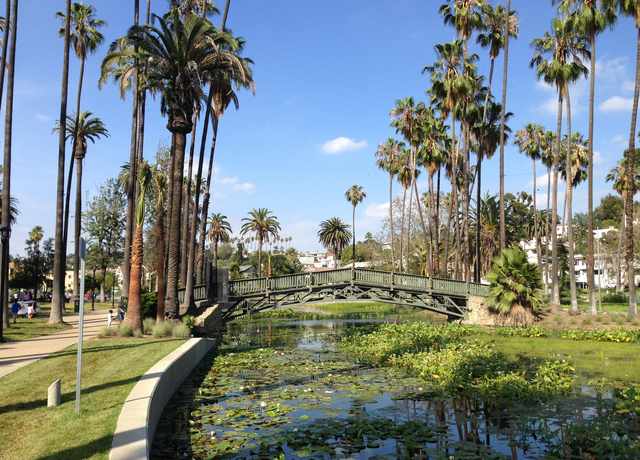 Echo Park and Echo Park Real Estate is flanked by Elysian Valley to the north and northeast, Elysian Park to the east, Chinatown and Downtown to the southeast, Westlake to the southwest and west, and Silver Lake to the northwest. Echo Park has no official boundaries or borders. The construction of the 101 freeway and the 2 Freeway also cut off a large section of the neighborhood on the south and west.
Historically, however, some general boundaries of Echo Park are Benton Way or Waterloo Street, Glendale Blvd., Allesandro St, on the west. The northern boundary is Riverside Drive. The eastern boundary borders with Elysian Park (north of Sunset Blvd), Boylston St. (south of Sunset Blvd.) The southern boundary is Beverly Boulevard.
Main thoroughfares and commercial strips are Sunset Boulevard, Glendale Boulevard, Alvarado Street, and Echo Park Avenue.
Within Echo Park lie some of the most historically and architecturally rich neighborhoods of Angelino Heights, Elysian Heights, Historic Filipinotown, and Victor Heights. While some parts of Echo Park are hilly and sloped, most of the area is bikeable and walk friendly, particularly around Echo Park Lake and the 'downtown' Sunset and Alvarado strips.
Echo Park Community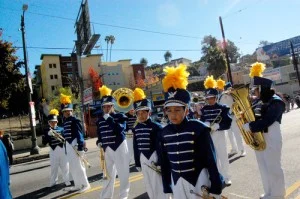 Echo Park, although quickly on the rise as a higher-middle class/wealthy neighborhood, it's still largely working class and a haven for artists (which we appreciate). Echo Park's character has continually evolved for over 120 years into a dynamic blend of cultures, incomes, business activity, and social activism making it a truly unique neighborhood that is cherished by its residents. All this, and its historic architecture and magnificent hills are why more and more people have been moving in. Young professionals and families alike are enjoying the walkability and outdoor amenities, while still having a small community and feel.
Echo Park Community Center
1632 Bellview Avenue
Los Angeles, CA 90026
(213) 689 8822
What started out as a natural arroyo filled with water from a stream is now a remarkable park. The land was donated to the city for use as a public park in 1891, and Joseph Henry Tomlinson designed the park based on a garden in England. The park is 26 acres and has a lake with paddle-boats for hourly rental, and has become a weekend magnet for Echo Park residents and travels.
Echo Park Schools
Berkeley Ave Children's Center
1814 Berkeley Ave.
Los Angeles, CA 90026
(213) 413-6655
Golden West Christian School
1310 Liberty St.
Los Angeles, CA 90026
(213) 413-6272
Logan Street Elementary School
1711 Montana St.
Los Angeles, CA 90026
(213) 413-6353
Schools in and around Echo Park from GreatSchools.org
Echo Park Art and Shopping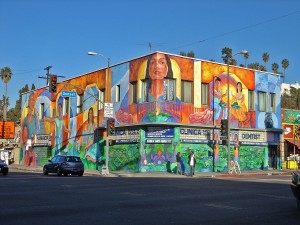 The commercial strips of Echo Park are filled with trendy cafes, boutiques, restaurants, and bars providing a lifestyle that is an extension of its neighbor Silver Lake. There is a DIY sense of attitude and appreciation for diversity. Sunset Boulevard, both north, and south of Alvarado, the downtown corridor of the community and is lined with a range of vintage stores, record shops, Mexican bakeries, 99 cent stores, laundromats, and mom and pop fashion shops. Echo Park is home to the annual Lotus Festival, the Cuban Festival, and historic Filipinotown.
The past few years have seen more art spaces and galleries hosting local artist exhibits, performance art, and music events. Spaces such as Subliminal Projects and Echoes Under Sunset are intimate venues showcasing multi media, contemporary, street art, or an impromptu DJ set. You might also pop into one of the many bookstores for a poetry reading or performance art night.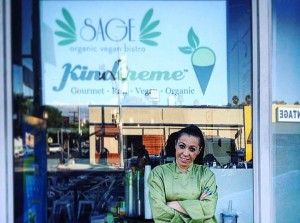 1700 Sunset Blvd, Los Angeles, CA 90026
(213) 989-1718
If you're in the mood for hipster watching and swanky vegan and raw dishes you've come to the right spot. Sage Vegan Bistro is a funky neighborhood restaurant that promises to deliver tasteful delights and plenty of eye candy…But don't take my word for it. Read the article with the owner/chef here at silverLakeBlog.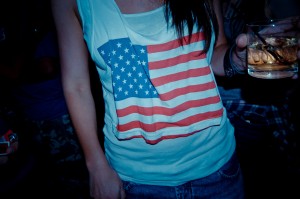 The Short Stop | Echo Park
1455 W Sunset Blvd
Los Angeles, CA 90026
(213) 482-4942
You can't visit Echo Park without dropping in for a drink at a dive bar. The Short Stop has a dance floor, pool table, video games, jukebox, and a photo booth–everything that spells success for a dive bar including cheap drinks and sketchy service.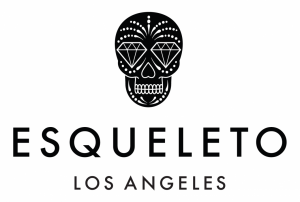 1298 Sunset Blvd, Los Angeles, CA 90026
(213) 947-3508
Feeling like buying a little jewelry? Lauren Wolf designer and owners of Esqueleto has planted herself a second flagship boutique on Sunset Blvd in Echo Park. Stroll in and check out her eclectic mix of stones and gems fit for a king or queen. The little shop also features up and coming designers from around the globe. Read more on Esqueleto in our exclusive interview with Lauren Wolf here at SilverLakeBlog.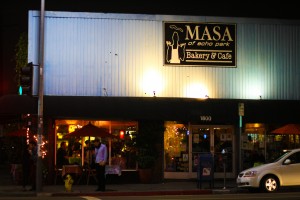 Masa | Echo Park
1800 W Sunset Blvd
Los Angeles, CA 90026
(213) 989-1558
Displaced Chicagoans and those who simply love Chicago style pizza run to this Echo Park restaurant that makes authentic deep dish pizza, yes, in Southern California! All of their "masa" (dough) is daily backed in their bakery, and their sauces and dressings are all made from scratch, as well. Masa uses only organic, local produce, along with "imported" Chicago favorites like Scala's Authentic Hot Giardiniera among other ingredients. If you want some real Chicago-style Italian food without getting out of town, head over to Masa.
Echo Park Nightlife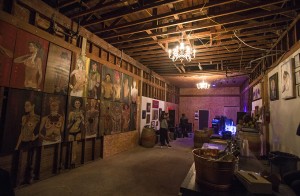 Echo Park has become the 'it' place to hang out and there's no need to wait for the weekend. Music venues and bars throughout the neighborhood host nightly game nights and live shows. One of the most popular performance spaces is the Echoplex, which was invaded for a surprise performance a few years ago by – ready for this – The Rolling Stones. Now that's next level shit. Party on a Tuesday night? Why not. Head to the Short Stop for some serious dancing and stiff drinks.
If you're just getting out of a Dodger game and want to celebrate the win, head to any of the cool dive bars or old school eateries and toast to the best baseball team ever (GO BLUE!).
If you're more about food than drink, you've come to the right place. Echo Park has become a foodie destination dining scene mixes neighborhood staples with neighborhood newcomers. Culinary gems such as the uber-hipster Sage and Mohawk Bend mix with some of the best taco trucks in the city.
Live Music | Echo Park
There are plenty of live music events happening every week in Echo Park. Take your pick from music venues like Spaceland (in nearby Silver Lake), The Echo, and Echoplex. They're all unique and serve up a memorable night on the town.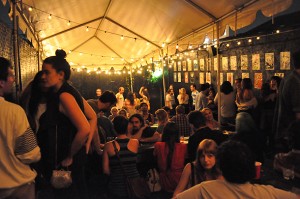 The Echo | Echo Park
1822 W Sunset Blvd
Los Angeles, CA 90026
(213) 413-8200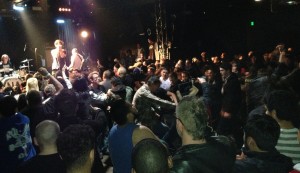 Echoplex | Echo Park
1154 Glendale Blvd
Los Angeles, CA 90026
(213) 413-8200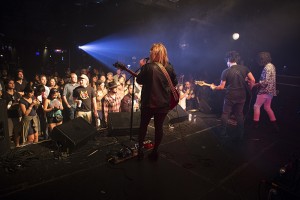 Spaceland | Echo Park
1717 Silver Lake Blvd
Los Angeles, CA 90026
(323) 661-4380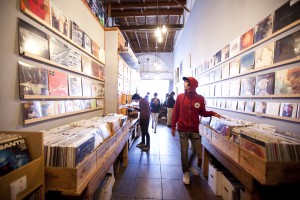 Origami Vinyl | Echo Park
1816 W Sunset Blvd
Los Angeles, CA 90026
(213) 413-3030
With more sounds going digital every day, it's nice to support the local Echo Park vinyl record shops that are popping up around L.A. Along with Vacation Vinyl in Los Feliz, Origami Vinyl is a very welcomed addition to the east side of Los Angeles. Their record selection is impressive with new and hard to find indie rock albums along with some hip-hop, rock, and reissues. They also have live in-store performances that are hard to beat. Drop in and say hello.
Echo Park Architecture and Echo Park Real Estate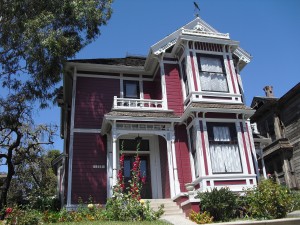 Echo Park is home to some of the last remaining and most well-preserved architecture in all of the city, most notable Angelino Heights contains some of the best remaining examples of Victorian architectural styles in Los Angeles, as well as later examples of Craftsman and Mission Revival styles. Angeleno Heights was the first neighborhood in Los Angeles to be adopted as a Historical Preservation Overlay Zone. The 1300 block of Carroll Avenue, which is listed on the National Register of Historic Places, is a site to see. The meticulously restored manors along this street draw camera-toting visitors and film crews on a regular basis.
The wooded hills at the north end of Echo Park is a residential area known as Elysian Heights. The area has breathtaking views and feels like the city is a hundred miles away. Historically home to artists, political radicals, architects and filmmakers, the homes are just as eclectic, yet still bohemian in their own right.
The thing that draws a new generation of bohemians with Eastside dreams to Echo Park is the abundance of charming craftsman homes and their prices. The area is populated primarily with modest sized homes and a good bang for the buck can still be had here, although the demand has been growing steadily.
Echo Park Real Estate value has been on the steady rise since the early 2000's and following the Great Recession. The inflow and push of young executives, artist, and tech-minded entrepreneurs have given way for new business and Echo Park Real Estate development. The neighborhood has lately seen a major facelift and revitalization both commercially and residentially. Never in Echo Park, Real Estate's history has there been such expansion and economic growth making Echo Park the perfect neighborhood to call home.
Echo Park Historical Fun Facts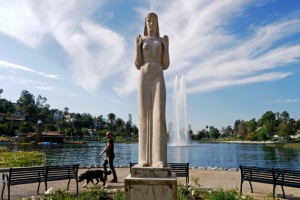 At the end of the 19th century, a horse-drawn trolley rambled up a dirt road that is now Echo Park Avenue, which led into hills covered with fields of native grasses and wild flowers. If one person could be called a founder, it would be Thomas Kelley, the carriage maker turned real estate developer.
Kelley and his business partners sold off pieces of what they called the Montana Tract to individuals who built the business district along Sunset Boulevard and the densely packed homes and apartments that surround Echo Park Lake. Legend says the lake, which is actually a man-made reservoir, got its name after workers building the original reservoir said their voices echoed off the canyon walls. The "Lady of the Lake" statue was not added as a feature until years later. Enclaves of rich neighborhoods began poping up, eventually becoming the prestigious Elysian Heights and Angelino Heights areas for upper-middle class Victorian –era Los Angeles from the late 1800s.
Recently a plaque honoring film industry pioneer Mack Sennett which states 'THIS IS THE BIRTHPLACE OF MOTION PICTURE COMEDY' was restored and placed in its proper location, along with Glendale Boulevard near Aaron Street in Echo Park. This was the first true site of Sennett's sound stages, almost 100 years ago, and one could say what put Echo Park on the map, the movie industry! Similar to adjacent Silver Lake, the area thrived as part of the Edendale movie magic and its proximity to the downtown. Several silent comedies were filmed here as were several Laurel and Hardy, Charlie Chaplin, Our Gang, Ben Turpin, Roscoe "Fatty" Arbuckle, Charley Chase, Chester Conklin, and Three Stooges shorts.
As many middle-class white residents relocated to the suburbs after World War II, Mexican Americans moved into the area's affordable homes, becoming Echo Park's majority, along with smaller populations of Chinese, Filipino, and Southeast Asian immigrants. During this era, the neighborhood was shaped by the diverse and colorful artists, musicians, and intellectuals. Years later, the neighborhood was affected by the evictions at Chavez Ravine and the division of the barrios by freeway construction. An area that underwent years of racial hostility towards Mexicans in the low-income neighborhood, Mexican American youths part of the zoot suit riot culture, and later gang periods of the 1970s and 1980s, Echo Park has had its share of violent periods.
Today, however, Echo Park has stayed strong in its culturally rich foundation and is safe for the most part, although you might not want to take a late night stroll on some streets. There is still plenty of movie making magic happening here too, and street & music festivals happen a few times a year. Although Echo Park has changed dramatically over the past century, it has managed to retain the historic character and strong sense of identity that sets it apart in a modern and sprawling metropolis.