In this article, How to get a home mortgage loan with bad credit – 2018, you will learn about bad credit home loan programs and how to get approved despite having imperfect credit.
This real estate loan article is a quick 6-minute read that's well worth it. Here we go!
So you're interested in buying a new home because you're tired of paying your landlord's mortgage, or your lifestyle has changed, or maybe you have a few extra bucks?
As a Realtor and real estate investment professional in single family homes and multi-family properties, I have earned a great deal of appreciation and money in real estate investments and I can help educate you to do the same. You can call me at 310-913-9477 or click here.
It's important for you as a potential home buyer to understand your credit score and how that affects your home buying power. You'll also want to make sure you're working with the correct loan officer, direct lender, or mortgage broker especially if you have bad credit.
Let's assume your credit is bad which is why you stumbled upon this blog post. If that's the case, getting approved for a home loan will not be a simple or easy task. You'll need to work with a skilled home mortgage lender who understands how to help you get preapproved for a home loan. There are several loan programs floating around out there that may be perfect for your unique situation, but it's critical you work with the correct person. For example, FHA loans allow borrowers to have just a 500 credit score or higher to qualify.
Traditionally, to qualify for an FHA home loan you'd need at least a credit score between 620 and 640. This line in the sand the banks drew makes it virtually impossible for most prospective home buyers with low or bad credit to make it successfully through the underwriting process and become pre-approved for a home loan. But have no fear! The rules have changed. Enter the new FHA Mortgage, you have the option of a 15 or 30-year fixed-rate mortgage or adjustable rate mortgage. The term "loans for bad credit" often translates to an FHA mortgage loan. Lucky for you and lots of other folks you no longer need to have a minimum 620 credit score to be approved for a home loan. FHA home loans allow for bad credit in the 500's with 10% down and 3.5% down with a minimum of 580 scores. There is hope for you!
It's not a complete walk in the park to get the loan you want. If you have poor or bad credit you'll need to jump through a few hoops. Maybe your lender will require you to write a financial hardship letter explaining why you fell behind on your bills or stopped paying those student loans altogether. Usually, if you have bad credit you'll also go through a manual underwriting process which is good because it will increase your chances of getting approved for the loan you want.
Okay, are you ready for the fine print? Our very good friends at the FHA granting loans also allow gift funds for the down payment. 100% of the down payment can be a gift from a friend or family member. How do you like them apples?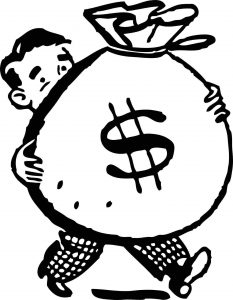 Where to find the best bad credit lenders?
Each home loan lender draws a line in the sand for their own credit score and other subject guidelines. Quick rule of thumb for credit scoring: FICO, the credit scoring company used by mortgage lenders, grades your credit score ranging from 300-850. 720 and higher = very good 680 to 719 = good 640 to 679 = fair 580 to 639 = poor 579 or lower = bad
Joe Tishkoff from Skyline Home Loans has been a mortgage broker for over 30 years successfully helping people from all walks of life get approved for the home loan they want. He can get the deal done. Give Joe a call. His office line is 818-995-1700 and the direct number is 818-370-8302.
At the end of the day, you should do everything you can to get your credit score higher to better your odds of getting a home loan. Joe will tell you to focus on paying off outstanding credit card debt, debt consolidation programs, or doubling down on your monthly payments.
I hope you found this article useful and feel free to reach out to me anytime you have a question about the current real estate market or if you need a skilled mortgage broker referral I work with the best for you.
---
Highland Park Homes For Sale | Highland Park Houses For Sale | Highland Park Real Estate
This article, How to get a home mortgage loan with bad credit – 2018, was provided by Glenn Shelhamer of The Shelhamer Real Estate Group. If you are selling your Highland Park home, I have a comprehensive marketing plan, including preparing your Highland Park home properly that will help get your home sold in less time and for more money. Call me at 310-913-9477 or contact me to discuss how I will get your home sold.
Contact Joe Tishkoff, from Skyline Home Loans for a mortgage Pre-Approval.
Original Source: Silverlakeblog.com
©2018 A division of Finance of America Mortgage LLC | Equal Housing Lender | NMLS ID #1071 (www.nmlsconsumeraccess.org) | Mortgage Banker License #0910184 | Licensed by the Department of Business Oversight under the California Residential Mortgage Lending Act