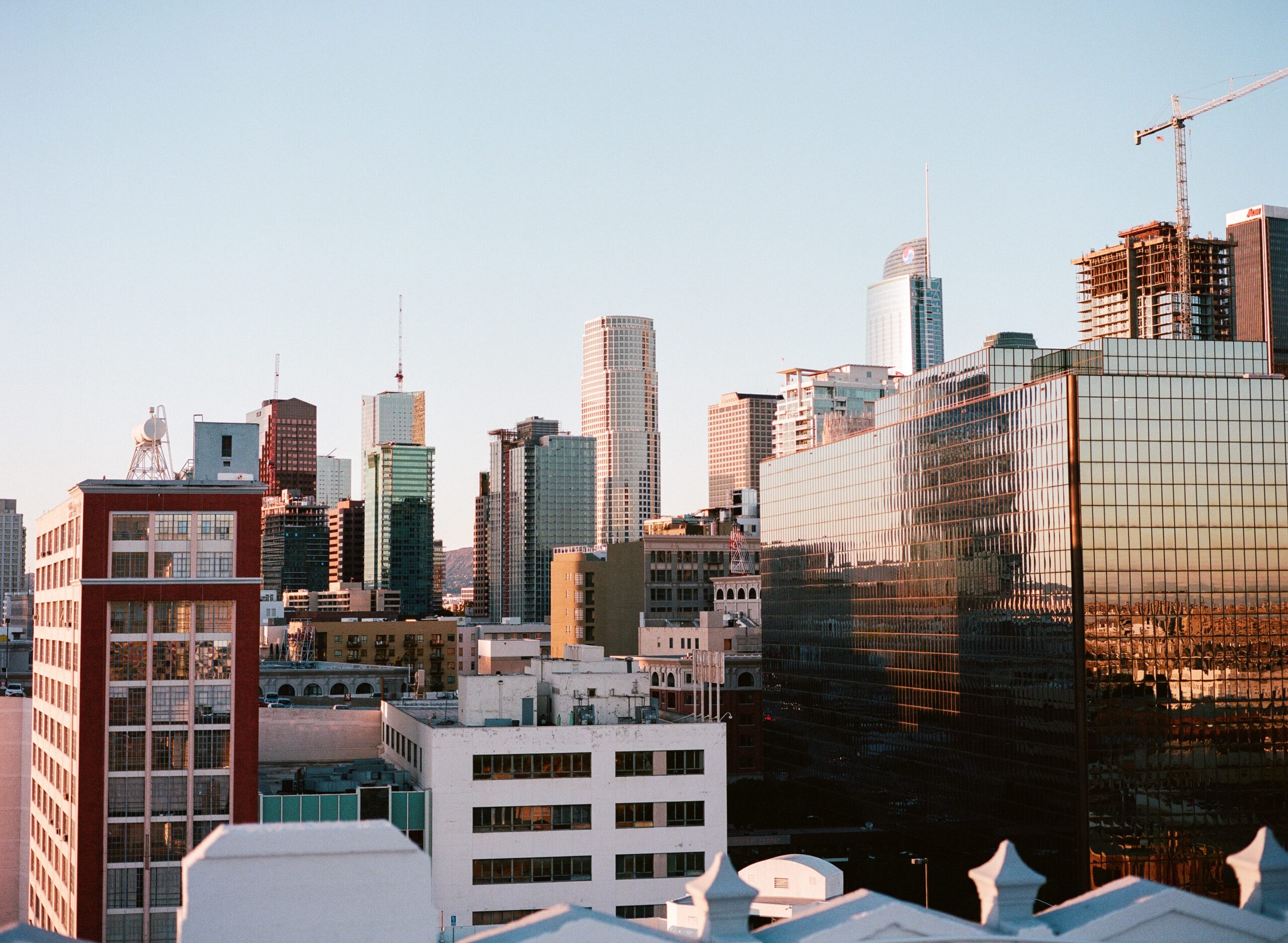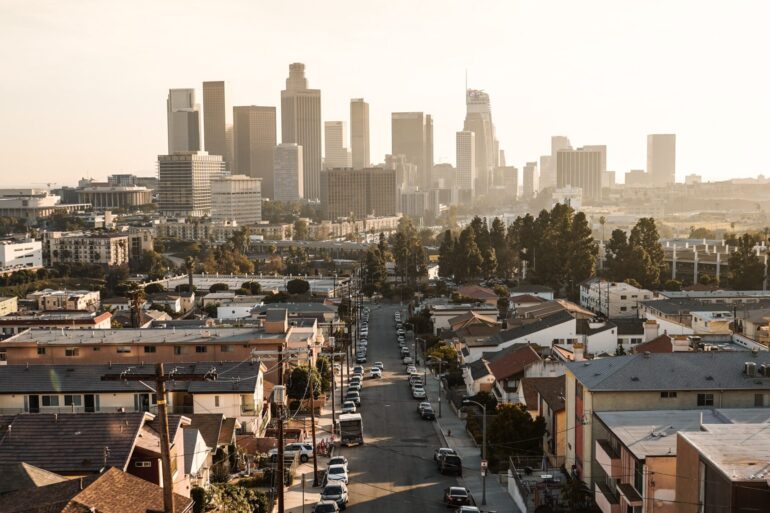 Downtown Los Angeles is ever-changing and ever thriving. Once a ghost town after 5 pm with half-empty office buildings – a place where no one dared walk the streets at night (unless of course, you were up to no good) – Downtown Los Angeles, aka Downtown LA, aka DTLA, has experienced a resurgence in the last few years and is transforming into a world class entertainment center, home to sports venues, award-winning restaurants and bars, hotels, art institutions, and nightlife.
The City is made up of several residential hubs, each with a unique personality, cultural and economic traits.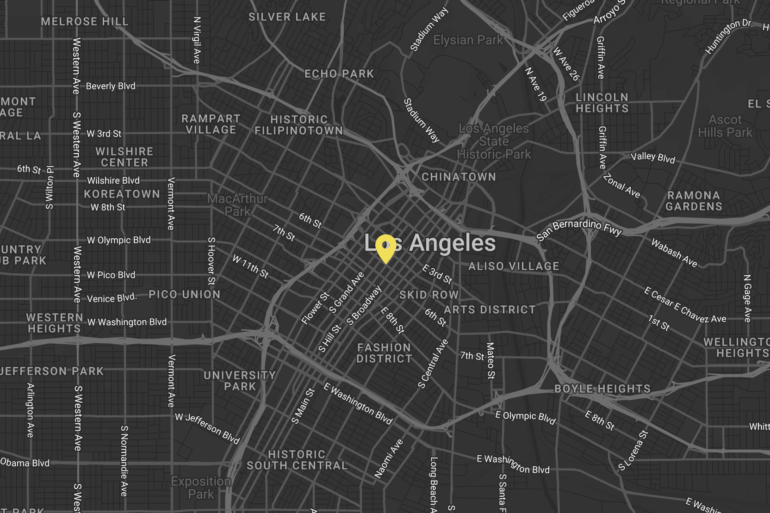 Downtown LA is located in the central region of the County of Los Angeles. The heart of Downtown is surrounded by hard borders of 4 freeways: the Hollywood 101 freeway, the Pasadena 110 freeway, the 10 freeway and the 5 freeway. There are some neighborhoods outside of this center however that are part of downtown as well, including Chinatown to the North, Historic El Pueblo, parts of the Arts District to the North East, and even parts of Boyle Heights to the East.
DTLA is laid out on a grid system, so getting around is fairly easy (not taking into account the one-way directional streets…but that's for another topic) whether in a car, on a bike, or on foot. The eastern edge is also bordered by the channelized Los Angeles River.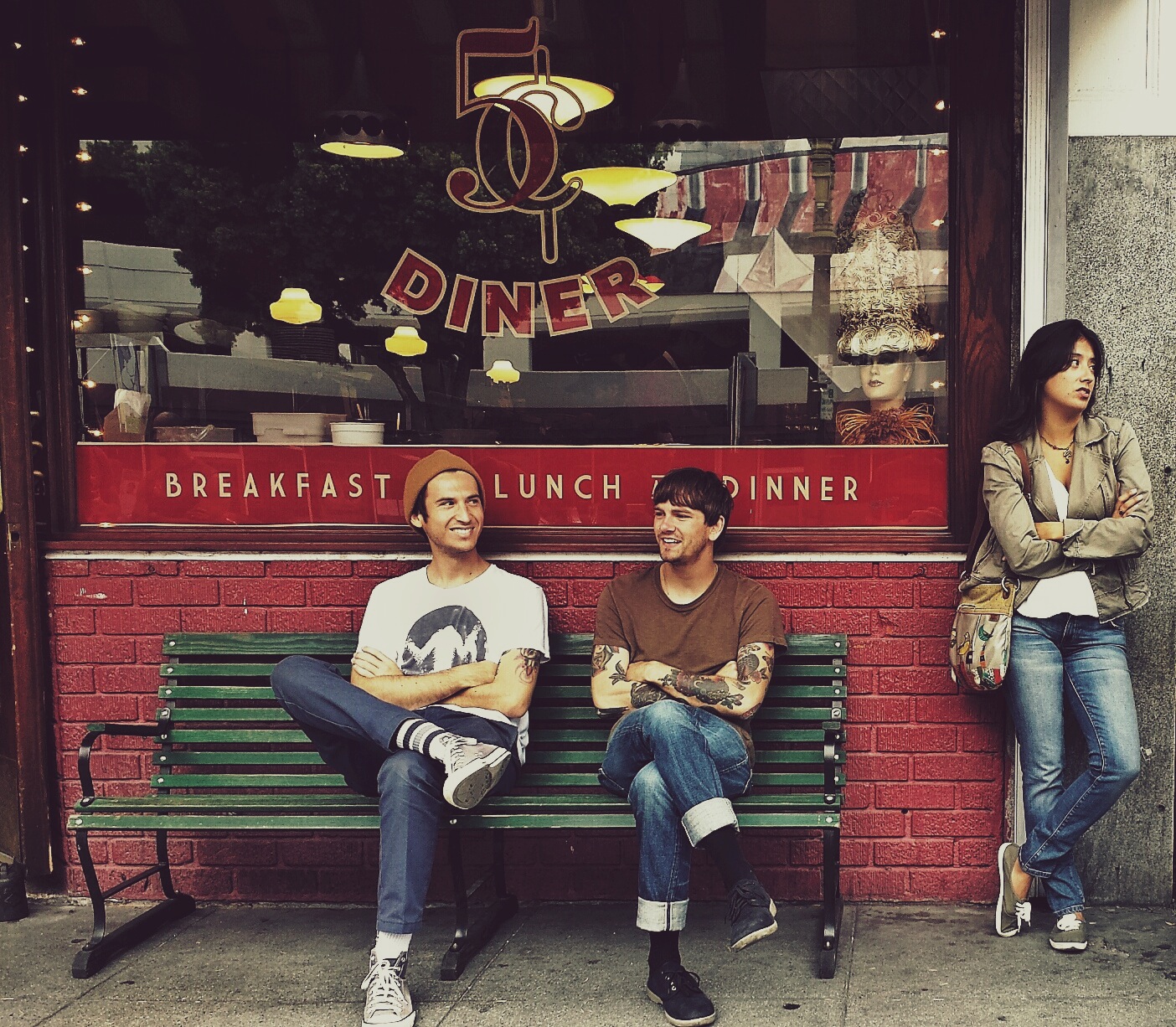 Downtown Los Angeles is made up of ten districts, with a couple of other smaller districts in the mix as well. They include the Arts District, Bunker Hill/Grand Avenue, Chinatown, Financial District, Civic Center, Fashion District, Historic Core, Jewelry District, Little Tokyo, Olvera Street at Historic El Pueblo, and the Wholesale District. Other notable hubs include Gallery Row, Flower District, and the Figueroa Corridor. Each neighborhood has a personality of its own, each unique and buzzing with activity.
The Historic Core was the center of the city before WWII and home to all the major financial institutions and banking centers during the time. During the 1950s it became the center of Latino entertainment and neighboring theaters, such as the Million Dollar Theater, featured the biggest names in the Spanish entertainment world. While many of the older buildings have stores that cater to the Latino immigrants, storefronts are changing along with the fast-changing demographics. The area has quickly become a culinary destination with places like the Grand Central Market and Spring Arcade drawing crowds from across the region. The district boasts architectural gems which have been restored and beautifully kept.
Little Tokyo is one of the last Japantowns in the US and is home to many older Japanese residents as well as a recent influx of young families choosing the loft-style developments that have aggressively been built in the last few years. The area has over 100 authentic Japanese eateries, including bakeries and bars, and is a wonderful place to take a stroll with the family.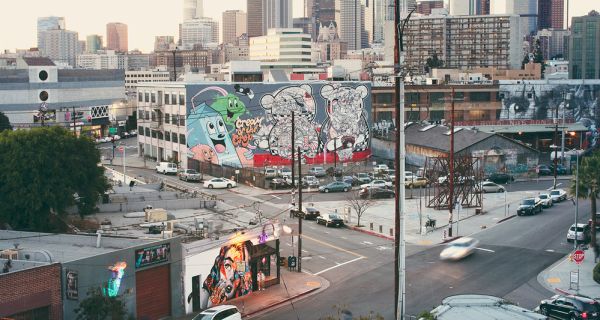 The Arts District is one of the largest districts along the eastern edge of downtown and is home to artists, bohemians, students, writers, filmmakers, and everything in between. From massive new residential developments catering to the design and architectural students to the gritty loft and warehouse spaces occupied by artists (which dub as underground party ragers by night) — to the 5-star restaurants with month long waiting lists, the Arts District is undergoing an exciting transformation.
The Civic Center is possibly the place every single Angelo has visited at least once if you've ever been called to Jury Duty. It's where most city courthouses, municipal services, and where City Hall is located. It is also where one of the city's newest and largest parks is located and has become an outdoor destination for events all year round. The park, Grand Park, is a beautiful connector to the city's music center and opera house located in upper Grand and other financial and art institutions on Bunker Hill.
The Financial District provides the downtown skyline with the tallest buildings and streets in the district bustle with workers every weekday. Recent years have seen many of the once empty office spaces converted into residential lofts and apartments.
With this reuse of buildings have come restaurants and bars at every corner. Pop into any of these hot spots after a long day in the office and expect to be among suit and ties, briefcases, and dirty martinis. Oh, and some of the best happy hours in the city.
South Park is home to LA Live, a music, and entertainment mecca if you will of the city. Once a shady area of downtown, today is a destination locally, regionally, and internationally. Development has been full steam ahead in the past few years and residential towers can be seen going up every few months. A stroll in the area and you'll see manicured lawns, clean sidewalks, and little-to-no graffiti…and as the district with the most expensive price per square footage, you can see why.
Other districts include the Fashion, Flower, and Toy districts, which all flow into one another, and are the commercial and wholesale centers of the city. Whether you're looking to sew your own prom dress, decorate a wedding bouquet, or load your van with toys for a children's birthday party – these districts have got it all at unbeatable prices. Word to the wise: if you're going on a weekend, brace yourself for the crowds. Once you realize you have no clue where you've parked your car, take a deep breath, indulge in the best bacon wrapped hotdog LA has to offer and entertain yourself in some good old people watching.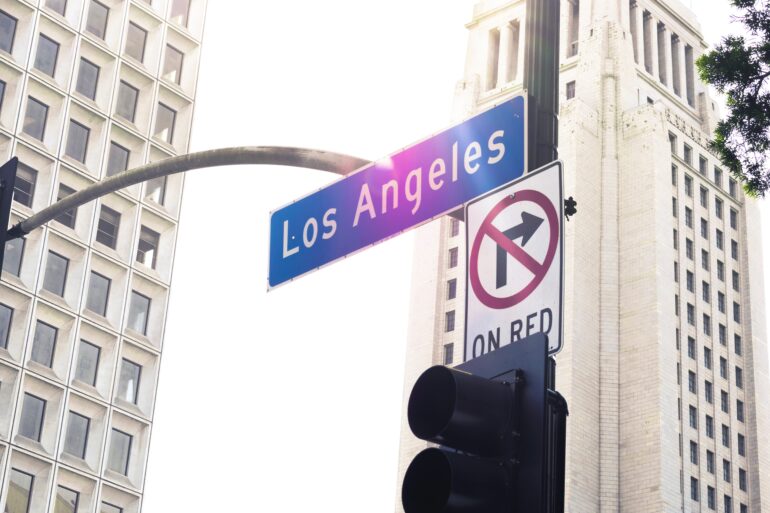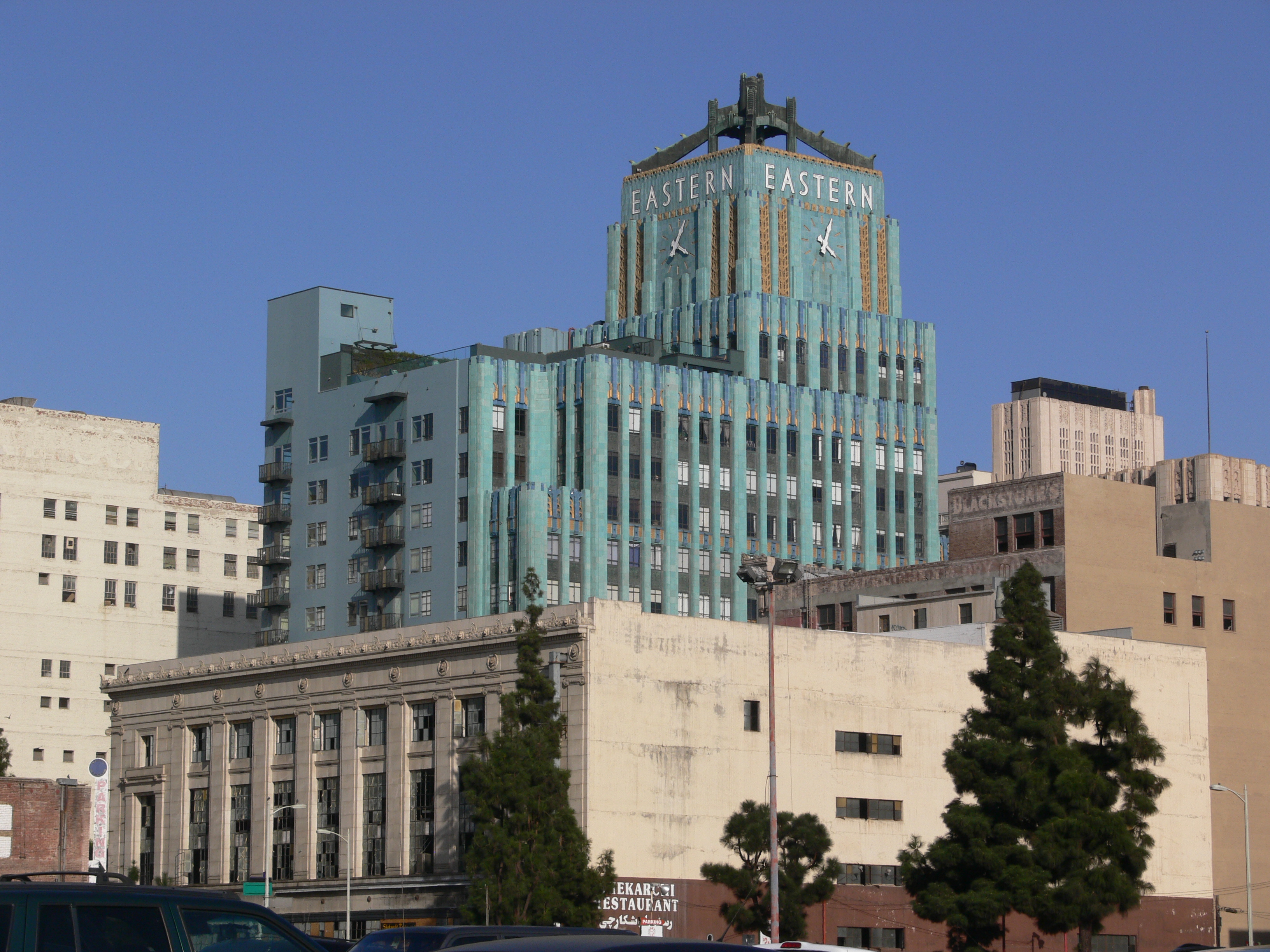 DOWNTOWN LA HISTORICAL FUN FACTS
The earliest settlements in the area of what's now Downtown was by the Tongva, a Native American people. Later European settlements arrived with Spanish missionaries and settlers from Mexico. Land values increased in the 1880s which saw the population of the city explode with infrastructure enhancements and the laying of a street grid.
The 1920s were Downtown's golden age, with private and municipal rail lines connecting four counties and over 1000 km of track, with Downtown Los Angeles at its center.
Downtown LA was also the movie capital, with Broadway being the Hollywood Boulevard of the time. During the early part of the 20th-century banking institutions clustered around South Spring Street, forming a financial district; sometimes referred to as the "Wall Street of the West".
Commercial growth brought with it hotel construction—during this time period several grand hotels, the Alexandria (1906), the Rosslyn (1911), and the Biltmore (1923), were developed—and also the need for venues to entertain the growing population of Los Angeles.
Broadway became the nightlife, shopping, and entertainment district of the city, with over a dozen theater and movie palaces built before 1932. Department stores such as JW Robinson's and Bullock's opened flagship stores here. Union Station opened in May 1939, unifying passenger service among various local, regional and long-distance passenger trains. It was built on a grand scale and would be one of the "last of the Great Railway Stations" built in the United States.
Following World War II, suburbanization, the development of the Los Angeles freeway network, and subsequently, increased automobile ownership led to decreased investment Downtown. Many corporate headquarters slowly dispersed to new suburbs or fell to mergers and acquisitions. The once-wealthy Bunker Hill neighborhood became a haven for low-income renters, and its stately Victorian mansions turned into flophouses. From about 1930 onward, numerous very old and historic buildings in the Plaza area were demolished to make way for street-level parking lots, the high demand for parking making this more profitable than any other option that might have allowed preservation. The 1950s period saw the clearing and upzoning of entire neighborhoods and Angels Flight funicular railway was closed in 1969.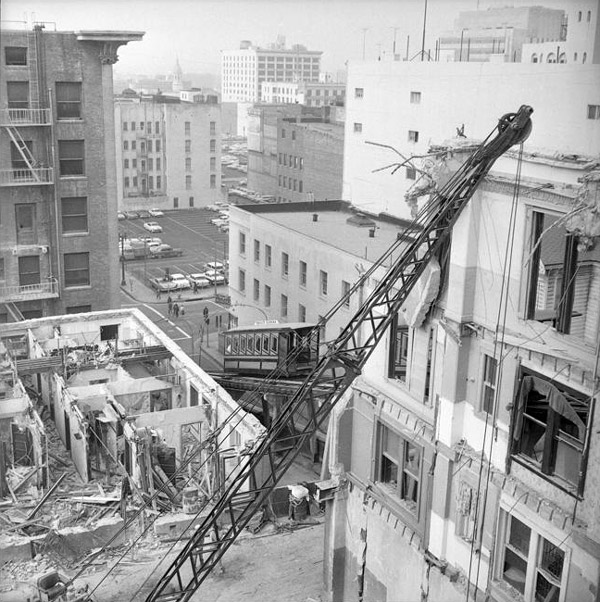 With Class A office space becoming available on Bunker Hill, many of Downtown LA's remaining financial corporations moved to the newer buildings, leaving the former Spring Street Financial District devoid of tenants above the ground floor.
Following the corporate headquarters' moving six blocks west, the large department stores on Broadway shuttered, culminating in the 1980s.
In 1999, the Los Angeles City Council passed an adaptive reuse ordinance, making it easier for developers to convert outmoded, vacant office and commercial buildings into renovated lofts and luxury apartment and condo complexes.
Today, Downtown Los Angeles Lofts and Condos trump commercial real estate in DTLA. In 2000, just 27,849 people lived downtown, according to the U.S. Census Bureau. By 2013, the population grew to 52,400, according to the Los Angeles Downtown Center Business Improvement District. That group estimates the population will surpass 75,000 when all the developments currently under construction are completed.
Today, there are only 16 projects proposed or being built downtown that includes any office space, compared to 65 residential projects. One reason why Downtown Los Angeles has faded as an employment center is that the workplace culture has changed. Secretaries and stodgy corner offices are out while open floor plans and cool campuses are in. In the times of AirBnB and work from home entrepreneurship, Downtown Los Angeles is experiencing yet another transformation to what it will be.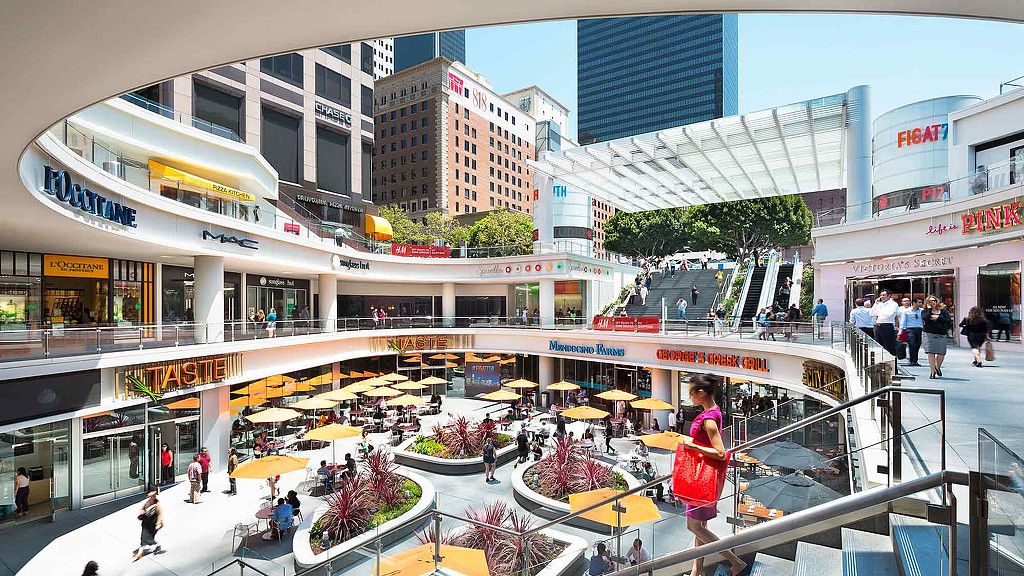 DOWNTOWN LOS ANGELES ART AND SHOPPING
DTLA is quickly becoming a hot shopping destination with unique, one-of-a-kind shops that are anything but ordinary. From designer threads, vintage goods and locally-made products, to culturally authentic products and even everyday brick-a-brack. There has been an explosion of higher end boutiques sprinkled around the arts districts, South Park, and Spring Street areas, and some favorites include Acne Studios, Alchemy Works, Brigade, Tanner Leather, and the Well. Beware you can easily reach your credit card limit in any of these shops.
If you want a crash course in the wholesale shopping, head to the Fashion District (aka 'The Alleys') and try your haggling skills with any of the vendors. It's acceptable and fun to work a deal – no credit cards required here, only cash guarantees you the best prices. If you're on a budget, head to the Broadway corridor which is lined with mostly Latino-owned businesses selling everything from ranchero boots and quinceanera dresses, to big screen TVs.
You won't find traditional malls in downtown, rather shopping centers that have been revitalized with contemporary and new shops, providing a more enjoyable shopping experience.
7th and Fig Shopping Center is a perfect example of a renovated space that breathed life back into a once desolate, and scary, shopping mall. The introduction of City Target, H & M, Zara, Sports Chalet, and other shops has reinvigorated the area and today's draws hundreds of people a day. The future Bloc development and outdoor mall, currently under construction, will do the same and will provide visitors and especially residents many more options for shopping, all just a short walk away.
The art scene has been growing in DTLA and the monthly Art Walk event is an awesome, gallery & rogue, in-your-face art experience. The center of the event is along Spring Street between 7th Street and 4th Street, but spreads onto adjacent streets and all around downtown. Whether you're sipping wine at Colorlab Tierrasal Gallery or watching performance art on the street corner, the event is an outlet for artistic expression that thousands of people participate in every month.
Don't miss an opportunity to check out The Last Bookstore – a cavernous and spectacularly multilevel bookstore which also houses art, sculptures made of books, and rarities.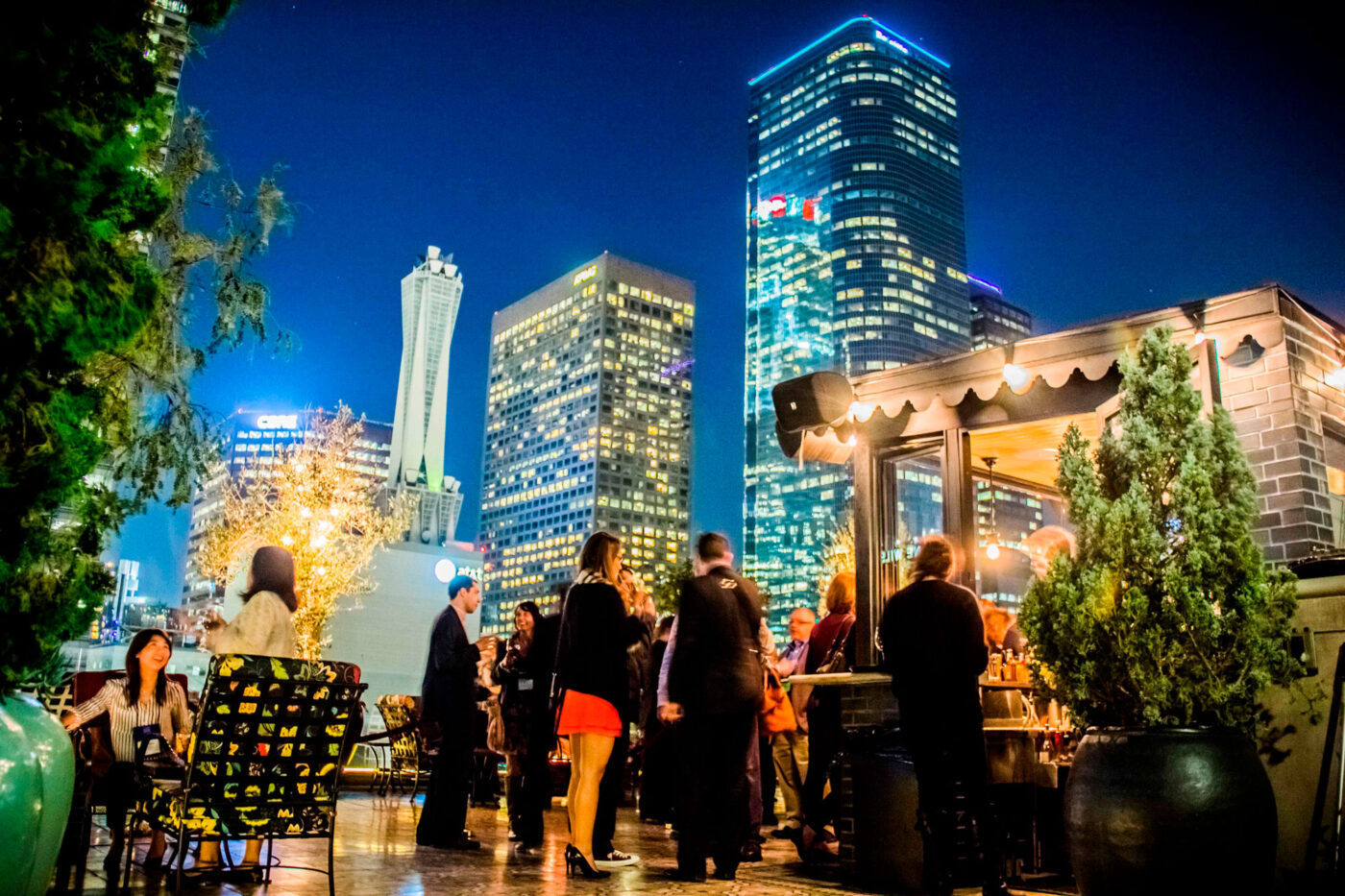 DOWNTOWN LOS ANGELES NIGHTLIFE
Only a few years ago no one would dare enter downtown at night, much less come for entertainment. Today, any night of the week, and especially weekends, the streets are full of primarily young professionals and hipsters bar hoping, going to concerts and music venues, art exhibits, and indulging in local eateries. Letting out of the hockey game? A short walk leads you to the 7th Street corridor with tons of options to toast the LA Kings' win.
If you want a more upscale dining experience, downtown has it. Options such as Bestia, Drago Centro, Café Pinot, and Redbird draw in foodies from around the country and the award-winning chefs make sure the experience is memorable.
If there is one signature drink that we'd name quintessential Downtown LA, it would be an Old Fashioned. Head to Cole's or 7 Grand for the best Old Fashioned you've ever had. Once you've hit your third, you might want to shake your tail. The Exchange LA is an institution for dance music with DJs from around the world spinning until the wee hours of the morning. Or, for a Latin flavor head to the Mayan or the Conga Room where you'll be stunned at the talent on the dance floor.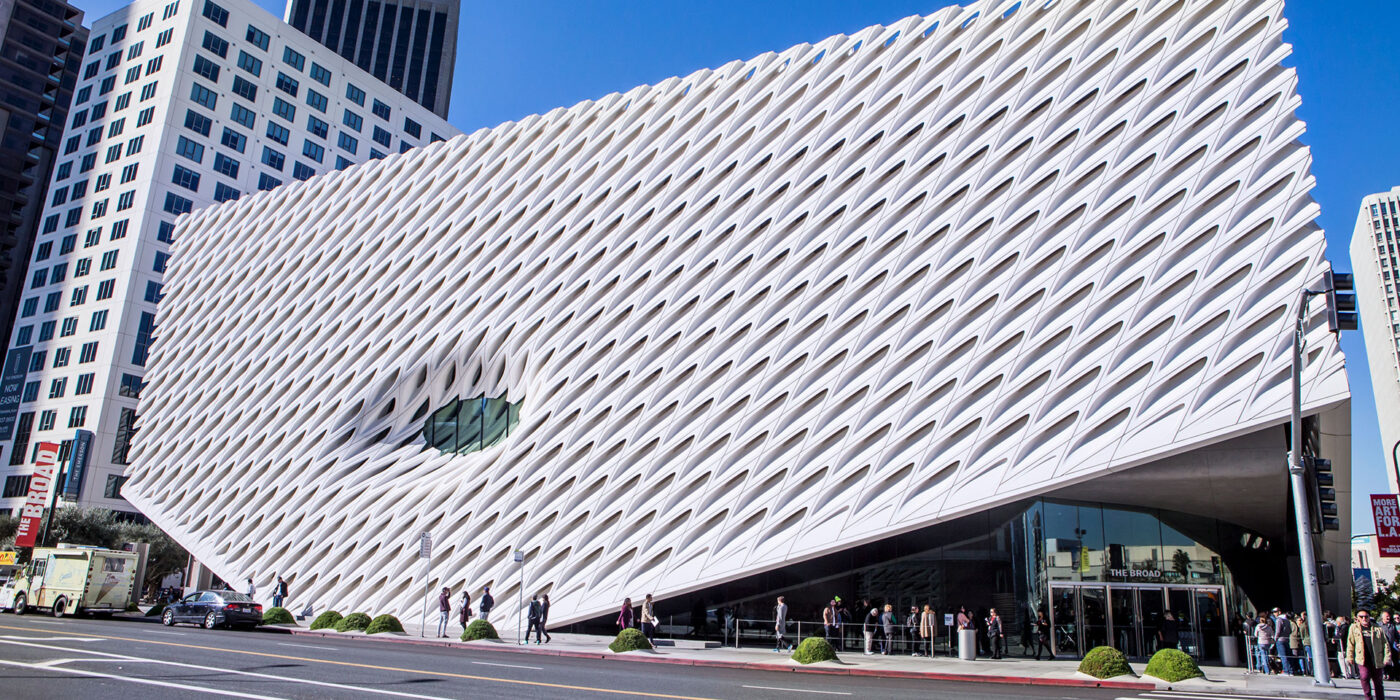 DOWNTOWN LOS ANGELES ARCHITECTURE AND REAL ESTATE
There is a remarkable amount of history and many architectural styles represented in Downtown LA, including Beaux-Arts and Art Deco gems. In fact, many of the historic buildings have been converted into residential lofts and mixed uses.
Some of the most impressive buildings include the Biltmore Hotel, completed in 1923 in the Beaux-Arts style (tip: have a drink at the 'Ghost Bar' in the lobby, legend says it's haunted, but then again what isn't in downtown Los Angeles); The Bradbury Building constructed in 1893 as a Victorian office building with exposed elevators and skylight, a MUST see; The Million Dollar Theater constructed in 1917 by William Mulholland (yes of the street), and just one of the many theaters along Broadway that in its heyday was the location of mega star film premiers; Grand Central Market completed in 1917 is an open-air market; The Central Library completed in 1926 during the transition to Art Deco style and also has Mediterranean and Egyptian elements; and possibly one of the most famously restored structures the Eastern Columbia Building built in 1930 and known as the benchmark of deco buildings in LA and one of the great grand dames of Art Deco Streamline Modern in Los Angeles, characterized by its verticality and geometric flourishes adorning the facade.
Not only does Downtown LA boast some of the oldest and significant buildings, but also contemporary architecture on the west coast, including the Walt Disney (Frank Gehry designed) Concert Hall, the Broad Museum designed by world renown firm Diller Scofidio + Renfro, and the under construction Wilshire Grand Tower.
Indeed, one could go on and on for days talking about the architecturally significant buildings that are housed within the 5.84 square miles of Downtown Los Angeles… But instead, you'll just have to come see for yourself. DTLA is once again, where it's at!