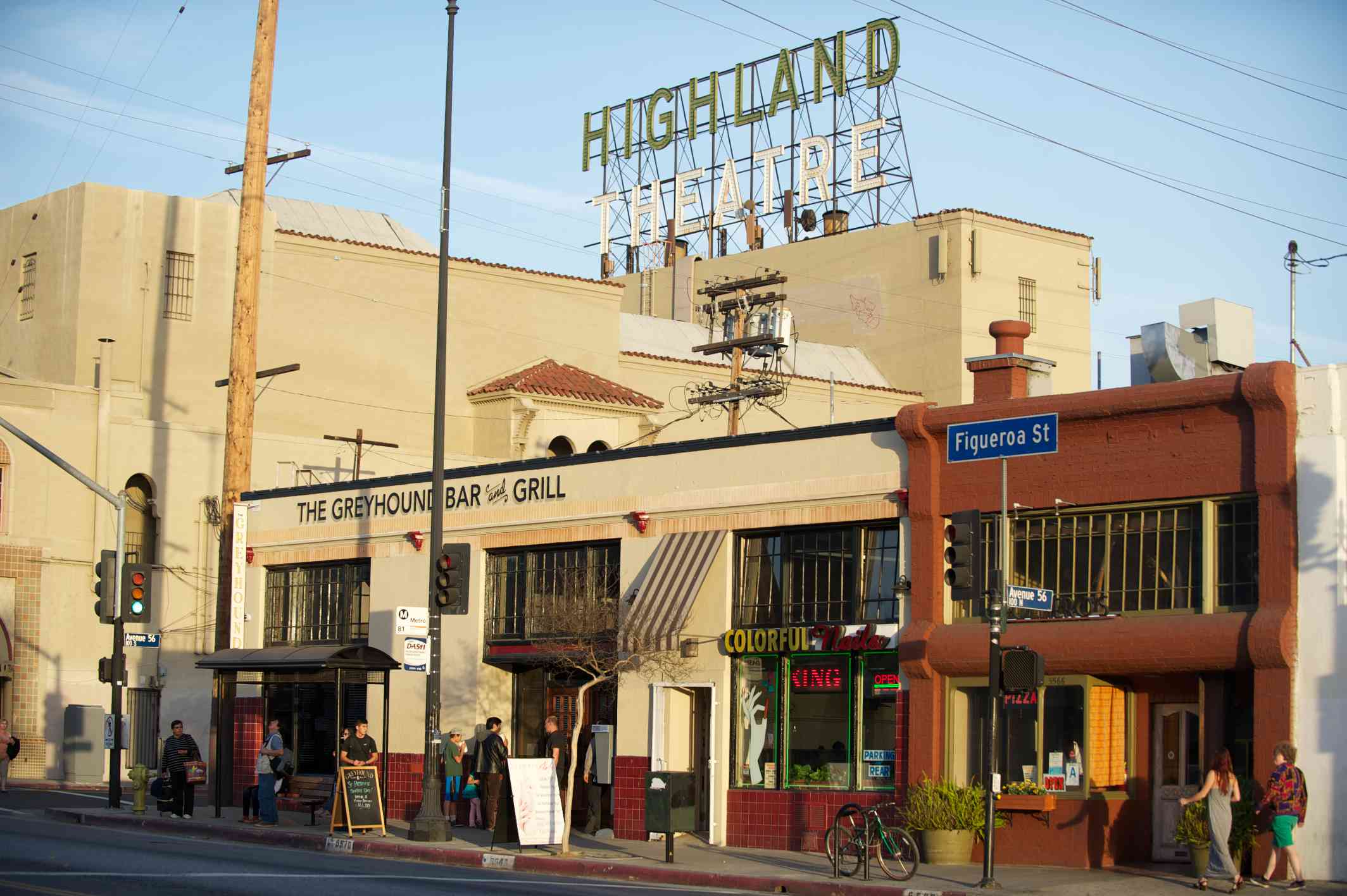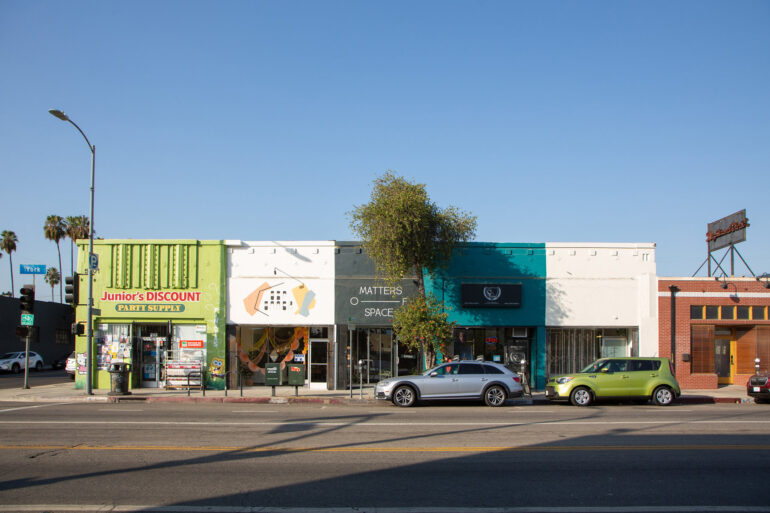 Highland Park is filled with historic properties in Northeast Los Angeles. It is inhabited by a variety of ethnic and socioeconomic groups. The area has been named one of Los Angeles' first bohemian neighborhoods and where the Arts and Crafts movement began with the birth of Arroyo Culture and activism.
Today, the Highland Park community is a vibrant melting pot of these deep rooted artistic and cultural movements, with an influx of new intellectuals and entrepreneurs. What makes Highland Park truly special is that, for all its burgeoning gentrification, it remains one of the few corners of Los Angeles that is truly a neighborhood and is a sort of laboratory for new and emerging ideas on what it means to be an Angeleno.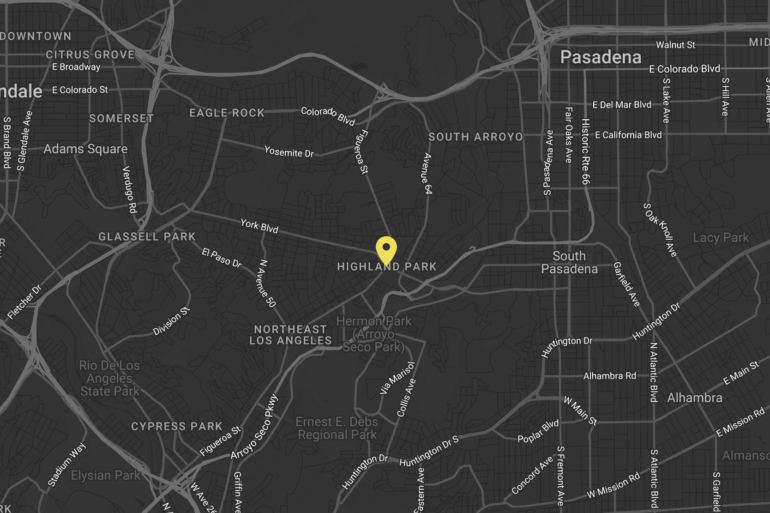 Highland Park and most of the Highland Park Real Estate developments are some of the oldest settled areas of Los Angeles, located in the San Rafael Hills, and bordered on the North by Eagle Rock, South Pasadena to the east, Glassell Park to the west and Mt. Washington to the southwest.
Its boundaries are roughly the Arroyo Seco Parkway (California Route 110) on the southeast, the city limits of Pasadena on the northeast, Oak Grove Drive on the north, and Avenue 51 on the west. Primary thoroughfares include York Boulevard and Figueroa Street followed by Avenue 64.
Although the neighborhood is characterized by hilly streets, these are not as steep as neighboring Mount Washington, which makes Highland Park walkable and particularly bikeable. The York Boulevard strip is known as the unofficial downtown of the community, with new activity pushing more and more along Figueroa Street. This Highland Park neighborhood is changing quickly as is the rest of the east side of Los Angeles.
Taking a drive through the neighborhood, one can see the history on the walls, literally. Highland Park boasts the city's largest historic district, the Highland Park-Garvanza Historic Preservation Overlay Zone, with approximately 50 Historic-Cultural Monuments, all located within the 3.4 square miles. And local artists find commercial wall space self-expression safe heavens.
With the completion of the Arroyo Seco Parkway in 1940, Highland Park began to change. By the 1950s, the artsy enclave experienced white flight, losing residents to the Mid-Wilshire district and newer neighborhoods in Temple City and in the San Fernando Valley.
By the mid-1960s, it was becoming a largely Latino enclave. Mexican immigrants and their American-born children began owning and renting Highland Park Real Estate. Schools and parks became places where residents debated how to fight discrimination and advance civil rights.
In the final decades of the 20th century, Highland Park suffered waves of gang violence, as a consequence of the Avenues street gang claiming the adjacent Glassell Park neighborhood, and parts of Highland Park as its turf. Law enforcement, coupled with community awareness efforts such as the annual Peace in the Northeast March, have led to a drastic decrease in violent crime in the 2010s. Highland Park is still a predominantly Latino neighborhood, but a walk down York Boulevard or drive through the tree lined streets with newly restored Victorians shows a changing community and newly developed Highland Park.
Today Highland Park has re-built its reputation as a mecca for artists, with trendy shops, galleries, bars and restaurants opening throughout the neighborhood.
Schools in and around Highland Park from GreatSchools.org
Find your local public or charter school with the LAUSD Resident School Identifier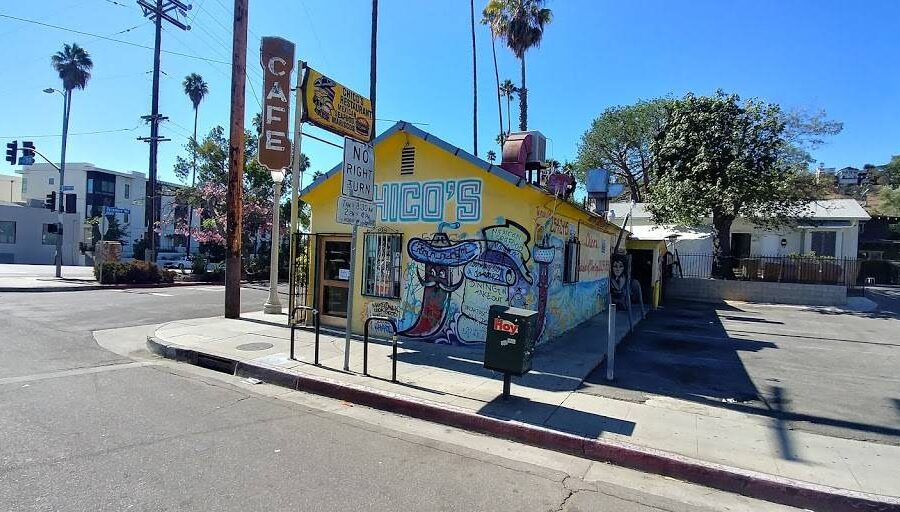 HIGHLAND PARK ART & SHOPPING
Today, the DIY, bohemian ethos that grew out of Highland Park's early days is alive in the area again, while its diverse residents are coming to terms with what it means to live here and care for the shared, built environment. Nowadays the neighborhood is filled with artists, musicians, actors and writers who enjoy upgrading their fashionable old homes and walking the main drag of York Boulevard.
Highland Park has a legacy of local Los Angeles businesses; some of them have been a staple in the Highland Park community for over 20 years. The first of such businesses is Galco's Soda Pop Stop. Galco's has been family owned and operated for more than 100 years. In addition, another cultural landmark in Highland Park is Avenue 50 Studio. Avenue 50 Studio is a nonprofit community-based organization grounded in Latino and Chicano culture.
Highland Park has two main dynamic and diverse commercial corridors, Figueroa along the east and York to the north. Some would call York the more hipster stretch, welcoming a new bar or vintage store on an almost weekly basis, but could also be seen as a mini-design district with local furniture and home good products.
If York is for the hipster, Figueroa is for the hipster who would not admit to being one. The street is experiencing a renaissance. There is less retail on this street, and historically was more of a muffler shop and dollar store type of strip, but new pop-up shops have introduced a buzz of activity amidst the quality, old-school mom and pops.
The Old LA Certified Farmers Market opened in 2006, operating adjacent to the Highland Park Gold Line Station and providing a new nexus of community activity.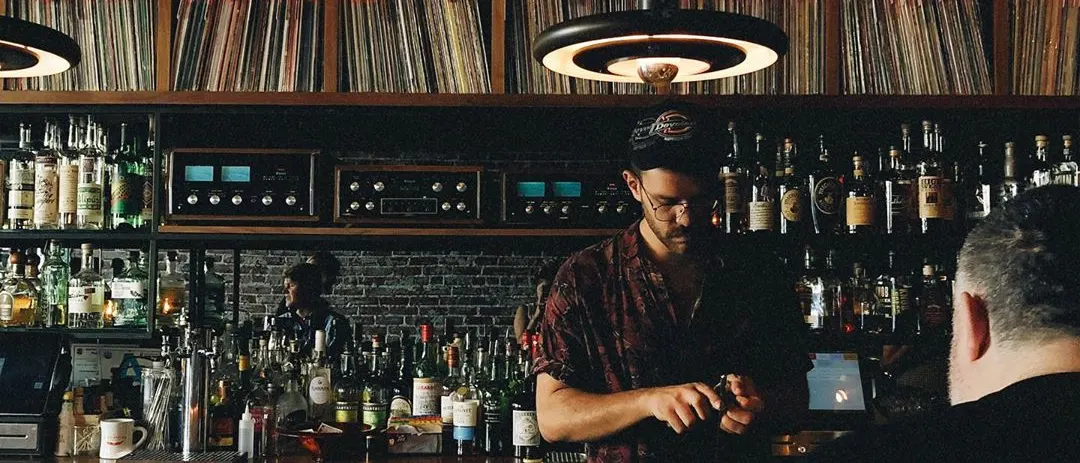 Any weeknight is happening, but weekends are a much different scene from years past i.e. residents out for a stroll and walking their dogs, to grabbing a nightcap, or young hipsters enjoying some food and bar hoping. From taquerias and panaderias to gastropubs and urban coffee klatches, get ready to experience the serious melting pot that is Highland Park, CA.
Highland Park also has more than a dozen eclectic galleries, which showcase art, music and/or performance. The venues range from Rock Rose Gallery, featuring art, music and performing arts, to Pets With Fez, a weaving studio with Kurdish music and fine art exhibits.
There's plenty of local establishments, like Highland Park Billiards, that are sure to show you a good time into the wee hours of the morn.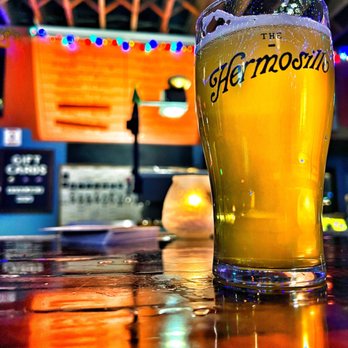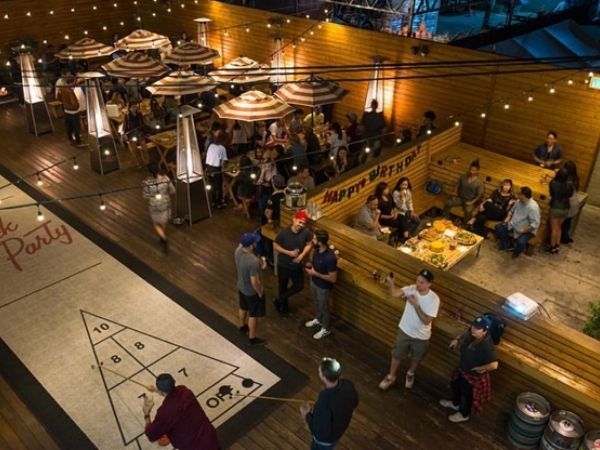 5125 York Blvd
Los Angeles, CA 90042
(323) 739-6459
5125 York Blvd Los Angeles, CA 90042 (323) 739-6459
The Hermosillo is a neighborhood beer and wine bar. Previously a night club with an infamous reputation (like several other spots in Highland Park), The Hermosillo now serves craft beer, 30 wines by the glass, and creative bar food. Drop by and relax next time you're in the hood.
5052 York Blvd
Los Angeles, CA 90042
(323) 741-2747
Block Party is an unabashedly Highland Park bar where the branding is as important as the drinks, and that's just fine with us! Space is open to the street, giving it an indoor-outdoor feel, and there's also a patio in the back with a Wii and shuffleboard if you're feeling frisky. Block Party also serve an all-California selection of draft beer, as well as snow cone/shaved ice cocktails which come in a glass and are surprisingly boozy. Sign us up!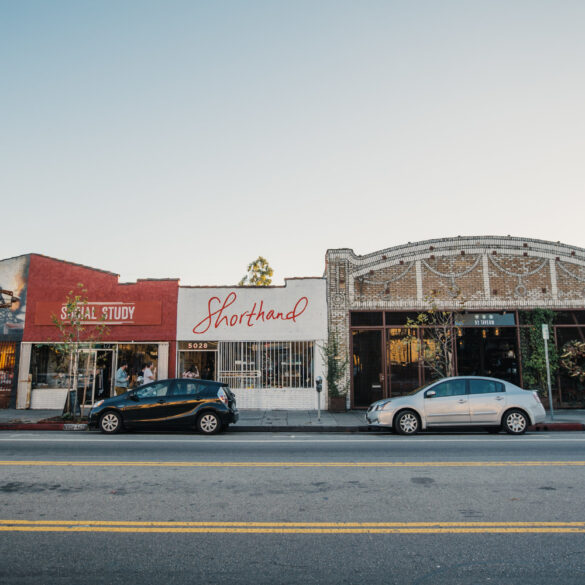 We've put together a collection of hip Highland Park storefronts perfect for the Eastside flavor.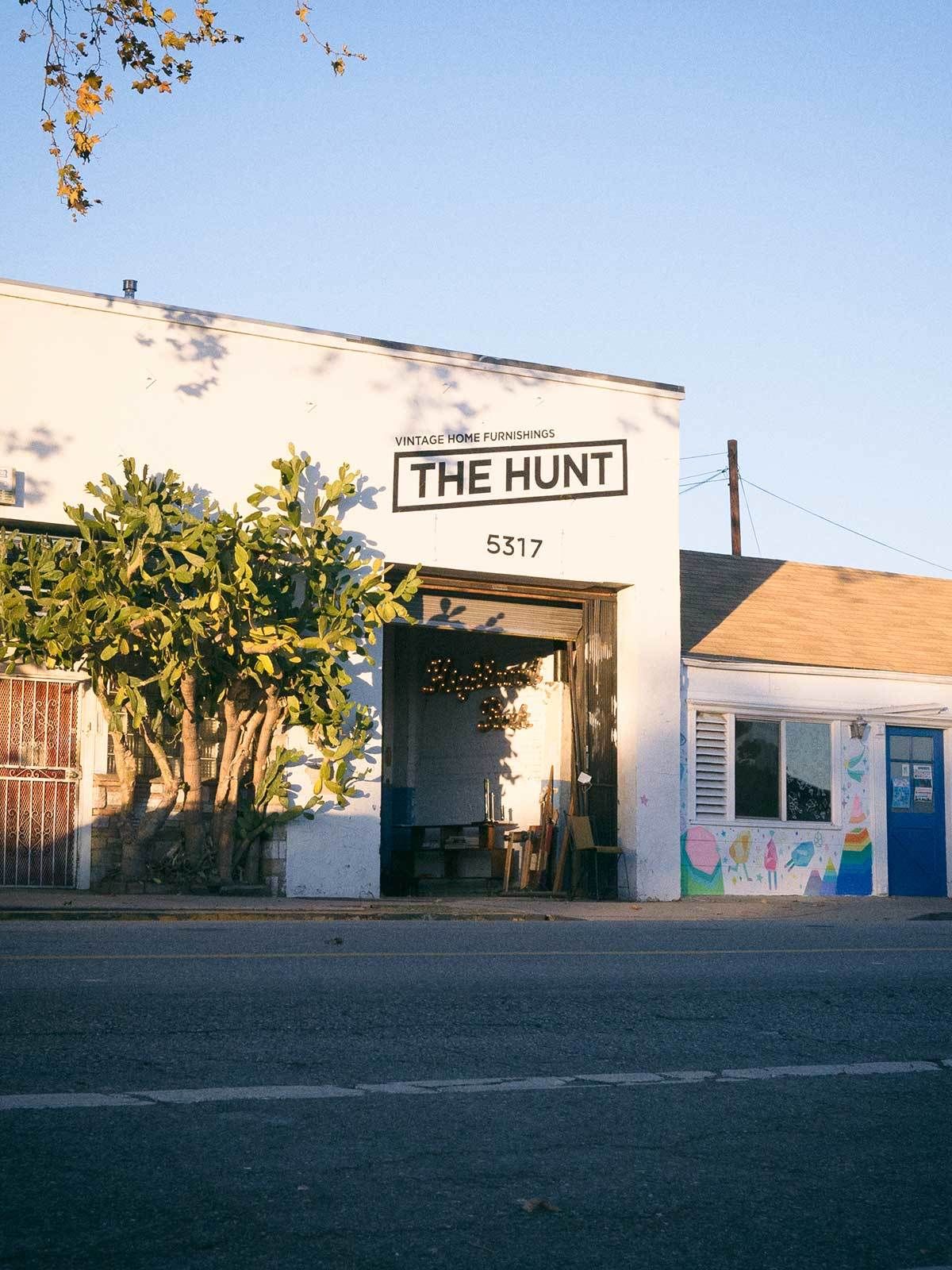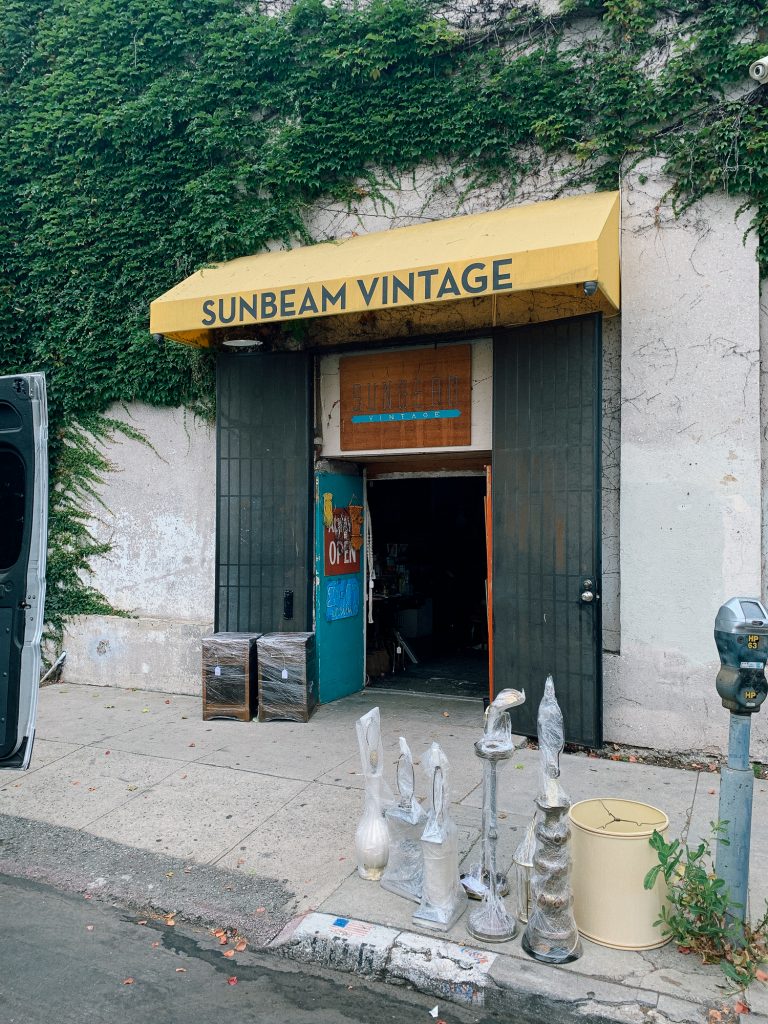 5317 York Blvd
Los Angeles, CA 90042
(323) 251-6453
The Hunt Vintage is a vintage furniture store in Highland Park, Los Angeles.
Come see their amazing selection of furniture for yourself.
106 S Ave 58
Highland Park, CA 90043
(323) 908-9743
Sunbeam is a mid-century furniture emporium in Highland Park. Their wide selection of tables, chairs, tables, and rugs will give you plenty of options for decorating your home.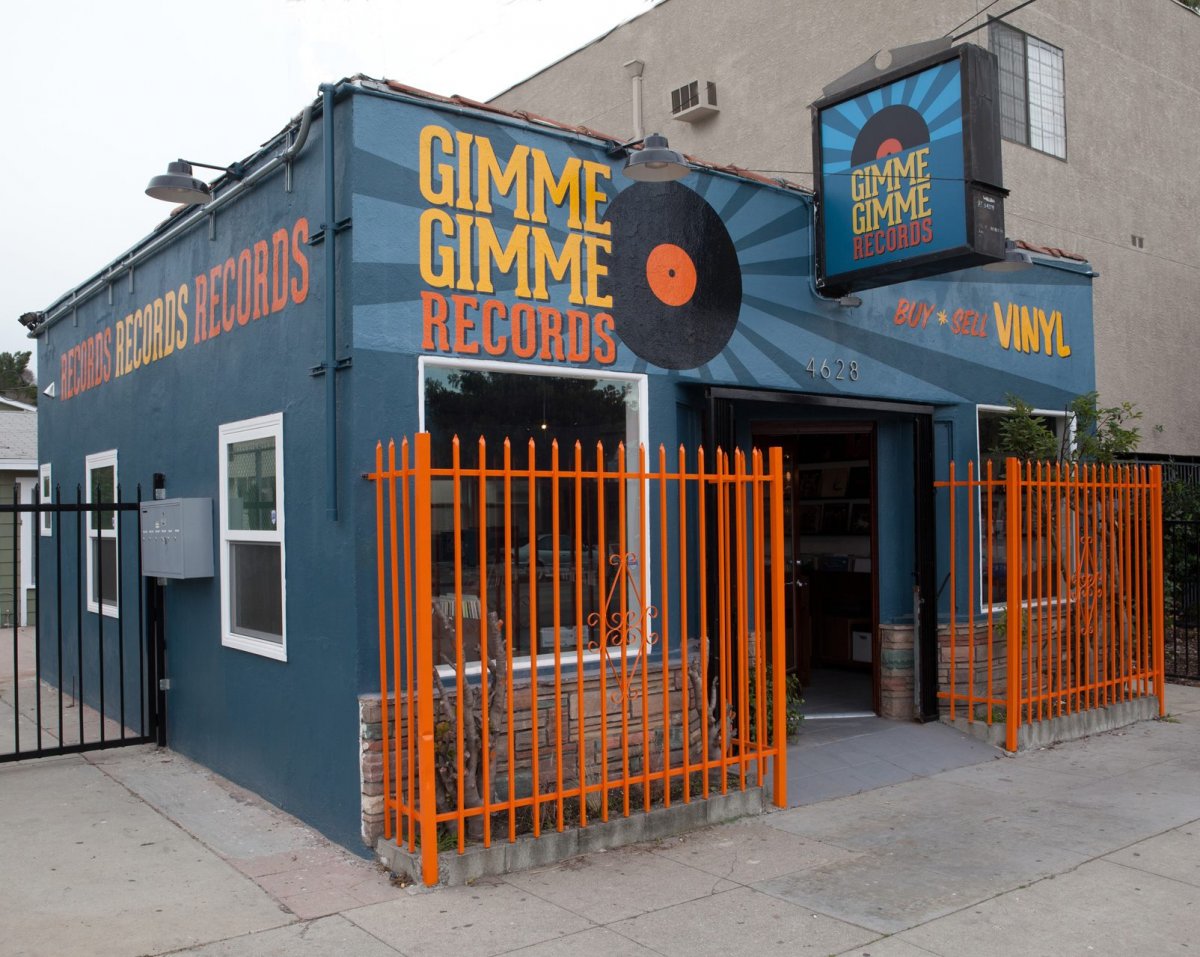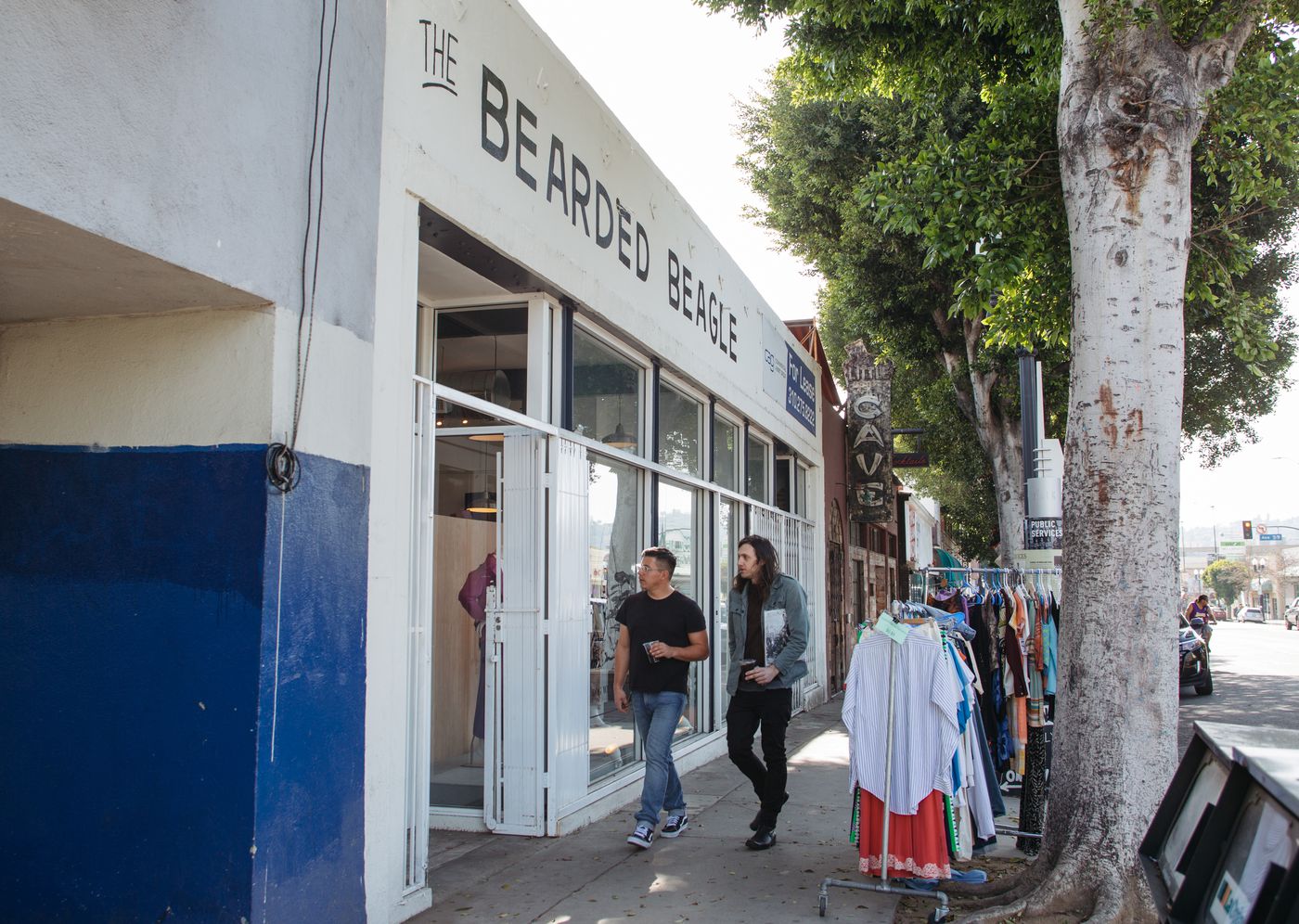 5810 N Figueroa St
Los Angeles, CA 90042
(323) 550-1878
In 1994, at the height of the CD era, Dan Cook decided to open a store catering to other vinyl collectors like himself in New York City's East Village. People told him he was crazy, record stores were a dying breed…but he thought vinyl was a superior format and enough people agreed that the store survived and flourished. The store carried a wide range of genres from psych to hip-hop to country to jazz and more. Thousands and thousands of records came and went, and people from all over the world made a point of stopping in.
After 18 years in its original location, the store was moved to the Northeast side of Los Angeles, where it resided on York Blvd in Highland Park for two years.
Now they're on their 3rd, and largest location on the neighboring street of 5810 N. Figueroa, things are bigger and better than ever.
5926 N Figueroa Street
Los Angeles, CA 90042
(323) 258-5898
The vintage clothes at this local spot are decently priced and still, have plenty of miles left in them. The parking in the area is kind of spotty, but this is Los Angeles after all. The staff is helpful and cheerful. This Highland Park vintage shop has both men's and women's clothing sections, a myriad of lingerie, scarves, accessories, as well as vinyl records and other things.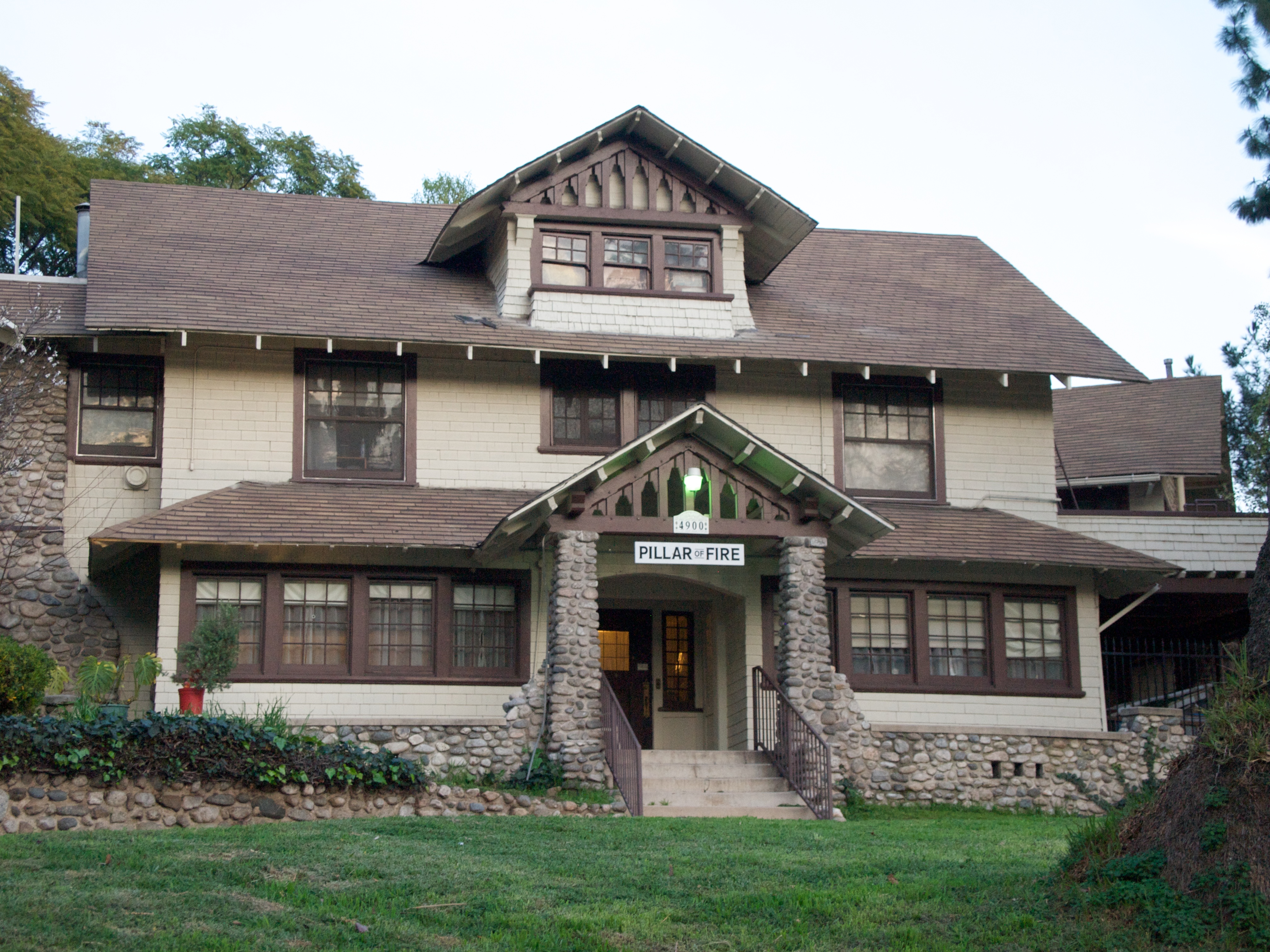 HIGHLAND PARK ARCHITECTURE AND REAL ESTATE
The Arroyo Craftsmen, among them Lummis, Judson, and Browne left a legacy that gives Highland Park its own architectural and historical identity. In the early 1900's the Craftsmen ethic became popular with local residents and the California bungalow translated this ideal into the predominant style and influence of homes in the Highland Park area. Local builders, such as John W. Scott prospered in building bungalows for Highland Park residents. Bungalow court (a series of small detached residences on a parcel normally arranged in a "L" or "U" plan) began to appear throughout Highland Park Real Estate at the turn of the century.
In the 1920's and the early 1930's a new architectural style known as the Revival period was introduced. The Revival period was basically the incorporation of foreign and romantic architectural styles into the American fabric. These revival styles included: English Tudor, Spanish Colonial, Mediterranean and Streamline Moderne examples. Ideas for the revival period styles came from fantastic architectural structures shown in the movie houses, generating the first new breeze of architecture since the Craftsman. As a result, the new architecture incorporated 13th century and earlier period architecture into this late 19th and early 20th-century emerging community with its Queen Anne, Turn of the Century, American Foursquare, and Craftsman buildings.
In 1979 the Northeast Los Angeles Plan created a land use dilemma for Highland Park, which led to the demolition of many of the early century styled single-family homes and their replacement by rectangular shaped box apartment buildings, which were out of scale, density, and character with the earlier Highland Park community. Thus, these actions lead to a proposal for the establishment of a Historic Preservation Overlay Zone.
Starting in the early 2000s, a diverse mix of people began arriving at Highland Park to seek out, buy, and revitalize Craftsman homes, and Highland Park Real estate — some which had suffered neglect over the decades. Many of Highland Park's oldest homes were razed during the 1950s and 1960s. One architecturally significant home made its way to Heritage Square Museum, thanks to the efforts of local activists dedicated to saving Victorian homes scheduled for demolition. Like Echo Park and Eagle Rock, Highland Park has steadily seen some gentrification. People from across the region have been attracted to the historic Craftsman homes that escaped demolition. Its relatively low rents have made it increasingly popular among young people who value the walkable urban lifestyle afforded by the older style of the neighborhood.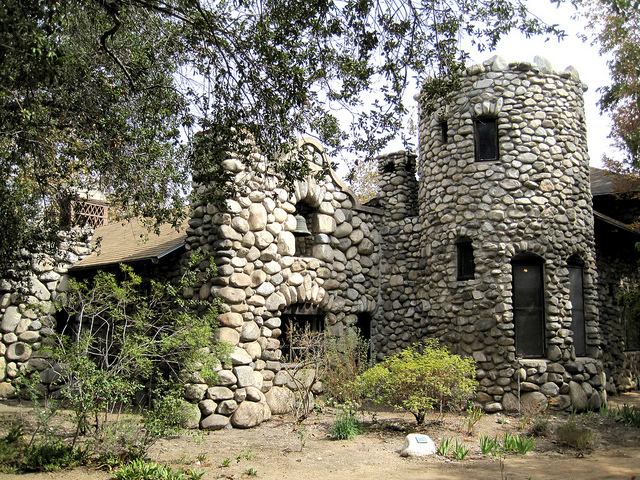 HIGHLAND PARK HISTORICAL FUN FACTS
Highland Park has experienced economic highs and lows during its first 100 years and most recently is enjoying a renaissance.
In the early 20th century, Highland Park and neighboring Pasadena became havens for artists and intellectuals who led the Arts and Crafts movement. These artists celebrated a return to nature, material, and craft, and rejected the impersonal nature of mass produced goods. One notable figure and founders of the movement was Charles Lummis, who formed lifelong bonds with local Native Americans and Mexicans he met and was infused with the appreciation of the Southwest and its cultures as well as a spirit of activism of multi-ethnic, multi-cultural place called Highland Park. One can see his legacy in the blueprint for understanding the region that remains relevant to this day. The ideals of returning to nature and artisan crafts, believing that this was a means of rescuing man from the emerging machine age.
The influence of these maverick artists and luminaries of the day can be experienced in landmarks like Judson Studios and Lummis House, which stand today.