La Tropicana Highland Park Organic Groceries, Sandwiches, And More: As if you needed another reason to call the exploding Eastside of Los Angeles home, specifically Highland Park, here's one more.
As a local Highland Park Realtor selling the homes on the Eastside, and now a permanent Highland Park resident myself, I'm always on the hunt for a new restaurant, nightspot, or boutique. I stumbled upon a culinary gem five blocks from the house I just bought! Good eats, quality folks, and the owner is the cherry on top.
Recently I caught up with the owner Rana Redfield. She was kind enough to humor us with a plug on SilverLakeBlog.com.
Thanks for taking the time, Rana. When did you open the market?
I opened La Tropicana Market in 2003. I was about 25 years old and had no idea what I was in for. What I did know is that I no longer wanted to be part of the corporate world and I needed and wanted financial freedom. When I started the business I had no money and no collateral. I had never started a business and had no business plan. Getting a loan without those things proved impossible. What I did have was good credit. So I used that to get started. I decided to open a neighborhood store because I was familiar with this kind of business. You see my father owned and operated a specialty neighborhood market in Aleppo, Syria. As a child, I spent a lot of time with my father at his shop. I valued the sense of community we had as children in Aleppo. My father's place was known for its good quality imports and great service. In so many ways La Tropicana gives me that sense of community I knew as a child. It is a very special and a unique place with a positive and infectious vibe. It's a place where neighbors and friends run into each other, come together and feel a sense of pride in their neighborhood. Creating La Tropicana market and getting it to where it is today has taken 14 years of hard work, dedication, and good luck. It has been a great Journey so far. I have learned so much along the way and continue to learn from it on a daily basis.
Tell me about your entrepreneur transition from the corporate rat race.
For many years my business was a labor of love. Not only was I more broke than ever and drowning in debt, I saw no end in sight for my struggles. But my determination kept me going. I will never forget the time when a young lady came to me and thanked me for opening my shop on this corner. I will never forget the expression on her face and the sincerity in her voice. She said " Thank you for doing this for us. No one believes in investing here and you were willing to do this on our street ". I was shocked by her comment and the fact that at such a young age she knew and was in touch with the economic and social struggles facing her Highland Park neighborhood. This was in 2005, just a couple of years after I started. Even though my goal in starting the business was to earn a good living, This young lady opened my eyes to the bigger picture. I stopped feeling like a failure because my business was not making any money and realized that what I was experiencing was about more than just money. She opened my eyes and I started to get a better understanding of what I needed to bring to the community I was serving. Making a difference in peoples lives even in a smallest of ways felt incredibly good. This was the belief that carried me through my own struggles.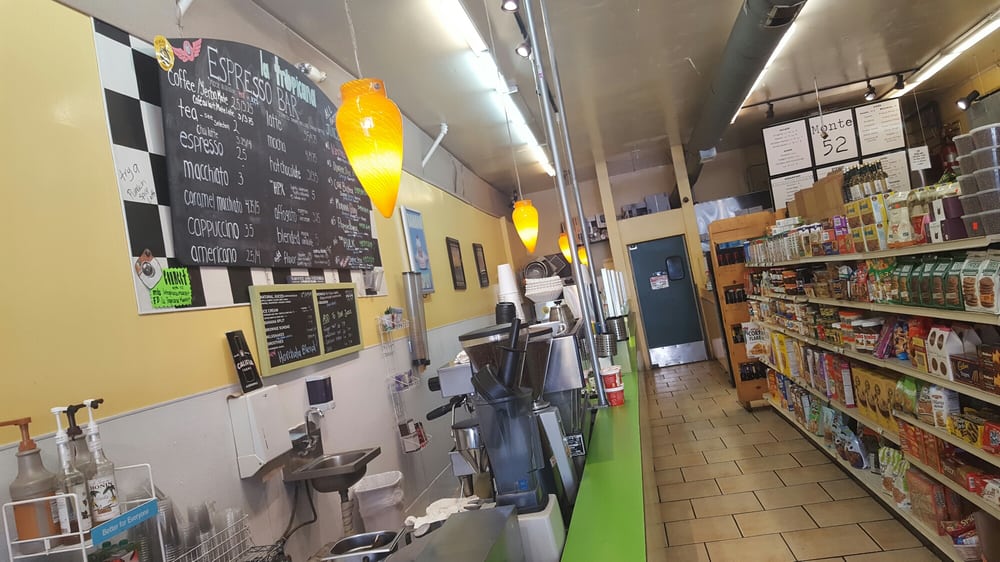 "My father put up his home as collateral and helped me get a loan. I added a kitchen as well as a juice and coffee bar."
In approximately my fourth year in business, I had the opportunity to expand into the space next door. My father put up his home as collateral and helped me get a loan. I added a kitchen as well as a juice and coffee bar. I knew this area needed this kind of service. I knew this because of my own frustration with not finding very many healthy food options near by. Again I found myself unprepared for the challenges that came with that expansion. For one, the zoning had become residential and no longer commercial. I had to apply for a variance and that took over 8 months. Mean while I was paying rent for a space I could not use and city planning and zoning department fees were adding up quickly. So the struggle continued. Lucky for me I had the full support of my family. My parents and my husband continued to believe in me and encouraged me to move forward in my journey. And when I felt like I wanted to quit I was reminded of the importance of what I was doing and what it meant for my Highland Park community.
That's incredible determination and support. All you need now is booze! 
Funny you should say that, once the expansion was started I was encouraged by my customers to apply for a beer and wine license. I knew this would be a big challenge but I did not think it would be impossible. So I started a petition. With over 2000 signatures and many letters of support from members of the community, I moved forward with my application to provide beer and wine in our market. My aim was to make my market a one stop shop with the hope that making it so would increase our sales. I wanted to provide good quality and unique beer and wine items. I wanted to do something special and different. I wanted to fill a void and again found myself trying to do so by way of providing what my customers were asking me for.
Sounds like you were heading in the right direction.
Even though the puzzle pieces were starting to fall into place I was still struggling to pay the bills and keep things going. At this point, the great recession was in full swing. Everyone was struggling. Businesses were closing down all over and we were no different than any one else. It felt like I needed a miracle. Our variance application had been approved, however, I was still awaiting our beer and wine license approval. In early 2010 not only did we obtain a beer and wine license but our store sold a winning lotto ticket worth 8 million dollars. The money I received from the Lotto ( 40 thousand ) was enough to pay off seven credit cards. I was not financially out of the woods yet but I had a life line thrown to me.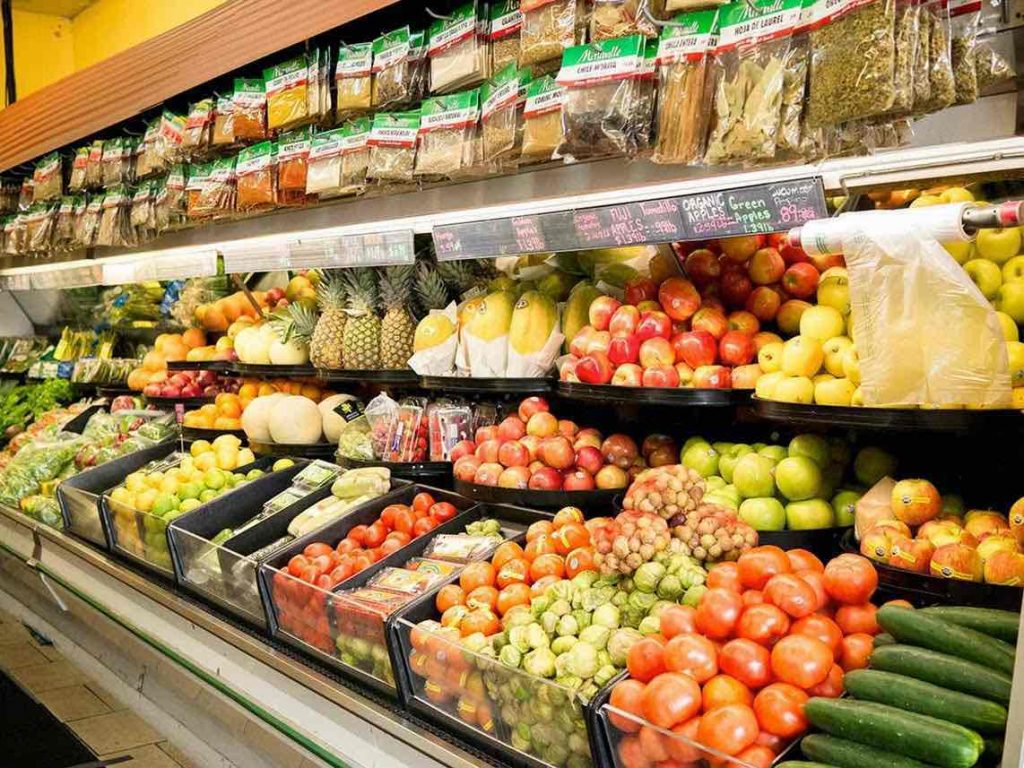 Organic farmers market vegetables and fruit options
When the economy started to recover there was a change that was happening around us. I can see and hear that change slowly happening in my business. My customer base was clearly starting to shift and I somehow knew that I had to shift with it. It was very challenging but we had to shift with the change if we were going to continue to grow and prosper. The transition from a small Mexican Carneceria and Bodega to what we are today happened gradually over the past few years. We did our best to continue catering to our old client base and at the same time offer what the new residence in our neighborhood desired. The goal then and still today is to continue to welcome and serve all who come into our store. We want to continue to be a corner stone in our Highland Park community.
Part of the change that we were experiencing brought us together with the folks behind Smokin Mamas. Jessie and Diana the owners of Smokin Mamas which was operating inside our market had the same vision as I did. Diana was good at what she did and people were slowly starting to discover her delicious food. Almost a year after Smokin Mama's was started Diana became very ill and with in one week passed away from her illness. Diana's death was shocking and we were all heart broken by her loss. Diana was not just a business associate or tenant. She had become a part of our family at La Tropicana. She had won all of us over with her infectious smile and kind heart. It took me over a year to bring my self to move forward with restarting operations in our kitchen. When I started my search for an experienced person to take over our back kitchen I had no idea that this individual lived across the street and was actually a customer of ours. His name is Mitch Jones.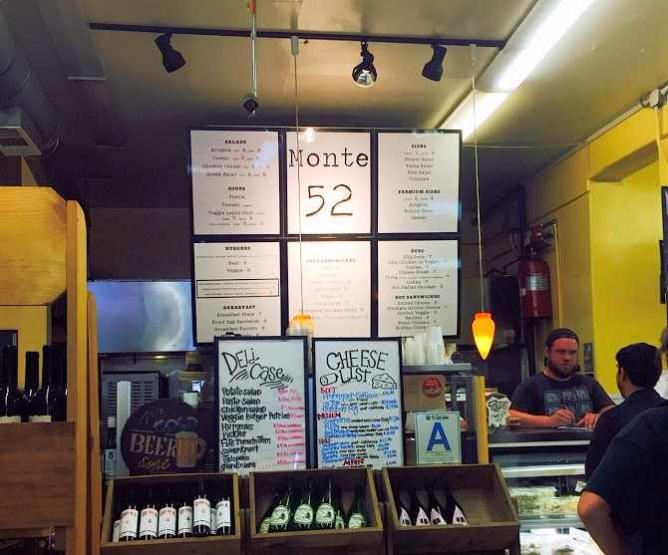 Monte 52
Mitch spotted my empty kitchen and approached me with his friend Joshua Siegel who owns and operates the Park restaurant in Eco Park. At the time I had several people interested in moving forward with renting the kitchen to start their own business with in mine. But Mitch and Josh stood out. I visited the Park and Josh treated me to some of his delicious creations at his restaurant. I was impressed and after carefully considering my options I felt that Mitch and Josh really had what it takes to run a successful operation. So we all moved forward and the guys created and brought to life Monte 52. Shortly after, Erica joined Josh and Mitch as co owner. The folks behind Monte 52 have brought something very special to Highland Park and I am very proud to have them operating inside La Tropicana.
Today La Tropicana Market is a healthy and thriving business. We have become a destination not only for those living in Highland Park but for many who live through out the Los Angeles area. We provide healthily affordable and nutritious options and carry items that are unique to the Eastside neighborhood.
La Tropicana Market
5200 Monte Vista St
Los Angeles, CA 90042
(323) 344-0036
Open Daily: 7am – 9pm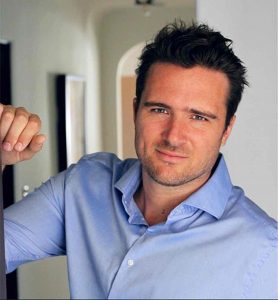 This article, La Tropicana Highland Park Organic Groceries, Sandwiches, And More, was provided by Glenn Shelhamer of The Shelhamer Real Estate Group. If you are selling your Highland Park home, I have a comprehensive marketing plan, including preparing your Highland Park home properly that will help get your home sold in less time and for more money. Call me at 310-913-9477 or contact me to discuss how I will get your home sold.
Contact Joe Tishkoff, from Skyline Home Loans for a mortgage Pre-Approval.
Original Source: SilverLakeBlog.com