My wife and I are thrilled to be closing escrow on a Craftsman house in Highland Park next week. I'm a local Realtor and real estate blogger working heavily in the Eastside of Los Angeles neighborhoods from the Hollywood Hills East all the way through Eagle Rock and Pasadena. If you've been living under a rock in Griffith Park, you may not know Highland Park is a trendy-hippish up and coming neighborhood which was recently featured in Vogue Magazine naming Highland Park one of the hottest Los Angeles Eastside neighborhoods – how do you like them apples?
Of course with relocating to a new hood and vibrant ecosystem, I've got to scope out all the hidden gems including asking myself the monumental question, "where do I get a good sandwich"? Normally my expressions of enthusiasm often take the form of wariness swept away, but that's not the case today.
I stumbled upon the most amazing deli – Monte 52! It's an inconspicuous local secret known for good eats in the back of a local Mom & Pop market off Monti Vista – Tropicana. If you take the trek eastward it will be worth your efforts. One subtle study of the menu and you'll be hooked rubbing shoulders with an eclectic bunch of would-be artists, musicians, actors, and everything in between. Standing in line listening to ambient upbeat progressive-tinged indie music has never been so chill – what more could you ask for?
Monte 52 run by chef/owner Erika Ponzo commented in her own words – here is what she had to say… Side note: When Erika speaks, her fingers often flutter near her temples, as if she were a big top stage mentalist trying to focus, then bang, you get the organic truth – like her edible creations.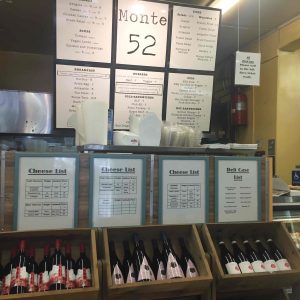 "It all started at The Park restaurant in echo park. The chef/ owner ( Joshua Seigel), teamed up with his head waiter (Mitchell Jones) to open a sandwich shop across the street from where Mitch used to live. The kitchen was empty at the time and apparently, Mitch really wanted a sandwich. He asked Josh if he wanted to go for it and he said yes. They quickly realized that Josh wouldn't be able to run the place due to his other restaurant. Mitch couldn't do it on his own either because he was really a front of house guy. So they asked if I wanted to join the partnership. I had worked at the Park for 3 years as kitchen manager but had recently left.
 My goal always was to open a restaurant. Josh knew this from the beginning and was kind enough to take a chance on me. He trained me from scratch. After 3 years I decided that I knew enough about running a kitchen and decided to learn how to do the front of the house at another restaurant. One has to actually know all the parts of a restaurant to actually open a successful one (That's what they say, anyway).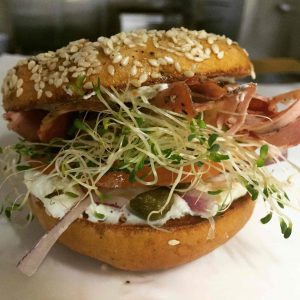 It was only two months of waiting tables before they asked me to run the Kitchen at Monte 52. I agreed to. It took us about 4 months to get the word out. We started getting busier and hiring more help (other than just family and friends). We kept growing so we tried to open a butcher counter inside La Tropicana Market as well. The neighborhood was not ready for that move, I guess, so we scratched that idea. That's when the owner of the market bought all those huge refrigerators.

That happened about a year after we opened. And after that, Josh pretty much stayed over at his other restaurant.
About a year ago this month, Mitch got very ill and decided it would be best to move back home to Texas. He's fine now and happy with his family. He left the partnership and it's now just me running the place.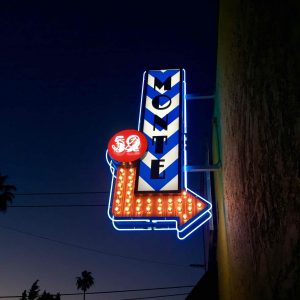 Basically, besides the back story, we are all about bringing scratch-made, gourmet, hearty sandwiches to the neighborhood for a decent price. We even smoke our own meats there. We use high-quality ingredients and there is so much prep. At another restaurant, it would be $12-15 sandwiches but we are able to keep the cost down without the front of house staff.

We plan to open many more Monte's. starting in Long Beach next year, because that's where I live."
Monte 52
5200 Monte Vista St
Los Angeles, CA 90042
(818) 626-0822
monte052.com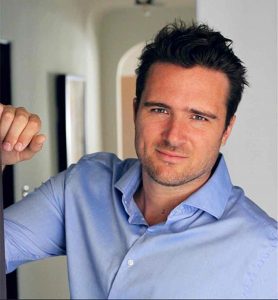 Highland Park Real Estate | Highland Park Homes For Sale | Highland Park Houses For Sale
This article, Best kept deli secret in Highland Park-Monte 52, was provided by Glenn Shelhamer of The Shelhamer Real Estate Group. If you are selling your Atwater Village home, I have a comprehensive marketing plan, including preparing your Atwater Village home properly that will help get your home sold in less time and for more money. Call me at 310-913-9477 or contact me to discuss how I will get your home sold.
For a mortgage, loan Pre-Approval Contact Joe Tishkoff, from Skyline Home Loans.
Orignal Article: SilverLakeBlog.com