"We all suffer three deaths. The first death is the day we give our last breath or the day that we die. The second death is the day that we're buried, never to be seen on the face of the Earth again. The third, most dreaded death of all, is to be forgotten."

Chicana Altarista, Ofelia Esparza from LA Mag

What is Dia De Los Muertos (Day of the Dead)?

Unleashed upon the world by the creative minds at Walt Disney Pictures in 2017, Coco beckons us into the enthralling journey of a young Mexican lad named Miguel, who finds himself entwined within the mystical tapestry of the Land of the Dead. This cinematic marvel is steeped in the rich cultural tapestry of Día de los Muertos, or the captivating Day of the Dead, adorned with intricate calaveras, those delightful sugar skulls, and the vibrant marigold blossoms that hold tales of remembrance. And lo and behold, thanks to the wondrous influence of Coco, Día de los Muertos has gracefully woven its way into the very fabric of Halloween festivities across the United States.
However, venturing back to the 1970s, Chicano artisans in the vibrant tapestry of East Los Angeles took up the mantle of popularizing this celebration. Their spirited efforts built upon the foundation of an Indigenous tradition that had gracefully merged with the Catholic rituals of All Saints Day and All Souls Day, which grace the calendar on the first two days of November. And now, as the captivating allure of Día de los Muertos reaches its zenith, embellished by commercially crafted art and even a touch of Disney magic, those who honor this ancient day of remembrance find themselves pondering whether the dearly sought visibility has come at a price too steep to bear.
Embedded within this captivating evolution is the legacy of the renowned Mexican political artist and lithographer, José Guadalupe Posada. His brushstrokes, over a century ago, brazenly caricatured political corruption through the whimsical forms of calacas, those lively skeletons. He stands credited with birthing the iconic imagery of La Calavera de la Catrina. Alcaraz reflects, with a nod to the ages, that Posada's art was a cutting-edge force of yesteryears, now harmoniously blending into the mainstream essence of Día de los Muertos.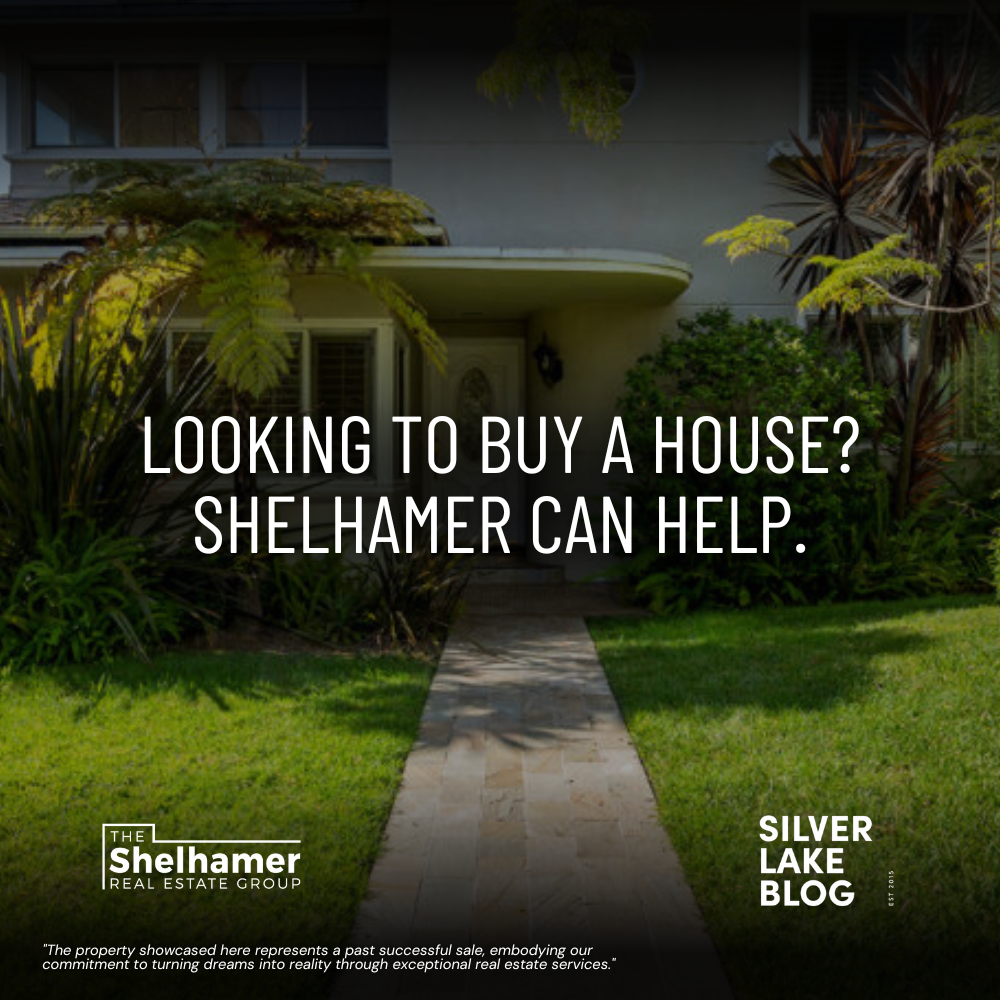 An integral hallmark of this festive jubilee is the ofrenda, a profoundly visual spectacle. "Ofrenda," signifies "offering," embodying the essence of the tradition. Every October, visionaries like Ofelia Esparza set forth their heartfelt offerings to their communities during the enchanting gatherings of Dia De Los Muertos Los Angeles While families rooted in Mexican and Central American Catholic heritage traditionally erected altars in the sanctuary of their homes to honor their lineage, it's the 1970s that provide the focal point of transformation. In this era, enterprising Chicano artists, fostering a small non-profit haven known as Self Help Graphics, wove their magic, propelling Día de los Muertos from a private household affair into a resplendent communal phenomenon with annual Dia de los Muertos Activities.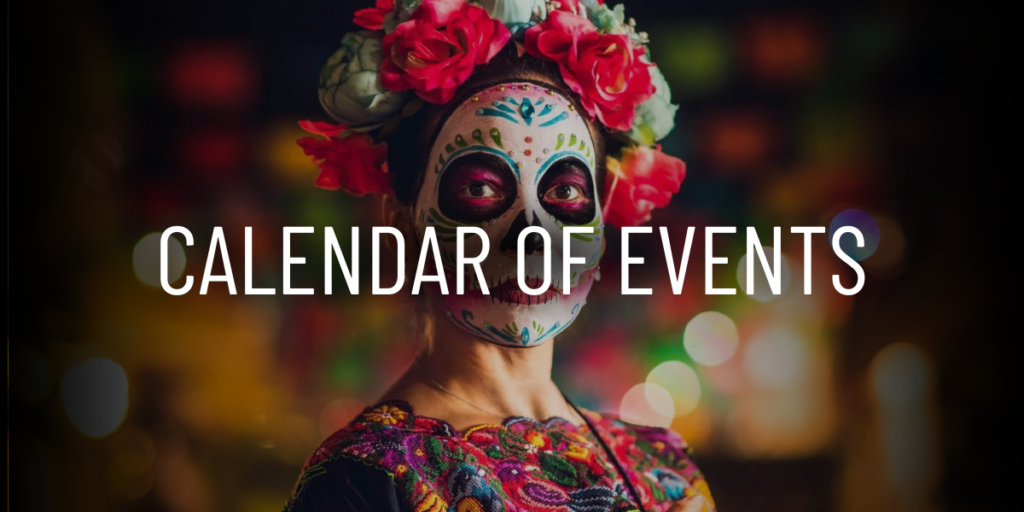 Dia De Los Muertos in Los Angeles 2023

Below are some of the many events going on in Los Angeles for this years celebrations!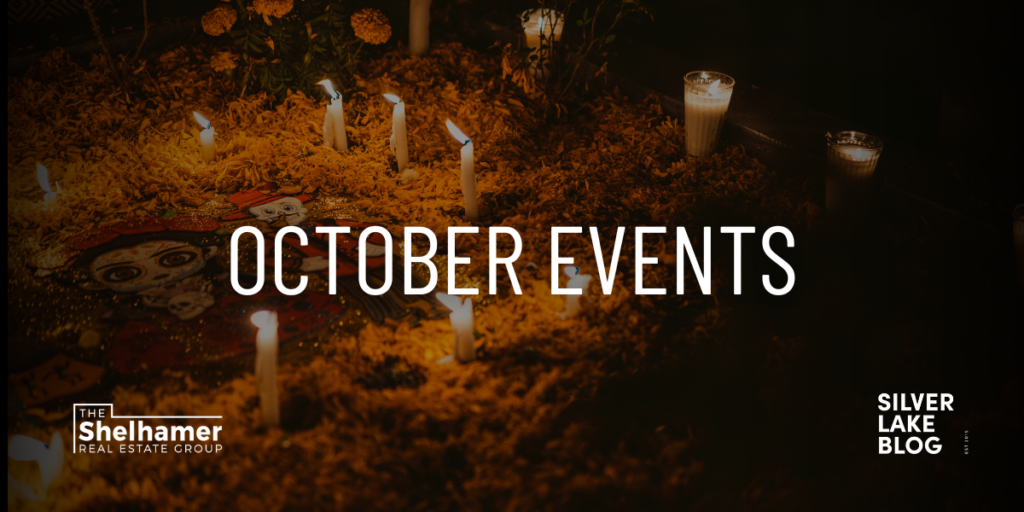 Get Festive at Disneyland
Join the festivities as Frontierland hosts a very special tribute to Dia De Los Muertos Los Angeles! The holiday is a time to remember loved ones that have passed, while we embrace our eternal connections.
To commemorate the occasion, El Zócalo Park will feature iconic skeleton figurines called calacas—depicting a trio of mariachi musicians—as well as brightly colored flowers and other decorative items seen in traditional ofrendas on the Day of the Dead. You can even savor the traditional flavors of Mexico as you dine at nearby Rancho del Zócalo Restaurante.
From the authentic décor to delicious home-style dishes, you won't want to miss this heartfelt celebration and Dia de los Muertos Activities.
All Day Long – September 1 to November 2, 2023.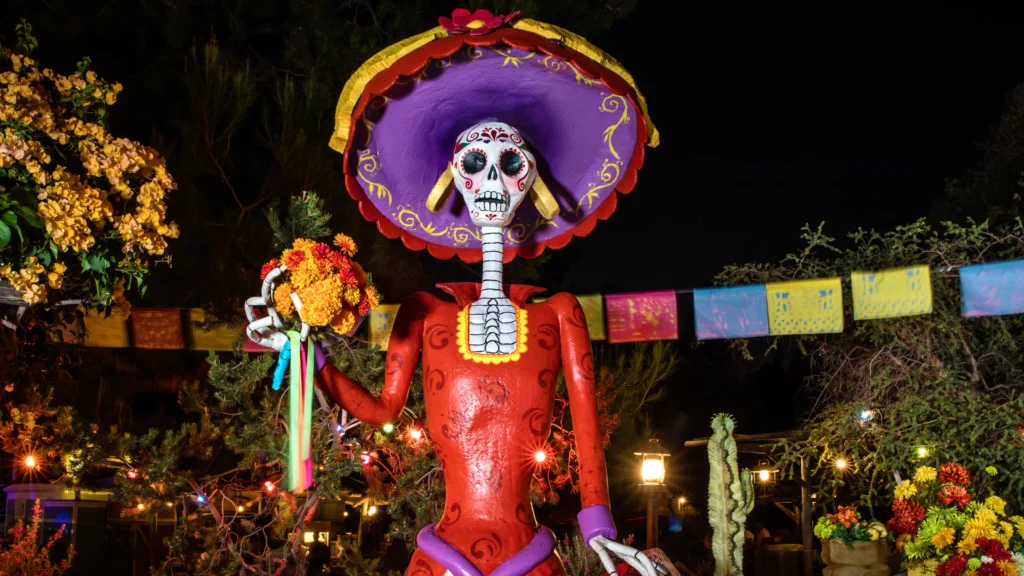 Watch Coco Again and Again at El Capitan Theater in Hollywood
El Capitan in Hollywood is showing Coco from September 15th to October 1st!
Showtimes and tickets can be found on their website linked here.
6838 Hollywood Blvd
Hollywood, CA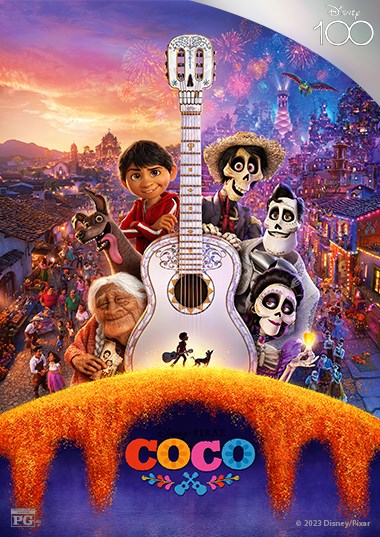 Hecho con Amor: Sugar Skulls

Join LA Plaza Cocina and Chef Norma Salazar in making Sugar Skulls for Day of the Dead! This is a great Dia de los Muertos activity the whole family will enjoy.
Saturday, October 7 · 10am – 12pm
LA Plaza Cocina 555 North Spring Street Los Angeles, CA 90012
Tickets here!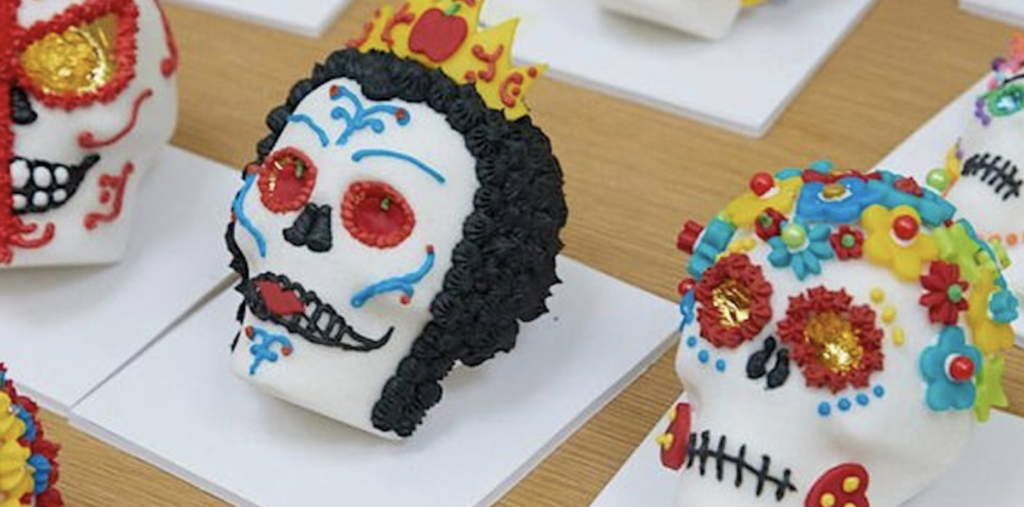 Lila Downs – Dia de los Muertos Concert
Mexican-American singer Lila Downs returns with a concert that will feature her signature Latin-influenced sound. Winner of six Latin Grammys and one Grammy, Downs is one of the most powerful and unique voices that exist today. Downs' music reflects the cultures of Oaxaca, Mexico, and the U.S., in which she grew up. She sings in Spanish and English, sometimes incorporating indigenous Mixtec, Zapotec and Maya. With a symbolic stage presence and emotional storytelling through song, her singing transcends all language barriers.

Wednesday October 11th
8 pm
Segerstrom Center for the Arts, Costa Mesa
Tickets here!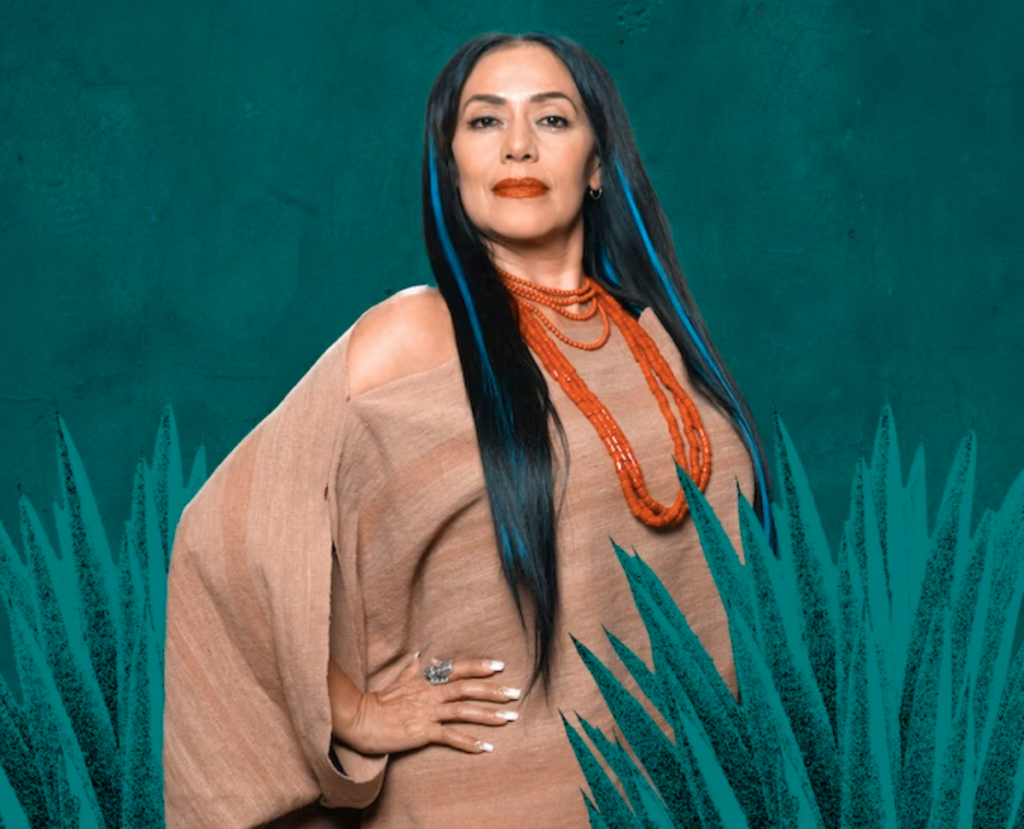 Gloria Molina Grand Park's Downtown Día de Los Muertos
Honoring the people, places and ideas that merit reverence and commemoration, Gloria Molina Grand Park's Downtown Día de los Muertos welcomes parkgoers to contribute to a community altar and to stroll through the park to view 19 altars made by professional artists, local organizations and community partners.

Date – Oct 21 2023 – Nov 02 2023
All day according to their website.
Gloria Molina Grand Park
200 N Grand Ave, Los Angeles, CA 90012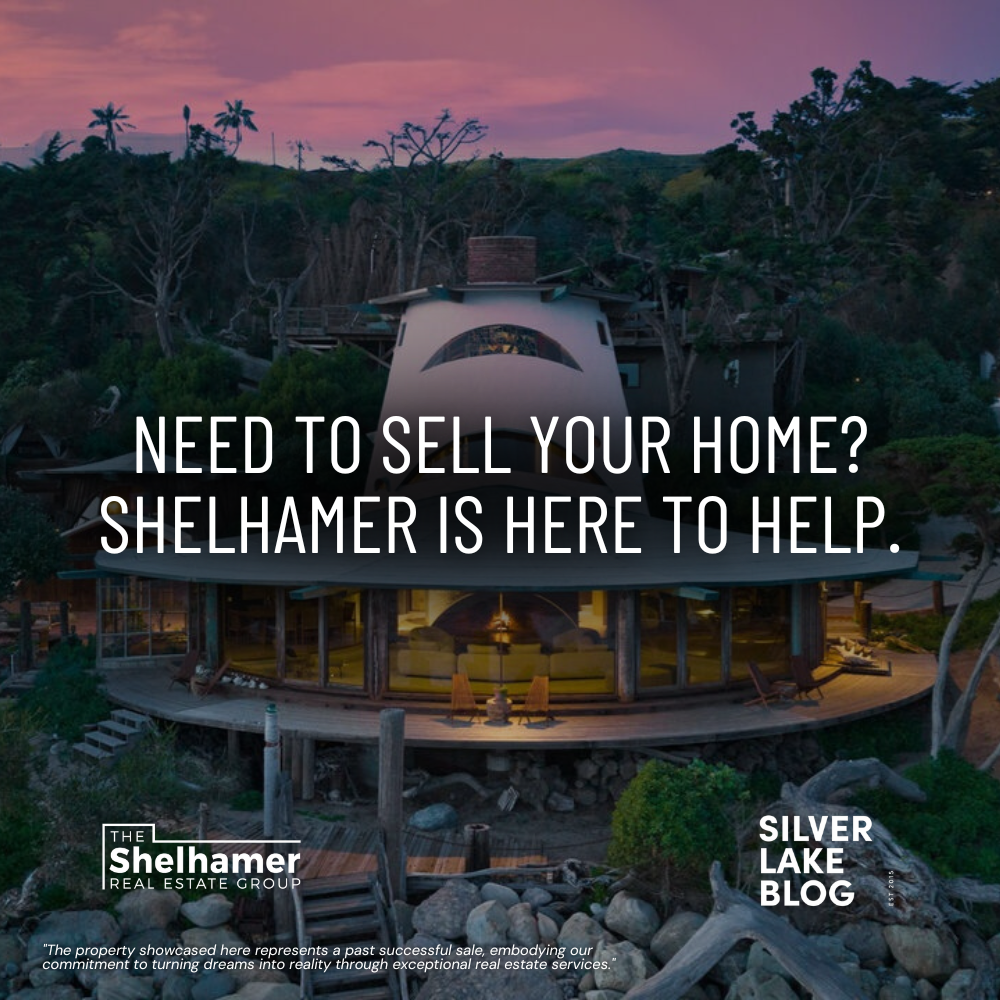 11th Annual San Pedro Dia de los Muertos Festival
On Sunday, October 22, 2023, Angelenos will unite to recognize and celebrate LA's Latin and Mexican heritage as Discover San Pedro, a nonprofit organization, presents its 11th Annual San Pedro Día de los Muertos Festival. With thousands of locals and visitors from Los Angeles, Orange County, and beyond expected to attend, guests will experience a vibrant, historic downtown filled with a festive live entertainment lineup including performances by Mariachi Divas de Cindy Shea, two-time Grammy-winning multicultural, all-women ensemble that continues to push and expand the scope of mariachi music.
October 22nd
3 pm- 9:30 pm
Mesa Street between 5th. and 6th. 6th St. between Pacific and Centre St.
More info here!

Altars and Ofrendas in Inglewood
Check out the festivities including vendors, food, and music at The Inglewood Park Cemetery.
October 22nd – times TBD
Inglewood Park Cemetery
720 E Florence Ave, Inglewood, CA 90301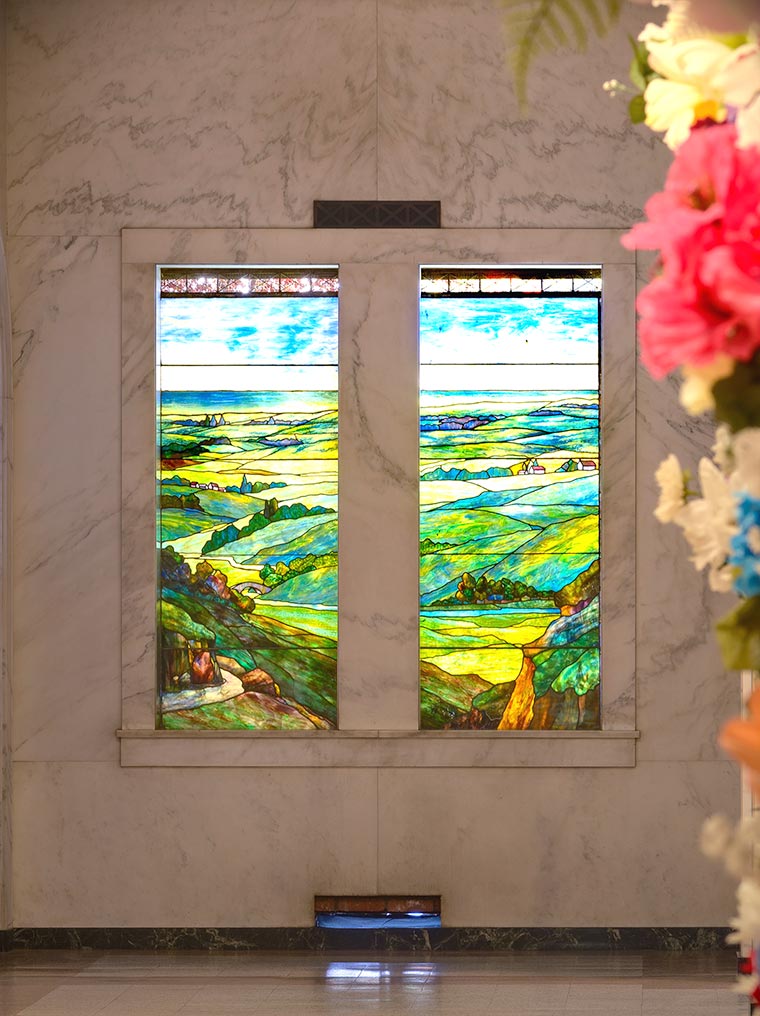 Stroll Historic Olvera Street in DTLA

For over 35 years, the merchants on Olvera Street have celebrated Dia de los Muertos. The celebration has evolved to incorporate the pre-Columbian, Aztec, Mayan and Catholic rituals surrounding death. Each night, a vibrant and colorful procession sets the stage for our ceremony.

See the gallery below and this website for more info on the multi day activities!
Festivities start on October 25, 2023 on Olvera St, DTLA.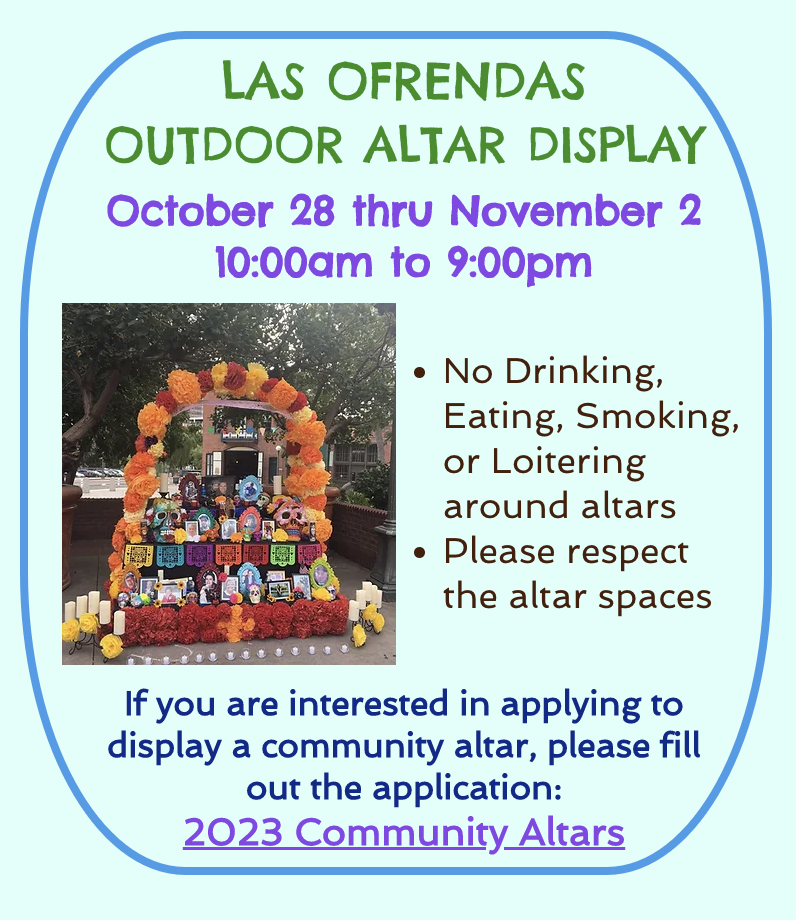 A FRIGHTFULLY "FINTASTIC" FISHY FEST At the Aquarium
Get into the spirit of the season at Heal the Bay's Santa Monica Pier Aquarium with a "fintastic" Halloween and Dia de los Muertos Los Angeles (Day of the Dead) celebration on October 25th and 26th. The Aquarium, beach level at the Santa Monica Pier, has spooky, family friendly activities planned both days from 12:30 to 5:00 p.m.
Free for children under 13; all others: $5 admission; groups of 10 or more: $3 per person, regardless of age.
1600 Ocean Front Walk Santa Monica, CA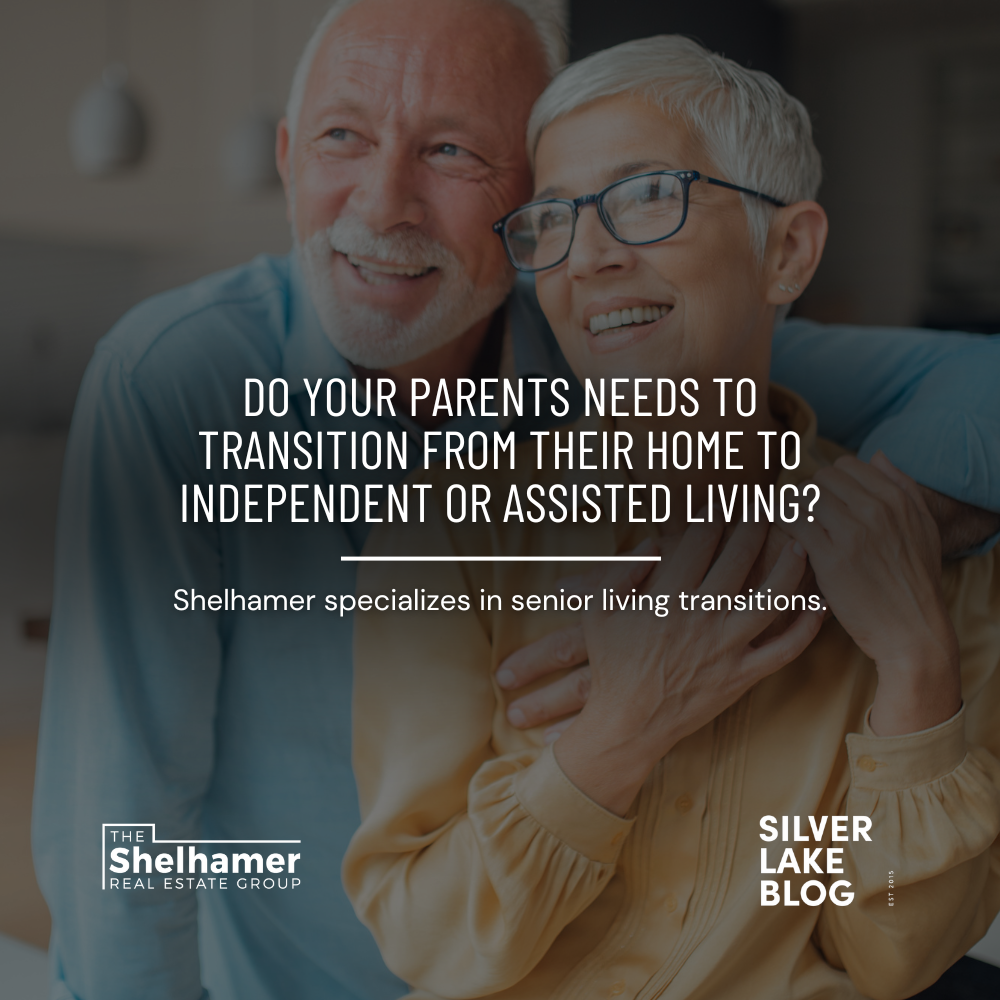 Dia De Los Muertos/ Day of the Dead Book Making
Almost a month long of Dia de los Muertos activities for ages 2-3 in Santa Monica!
Friday, October 27, 2023 @ 11:00 AM – Friday, November 17, 2023 @ 11:45 AM
Douglas Park Building
City of Santa Monica 2439 Wilshire Blvd. Santa Monica, CA 90403
Ticket info here!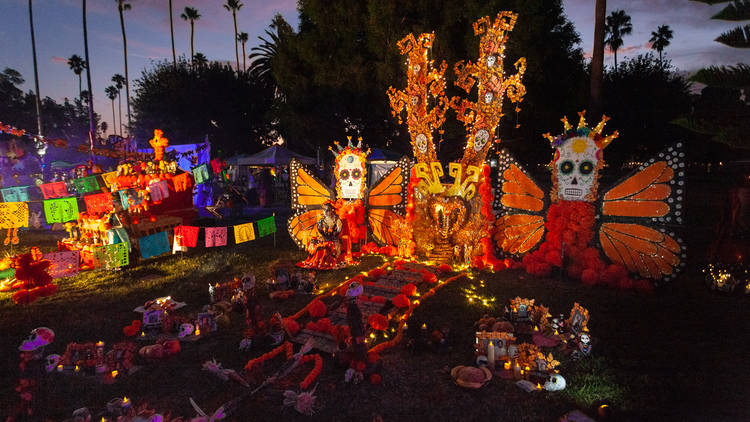 Day of the Dead at The Hollywood Forever Cemetery

The 24th Annual Día de los Muertos festival at Hollywood Forever will take place on Saturday October 28th 2023! Enjoy food, drink, shopping and enter a contest to win Best Altar or Best Costume!
Dia y Noche de los Muertos
Máscaras de México
Vida y Muerte en La Máscara
Life and Death in the Mask

SATURDAY OCTOBER 28TH 2023
DIA DE LOS MUERTOS TICKETS 9 am – 3 pm
NOCHE DE LOS MUERTOS TICKETS 5PM – 12AM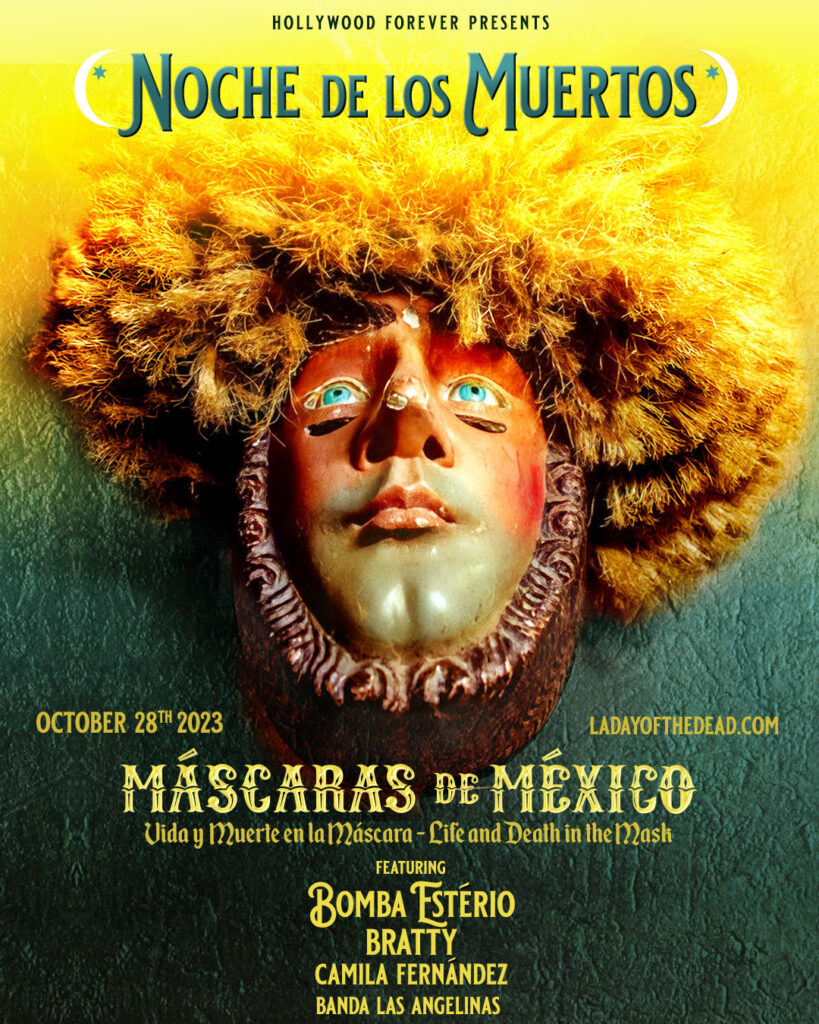 MUERTE Y TRADICIÓN STAGE
DannyLux
Irene Diaz
Grupo Folklorico Cielito Lindo
Inspiraciones De Danza Mexicana
Tecnica Arte Y Folklore
Grupo Folklorico Bailes de Mi Tierra
Grupo Folklorico Princesa Donaji
Tradicion Dance
Pasion de Mi Tierra Dance
Hollywood Forever Cemetery
6000 Santa Monica Blvd.
Los Angeles, CA 90038

Details and ticket info can also be found here
Hang Out in a Catholic Cemetary
Get ready for the Archdiocese of Los Angeles' exciting Día de Los Muertos 2023 celebration at three Catholic cemeteries! It all began in 2014 at Calvary Cemetery and Mortuary, growing in popularity with Santa Clara Cemetery and Mortuary joining in 2016. This year they're welcoming San Fernando Mission Cemetery and Mission Hills Catholic Mortuary to the festivities. Spread out over 3 days the event details are as follows:
Día de Los Muertos Misa y Celebración
Calvary Cemetery, East Los Angeles
October 28, 2023
10:30 am Doors open
12:00 pm Mass & Blessing of the Altars
1:30 pm Cultural celebration, music, children's activities, and folkloric dancers
5:00 pm Event ends
Calvary Cemetery & Mortuary
4201 Whittier Blvd
East Los Angeles, 90023

Celebrate in Downey with Dia de los Muertos Art Festival
Centered around Day of the Dead art this festival will have Folklorico dances, face painting, and art galleries! This festival will be at The Downey Theater.
October 28th, 2023
The Downey Theater
8435 Firestone Boulevard
Downey, 90241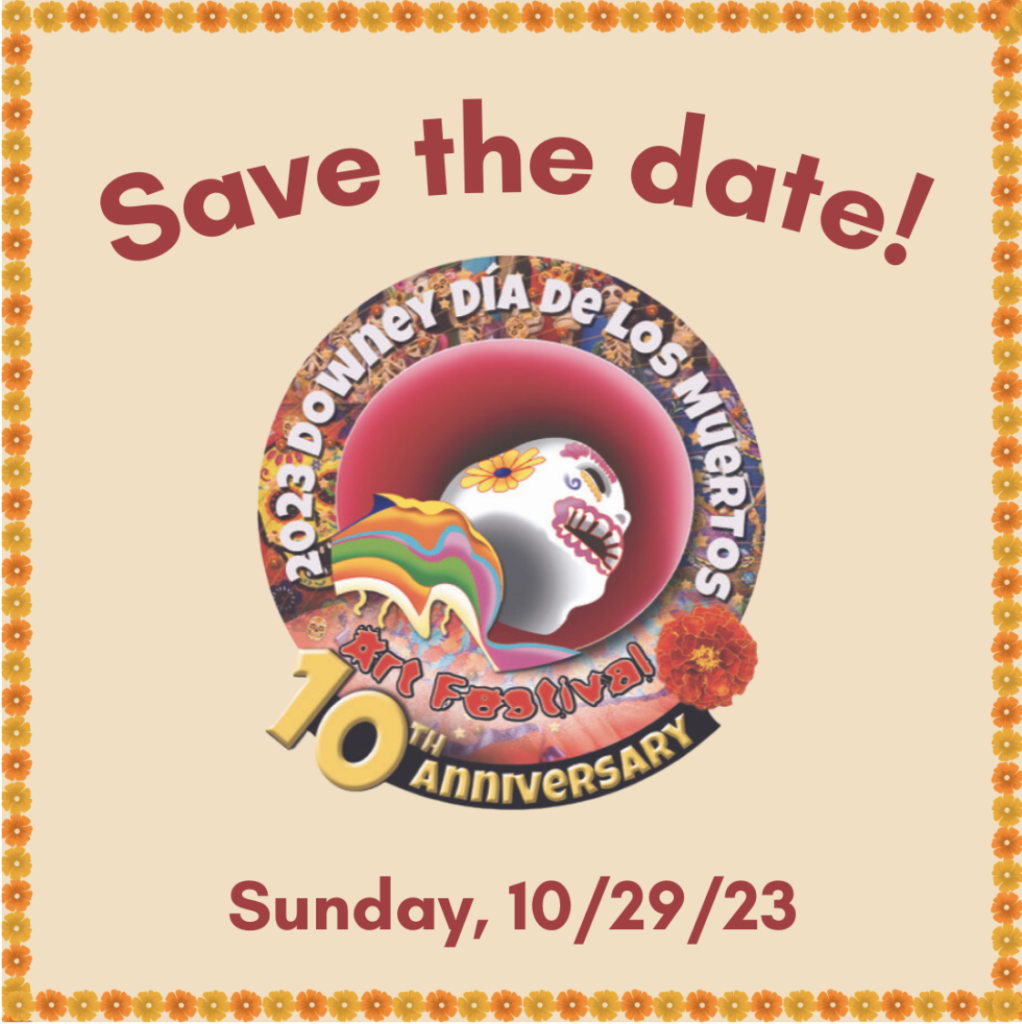 Simi Valley Historical Society
Enjoy Day of the Dead activities in Simi Valley!
October 29th, 2023
11 am to 5 pm
Strathearn Historical Park
137 Strathearn Pl
Simi Valley, CA
Tickets and info on their Website and Facebook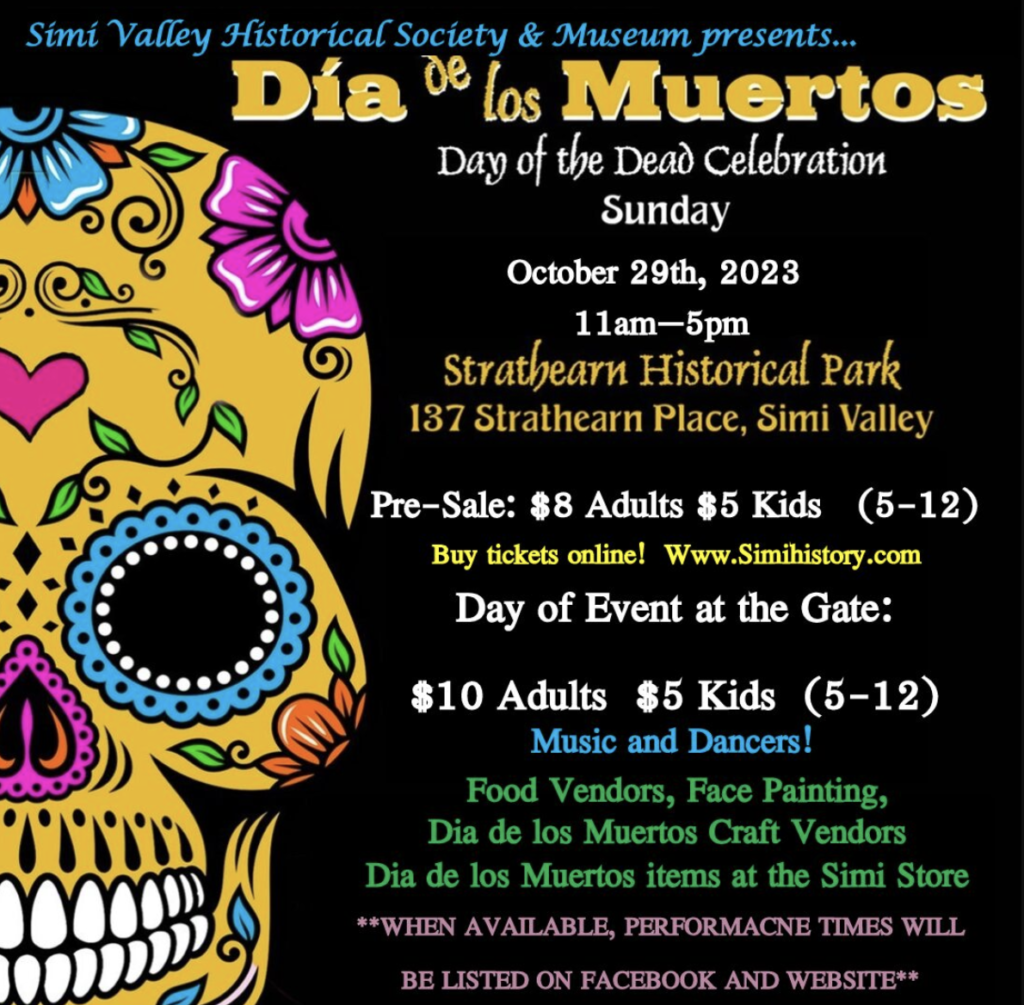 Día de Los Muertos Misa y Celebración
Santa Clara Cemetery & Mortuary, Oxnard
November 4, 2023
10:30 am Doors open
12:00 pm Mass & Blessing of the Altars
1:30 pm Cultural celebration, music, children's activities, and folkloric dancers
5:00 pm Event ends

Santa Clara Cemetery & Mortuary
2370 North H Street
Oxnard, CA 93036

Día de Los Muertos Misa y Celebración
San Fernando Mission Cemetery
& Mission Hills Catholic Mortuary, Mission Hills
November 4, 2023
10:30 am Doors open
12:00 pm Blessing of the Altars
1:30 pm Cultural celebration, music, children's activities, and folkloric dancers
6:00 pm Mass
7:30 pm Event ends

San Fernando Mission Cemetery
& Mission Hills Catholic Mortuary
11160 Stranwood Avenue
Mission Hills, CA 91345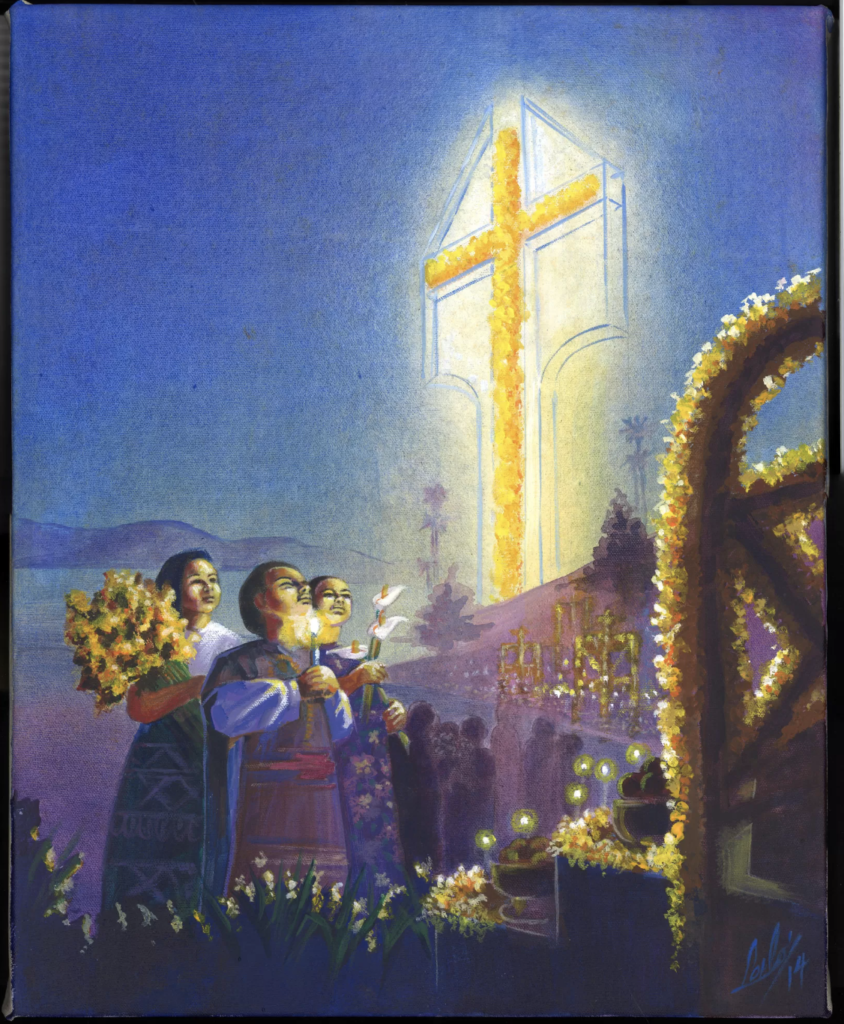 Noche de Altares. – Centro Cultural de Mexico in Santa Ana
For the 21st year in a row families, students, community organizations, activists, artists, and businesses in Santa Ana and surrounding areas are invited to build an altar in memory of a deceased loved one or to bring awareness to a social issue.
Date, time, and location TBD
Stay up to date on their website here.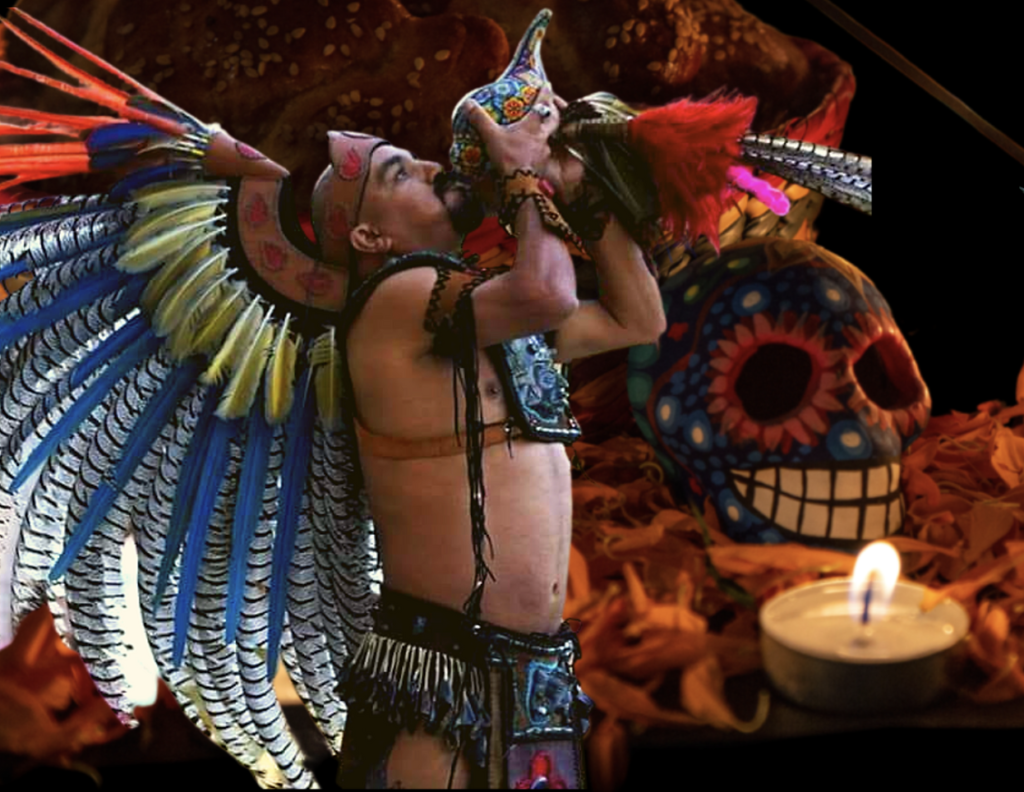 50TH Annual Dia De Los Muertos Celebration at the East LA Civic Center
Note that this years celebration and activities are taking place OFF SITE due to the Civic Center's renovations. Visit this website for more info!

Run a 5k!
Celebrate with a 5k run/walk for Dia De Los Muertos Los Angeles. Tour historic Olvera Street and enjoy music along the course, beautiful finisher medals, and a post-race Dia de los Muertos celebration. Everyone is welcome!
When: Saturday, Oct. 28, 2023 at 8:00 a.m. Packet Pick Up opens at 6:30 a.m.
Where: HISTORIC OLVERA STREET in Downtown Los Angeles.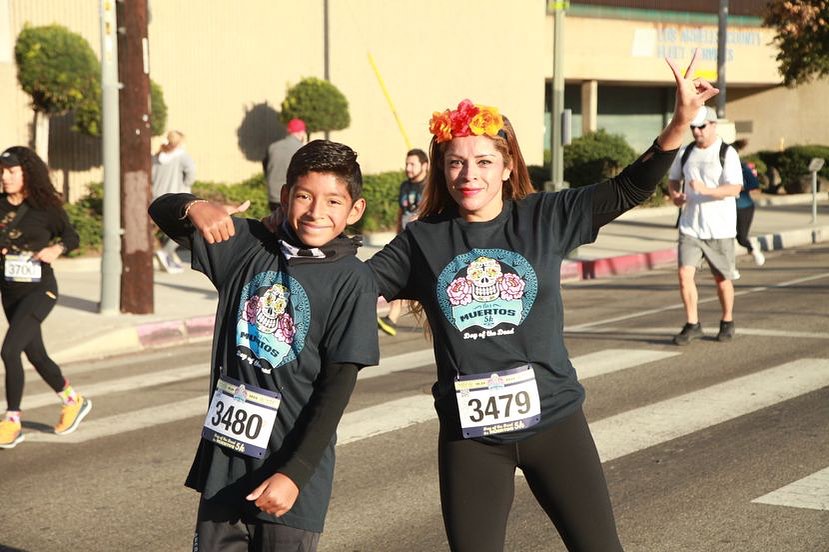 Tour Cemeteries in Long Beach with The Historical Society
You'll be entertained to death!
The Historical Society of Long Beach holds the Annual Historical Cemetery Tour at Long Beach Municipal Cemetery and Sunnyside Cemetery on the last Saturday of October. The all-ages event features graveside performances by community theater actors portraying the life of the person lying at rest.

Saturday, October 28th – 9 am – 3 pm
Sunnyside & Municipal Cemeteries
1095 & 1151 E. Willow Street, Long Beach CA 90806
Tickets here!

The City of Downey & Downey Theatre Day of the Dead Festival

Performances, beer, wine, food!
This event will showcase local artists and vendors who will be selling one-of-a-kind pieces inspired by the Day of the Dead.
More info and tickets here!
October 28th 11 am to 8 pm
Downey Theatre 8435 Firestone Boulevard Downey, CA 90241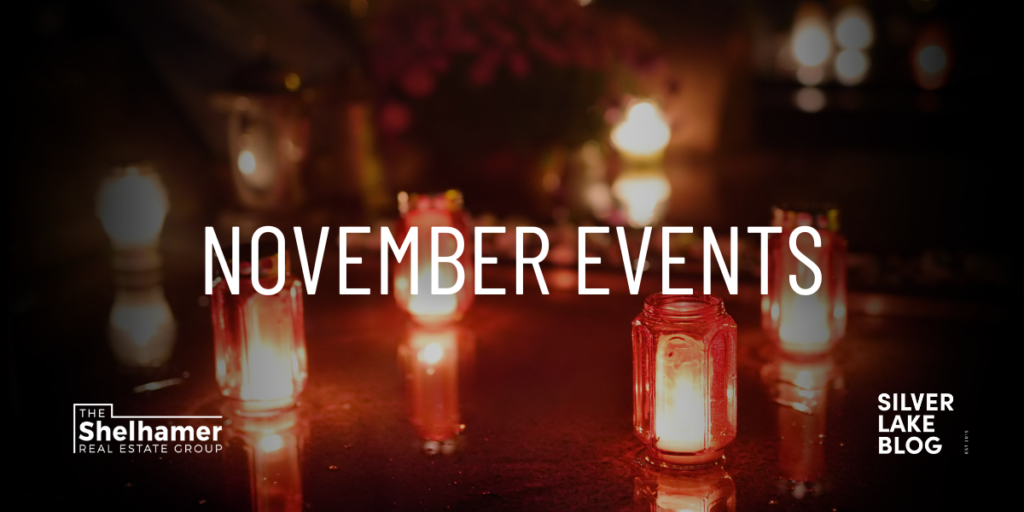 Candlelight Glendale: Día De Los Muertos – Celebrating the Day of the Dead

Candlelight concerts bring the magic of a live, multi-sensory musical experience to awe-inspiring locations like never seen before in Los Angeles. Get your tickets now to discover music inspired by the Day of the Dead at Vertigo Event Venue under the gentle glow of candlelight.

Vertigo Event Venue, Glendale
Wednesday November 1st
Two performances, 6:30 pm and 9 pm
Tickets here!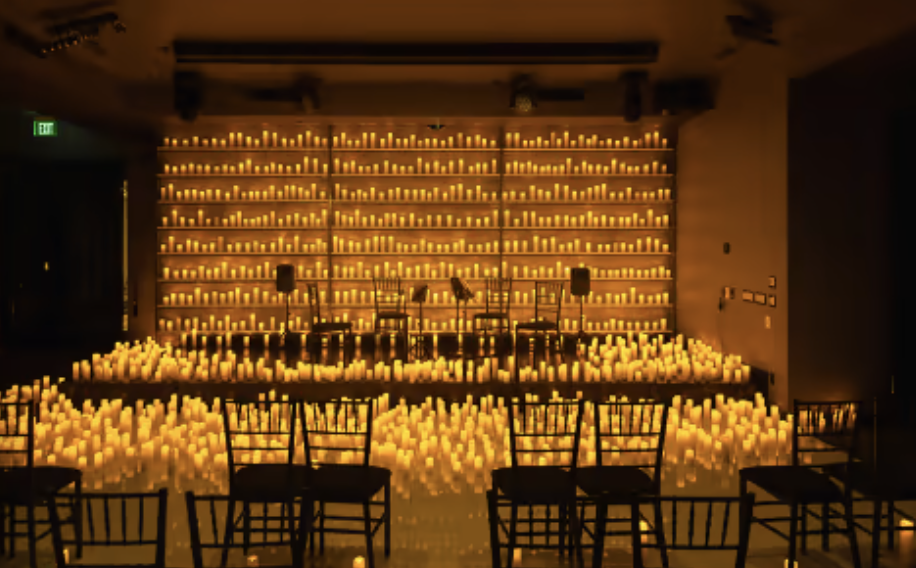 Walk Main Street in Canoga Park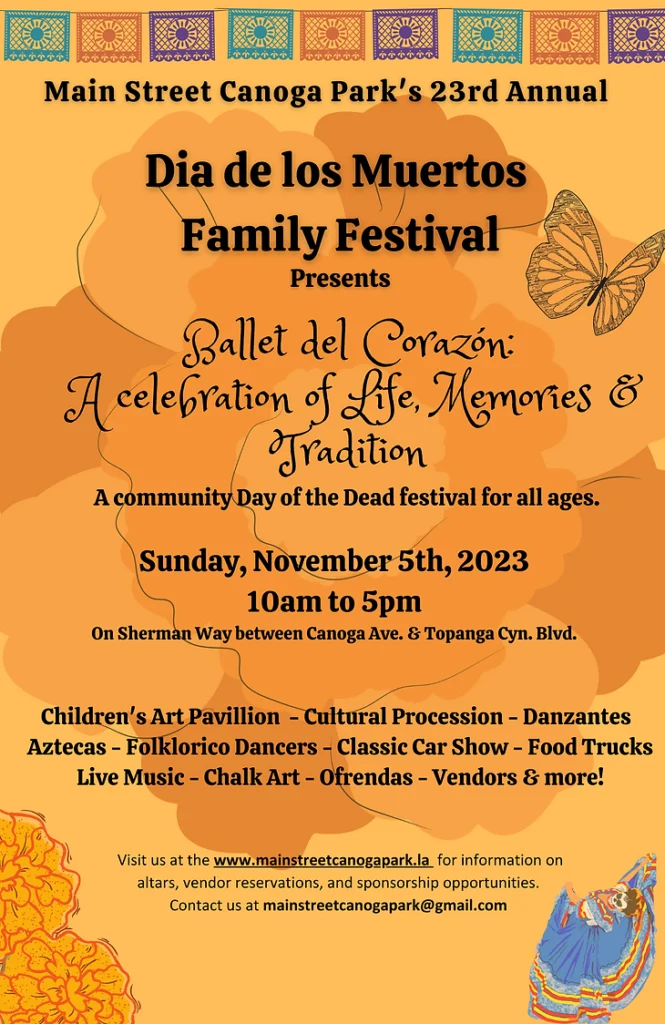 This Canoga Park celebration is chalk full of Dia de los Muertos activities!
Sunday November 5th, 2023
10 am to 5 pm
On Sherman Way between Canoga Ave and Topanga Canyon.

OC Wine & Spirit Fest dia de los Muertos
Ticket includes unlimited tastings of wine & spirits along with dancing and more.
November 5th, 2023
Giracci Vineyards & Farms, 16162 Jackson Ranch Rd. N, Silverado, CA 92676
Ticket info here.


---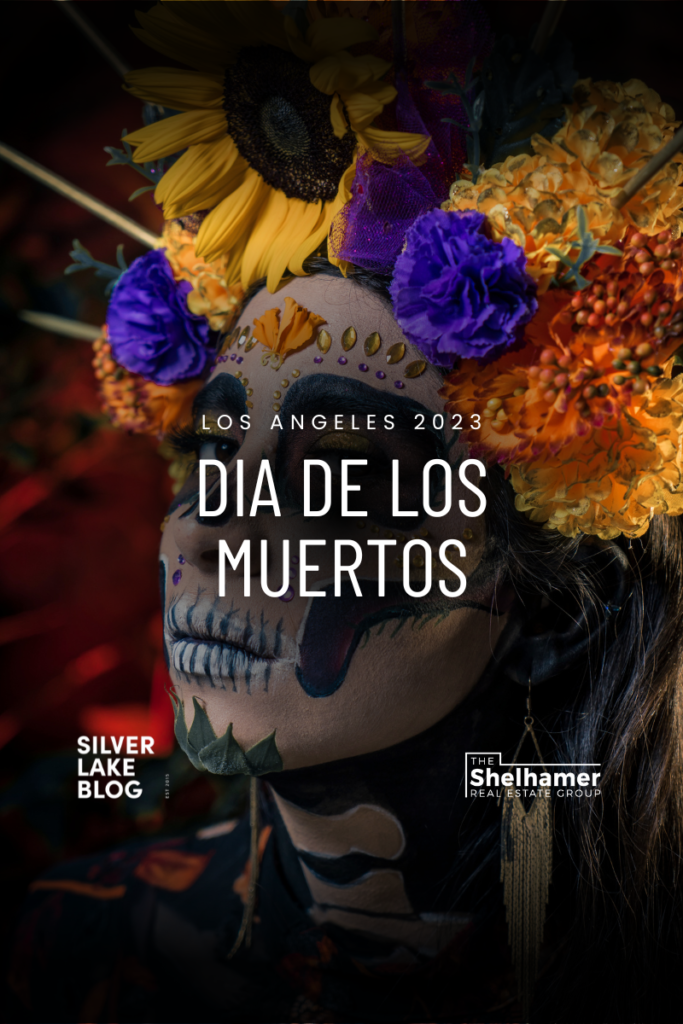 Past Events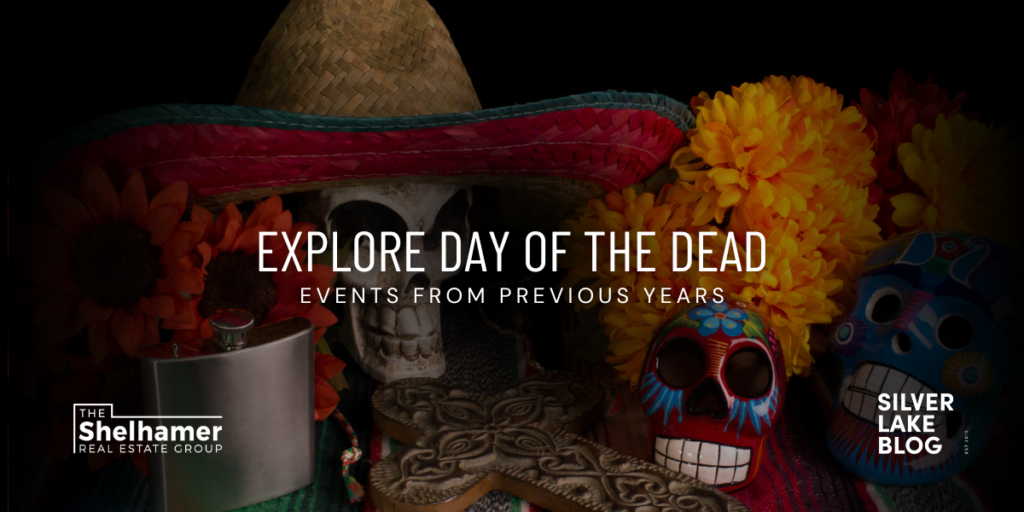 Dia De Los Muertos in Eagle Rock 2016
DIA DE LOS MUERTOS EN NOCHES DE TROVA
Trova night will dedicate this special evening to honoring the dead. Resident Troubadours Esteban, Tomas, and Jorge will sing a special repertoire of song commemorating those who have passed before us.
All Ages | Free | Live Music | Art | Food & Libations
Altarista Judith V. Rogers will build an altar to the departed souls which features the traditional four elements Earth, Air, Water, and Fire. Attendees are encouraged to bring a photo of loved ones to place upon the altar.
Who and what is Producciônes Tenoch tenoch.org? For 18 years, TENOCH is a group of Mexican artists who reside here in Los Angeles, who together promote: Theater, Poetry, Literature, Cinema, Dance, Folklore and contemporary styles of music i.e. Trova. Here's a sneak peak of what it's about:
On Friday, November 4th, a special night will celebrate the dead at the Dia De Los Muertos event.
When: Friday November 4th. Celebration starts at 8:45 PM
Where: Center For The Arts Eagle Rock, 2225 Colorado Blvd. Los Angeles, 90041
This event is sponsored by a generous grant from the Eastside Arts Initiative eastsideartsinitiative.org
For more information about innovative programming from the Center for the Arts Eagle Rock visit cfaer.org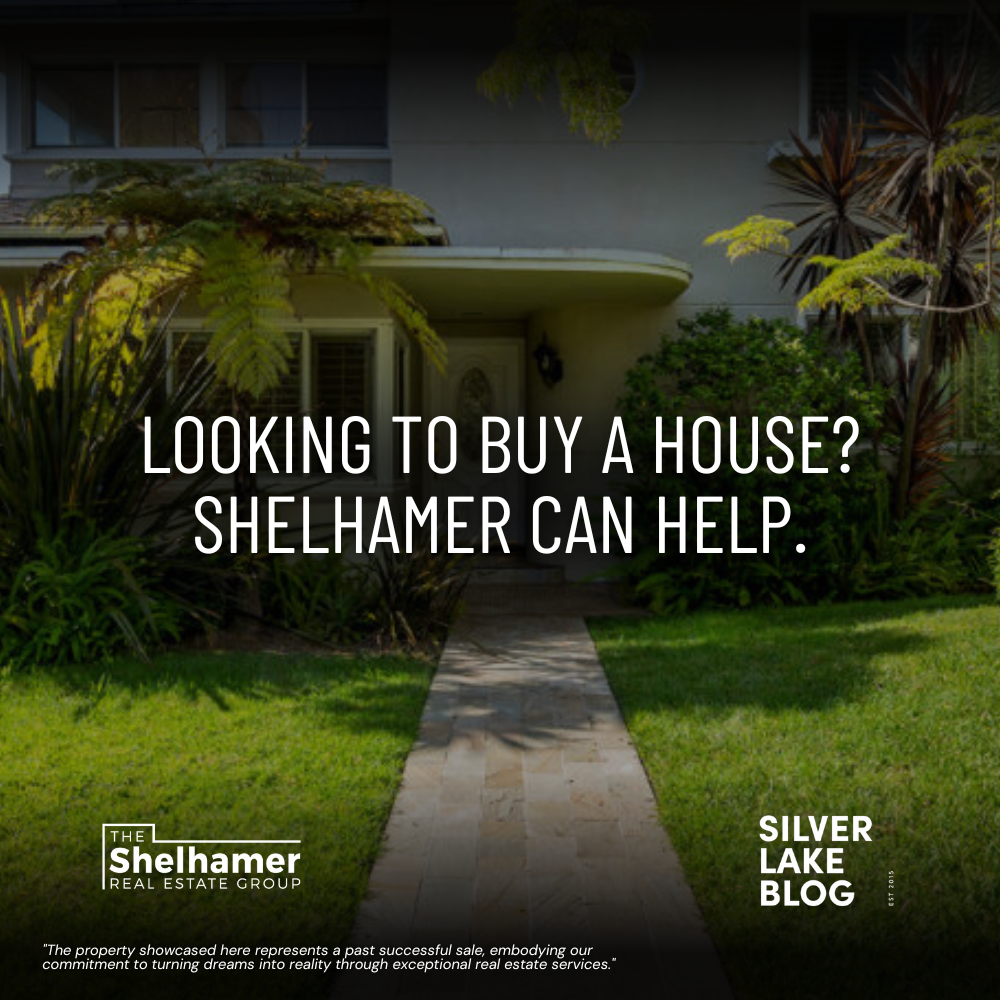 ---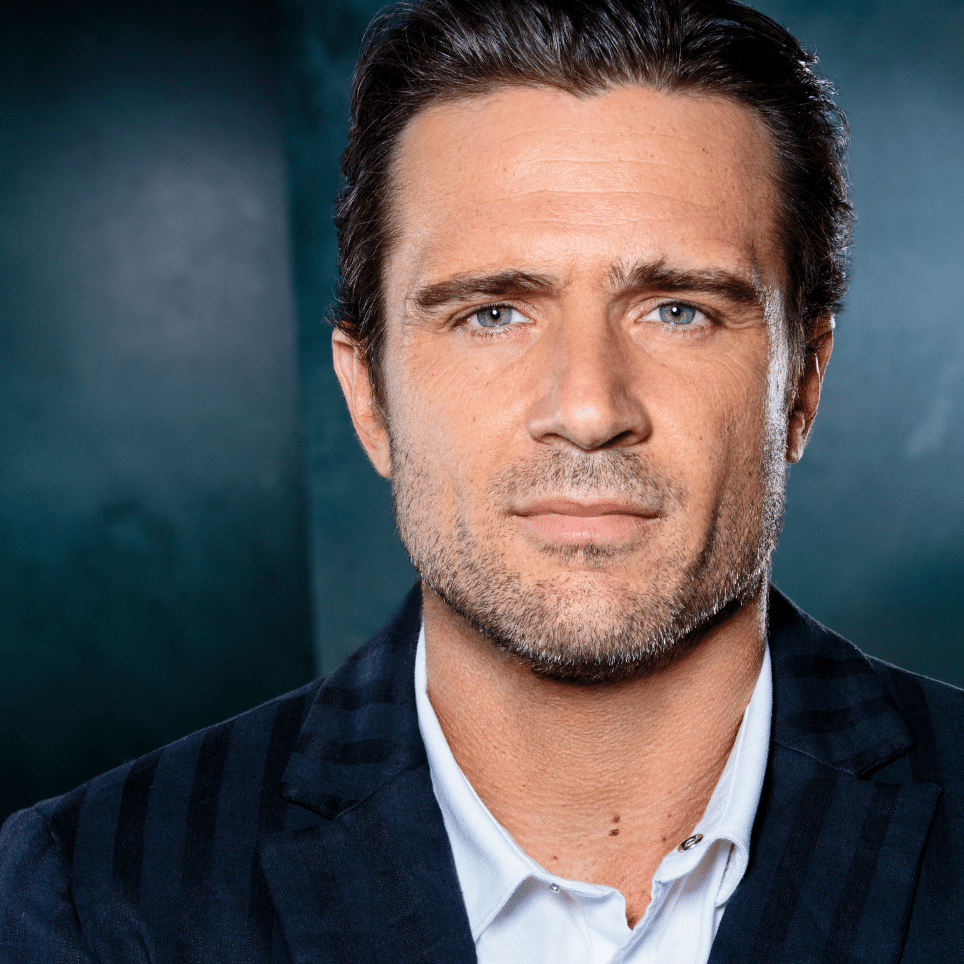 Your Eagle Rock Real Estate Expert
I'm a local real estate agent with The Shelhamer Real Estate Group, and It would be my pleasure to help you find the perfect property to call home in Eagle Rock CA, or if you're thinking about selling a house, condo, or multi-family building in, Los Feliz, Silver Lake, Atwater Village, Glassell Park, Mount Washington, Hollywood Hills, or Downtown Los Angeles, it would be a privilege to help you get top dollar for the sale of your property.
Lets chat sometime. 310-913-9477 or contact me.