Atlantis Motors stuffed itself in a trendy little stretch off Sunset Blvd in Silver Lake C.A. quickly becoming known as "Silver Lake East". John Q, shop owner and coiner of the phrase, shares about his family, career, and his Brad Pitt experience.
Glenn:
How long have you lived in Los Angeles?
John:
My family and I moved to Silver Lake 40 years ago, 1975. We lived on Descanso, on the hill on top of the stairs.
G
What brought you to Los Angeles' east side?
J
The War in Viet-Nam brought me to the east-side. My sister and I were both born in Vietnam to an American military father, Vietnamese mother. We fled the war torn country in 1975.
G
What are your thoughts on how the neighborhoods changing?
J
The neighborhood has changed a few revolutions since we moved to Silver Lake in 1975. We witnessed the full range of gentrification. Ridiculous high rents will push out the essence of Los Angeles' culture, which made it a cool place to begin with.
G
Why do you like living/working in this community?
J
I like working in Silver Lake because it's my hometown and I take pride in serving our community with keeping motorcycles running well.
G
Do you own or rent your home?
J
I've been leasing a studio loft in the artist district DTLA since 1997, still there.
G
What are some of your favorite local spots?
J
My favorite local spots: Sunset Beer, Little Joy, muddy paws coffee shop,
G
Why own a motorcycle shop?
J
I've always loved riding, owning and working on motorcycles since pre teen years, after a long career in garment manufacturing, I decided to follow my dream/passion in 2004 and opened my first shop in Echo Park, which evolved to Atlantis Motor Garage in Silver Lake today.
G
What services does your shop offer?
J
Atlantis Motor Garage is a full service motorcycle shop specializing in vintage Japanese and European bikes, we also service modern models, domestic makes too. We offer custom fabrication services, general repairs, restorations, insurance claims, parts and riding accessories. We offer a community and dog friendly green space with wi-fi, sunshade, BBQ grill, beer cooler, lunch benches and friendly vibes in our 'Moto Yard' located in front of our garage on Sunset. You can also support your local motorcycle shop by purchasing a cool t-shirt or cap from us too.
G
Tell me more about your "Silver Lake East" concept you mentioned…
J
Silver Lake 'EAST' is a name I developed to identify our strip of businesses stretching from Mitcheltorina to Vendome. The eastern strip of Silver Lake on Sunset Blvd., is becoming the next hot spot in LA with its growing scene of eateries, coffee shops, hair studios, plant shop, motorcycle shop, waxing studio, Los Globos, etc. Foot traffic has increased at all hours.
G
Now of course… Tell me about when you first meet Brad Pitt.
J
There was this interesting super custom v-twin street fighter motorcycle parked outside in front of our shop Atlantis Motor Garage, my employees and I surrounded the parked bike trying to figure out what the hell it was. Lots of very expensive details.
A few hours later, an employee comes to my office and says it's 'Brads' bike.. I got up and was like… "Brad who"?? As I got to my office door, Brad Pitt was in my face introducing himself to me. I chuckled inside big time. Lol.
Anyways, he said that he and wife recently moved to Los Feliz and he passes the shop regularly always wanting to stop in. He asked me to give him a look see tour of the shop. We had a good bike talk session, as I walked him out, because of course, I was too busy at work to socialize too long with Brad Pitt, I told him that my friends would never believe me if I told them that he had visited. So, a photo together in front of the shop was in order.
Brad Pitt was hella cool and encouraged the shots! We, Atlantis Motor staff, walked him to his parked bike and saw him off. Brad had great friendly, down to earth personality, he's welcomed to hang at the shop anytime:)
We later discover the bike he rode off on was a $300,000 custom built bike, considered one of the most expensive custom bikes in the world. Built by Ecosse : Titanium Series XX bike
G
What are your thoughts on Brad Pitt's motorcycle?
J
I appreciated the quality details of Brad Pitts Ecosse motorcycle, I could definitely see myself riding a v-twin street fighter like that. I just couldn't figure how it would cost $300,000, are the Pistons made out of diamonds?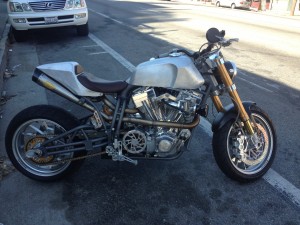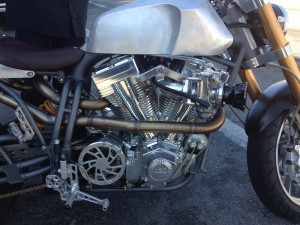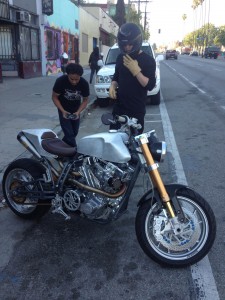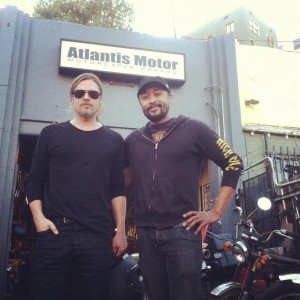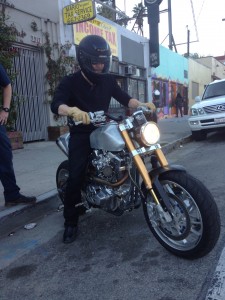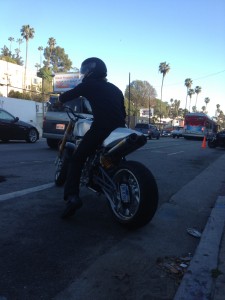 Atlantis Motor Garage
3300 Sunset Blvd, Los Angeles, CA 90026