If there's one fast growing trend in plant arrangements in Los Angeles, it's the world of succulent gardens. Today we'll be blogging about the Best Succulent Garden In Containers Ideas we've seen lately while selling the L.A. real estate market. We'll be checking out snap shots of the best succulent ideas for 2017.  Are you ready?
Where once a succulent garden was rarely seen in Los Angeles, and that as a special cactus arrangement to the side of a ranch-style home, succulent arrangements are today found just about anywhere in Los Angeles on both the Eastside and Westside.
Why their rise in popularity? Well, for one thing, they're immensely easy to grow and maintain, and there's the little thing about the draught and running out of water. Ya know.
Moreover, they are almost impossible to kill too. Many people have already named them the "camel" of greenery. Being tolerant of low water levels, they can thrive in dry environments, and they don't require hardly any water at all. In addition, they are simply beautiful and lend themselves to whatever shape, style or arrangement you may have in mind. So lets check some out now!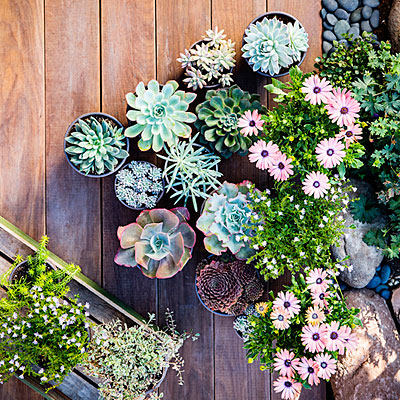 Floral accent|Best succulent garden in containers ideas
Potted Echeveria and Senecio mix well with other low-water, sun-loving perennials such as African Daisy. Keep single plants in individual pots to easily change the grouping with the seasons.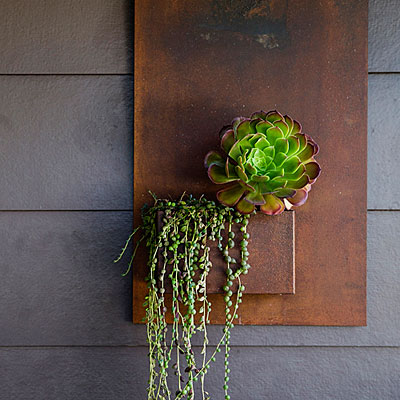 Urban chic | Best succulent garden in containers ideas
Hang a vertical planter by your front door to give a hip, urban feel to your doorstep. The living picture is dripping with 'String of Pearls' succulents (Senecio rowleyanus) and bronze-tipped aeonium. The 'City Planter' is available from Potted LA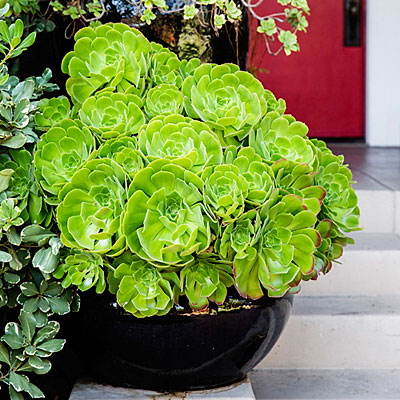 Go for green | Best succulent garden in containers ideas
A cluster of bright green aeonium rosettes in a glossy black pot makes a statement against a brightly colored door. Aeonium 'Jolly Green' has a compact form well suited for containers.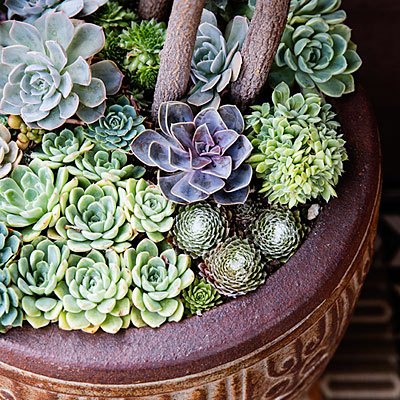 Under-plant with succulents | Best succulent garden in containers ideas
A container of false arelia is top-dressed with a living mulch of Echeveria, Sempervivum, and Senecio creating a miniature living landscape. As plants grow to be too crowded, pinch off pups to make more room and use in other containers.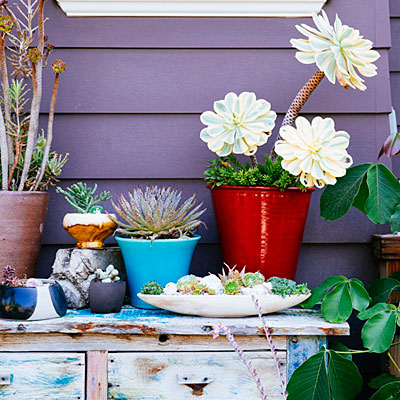 Succulent side-board | Best succulent garden in containers ideas
Designer and co-owner of L.A.-based nursery Potted, Annette Gutierrez uses a weathered wood sideboard to display a collection of potted plants, such as 'Sunburst' aeonium with sedum (in red pot) and a tiny succulent landscape in a low white bowl. Low white Bauer Canoe bowlfrom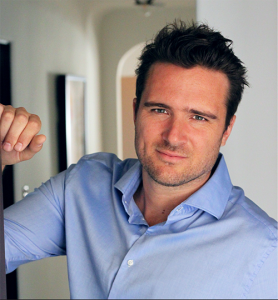 Your Los Feliz Real Estate Professional
I'm a local real estate agent with The Shelhamer Real Estate Group, and It would be my pleasure to help you find the perfect property to call home in Los Feliz CA, or if you're thinking about selling a house, condo, or multi-family building in Los Feliz, Silver Lake, Atwater Village, Glassell Park, Mount Washington, or Downtown Los Angeles, it would be a privilege to help you get top dollar for the sale of your property.
Lets chat sometime. 310-913-9477 or contact me.