Atwater Village Homes For Sale

Search Atwater Village Real Estate For Sale on the MLS. Browse photos, see new properties, search for houses, condos, and multi-family properties for sale in Atwater Village, CA 90039.
Hello Atwater Village CA!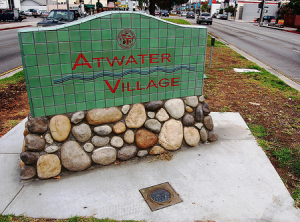 Atwater Village is a highly diverse, cozy neighborhood in northeast Los Angeles. A grown up neighborhood that focuses on family values and farmers markets, Atwater Village balances a diverse palette of local flavors, vintage threads, and modern accents.
Quieter than its more trendy Eastside of Los Angeles neighborhoods, Atwater Village truly has a close village feel and people are just as welcoming.
Atwater Village Real Estate: It's all about…Location Location Location
General neighborhood boundaries are the Ventura Freeway on the north, San Fernando Road on the east, and the Los Angeles River on the south and west. Parts of Forest Lawn Cemetery and the Glendale Fwy are also included. Atwater Village is relatively flat and extremely bicycle friendly.
Atwater Village Community
Atwater Village is adjacent to the Los Angeles River, and the aesthetics of the community is definitely an appreciation for the natural and organic with a modern flare. The heart of the village, roughly a quarter mile stretch along Glendale Boulevard, is where residents come together for the annual street festival, the weekly farmers market, and various other art and music sidewalk events. You'll find hipsters perusing the vinyl selection at Jacknife Records and couples with strollers enjoying an afternoon coffee Al Fresco.
Schools in and around Atwater Village from GreatSchools.org
Find your local public or charter school with the LAUSD Resident School Identifier
Atwater Village Art and Shopping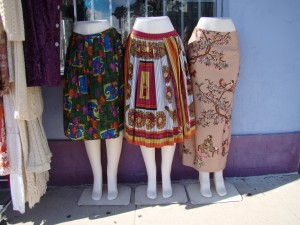 The main thoroughfares of Atwater Village are also the central commercial corridors, Glendale and Los Feliz Boulevards. Glendale Boulevard is where you'll find local vendors and coffee shops, foodie spots and yoga studios. A small scale pedestrian-centric corridor, the stretch is dense with shops to keep you busy the entire day through.
The stretch is as eclectic as the people…head to Velvet Threads for one of a kind vintage, Pampered Birds for exotic sights, Grain for home furnishings, or 55 Wine Degree for a bottle of reserve cabernet – now we're talking!
The southern end of Los Feliz Boulevard carries over the sense of small town village with coffee shops, bakeries, and local eateries. If you're looking for a serious market haul, head to the Costco on the northern stretch of the Boulevard, located within the more mainstream commercial development with such stores as Best Buy and Toys/Babies 'R' Us. All, however, nicely scaled to the small town feel that is Atwater Village.
Atwater Village Architecture and Atwater Village Real Estate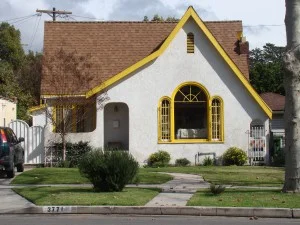 The vast majority of the homes in Atwater Village have never been demolished, resulting in the neighborhood having one of the highest numbers of structures built before 1939 in Los Angeles County.
Built during the time of the "fantasy bungalows", as well as the result of being so close to movie studios, the neighborhood of Atwater Village has a mix of architecturally exotic, such as those built by Barbey Kenoffel on the 3600 block of Brunswick, to the much plainer Cap Code houses dispersed throughout the community, to the Spanish Colonial Revival houses along Glenfeliz. All, however, were within the fantasy American dream home of comfort, attractive, affordable, single family, detached housing for working and middle-class Americans.
Today, the scale of Atwater Village Real Estate remains quaint and mostly single-story with bungalows mixed in with more modern redos. Residents take pride in their manicured lawns.
Atwater Village Eateries & Nightlife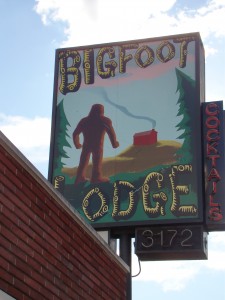 More and more people are venturing into Atwater to check out what all the buzz is about other than just buying Atwater Village Real Estate. Nonpretentious bars and neighborhood foodie gems are what you can expect in Atwater Village. Favorite local foodie spots include the Viet Noodle Bar and Canele's Mediterranean fare.
The local bar scene has a laid back attitude and cool vibe. Head to Bigfoot lodge to feel like you've stepped onto a set of Huckleberry Fin, Golden Road Brewery for a pint of your favorite IPA, or the Roost for an authentic dive.
Wanna be transported back in time? Head for the Tam O'Shanter which was opened in 1922 and serves a mean Whiskey Smash.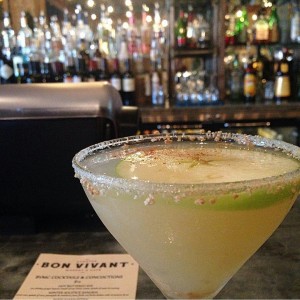 Bon Vivant Market and Cafe
3155 Glendale Blvd, Los Angeles, CA 90027
(323) 284-8013
bonvivantmarketcafe.com
Bon Vivant Market and Cafe is a favorite along Glendale Blvd in Atwater Village. As its name suggests, it's a hybrid space that serves as a gourmet shop as well as a cafe. That said, it takes its yummy dishes, cheeses, and cocktails, just as seriously as the market side. Bon Vivant Market and Cafe is eye-opening space takes on the shape of a French country side slash enchanted garden scene.
Atwater Village Historical Fun Facts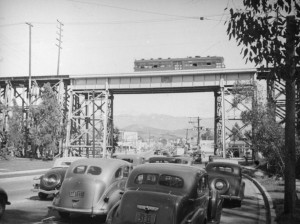 Like much of the northeast part of the city, Atwater Village was part of the Rancho San Rafael until 1868, when parts of it were purchased by W.C.B. Richardson, who renamed it Rancho Santa Eulalia. The entire region was subdivided and sold to home builders in 1902, with the Atwater portion being named as such due to its proximity to the Los Angeles River.
The area was known for sheep ranching and dairying and in 1903 five hundred acres were sold to Japanese tenants for the cultivation of strawberries. The area was initially named "Atwater," while the "Village" was added in 1986.
After the turn of the century, Atwater Village was experiencing increasing traffic between downtown and its fast-growing urban neighbors to the north. L.C. Brand organized the latest of his Glendale municipal institutions, the Glendale and Los Angeles Electric Railway in 1903, with operating schedules of twenty minutes through the strawberry and flower fields of today's Atwater Village.
A drive along Fletcher Drive, just west of Riverside Drive, reveals concrete pilings that still exist that once led to a Pacific Electric "Red Car" station.
The first developed portion of Atwater Village in the 1920s took place towards the north, and today still holds the highest number of the very oldest residential structures in Atwater. A combination of light industrial facilities, traffic corridors, and the influx of workforce shaped Atwater Village. A disastrous flood in 1927 severed the Glendale Boulevard/Hyperion Bridge and a new viaduct was built in 1928, with an overpass paid by Pacific Electric in order to put its tracks on the median strip of Glendale Boulevard. Commercial development began spreading along the main corridors, which is still the main thoroughfares today.
The neighborhood of Atwater Village is among the city's most rapidly gentrifying, with an influx of hipsters and businesses catering to them, spilling over from the popular Silver Lake, Los Feliz, and Echo Park areas. Most noticeably, young couples starting families like the subtle edginess while still embracing progressive family values.