In this post we're going to look at: What is a Real Estate Broker? Why is the Agent Broker Relationship so important to Buyers and Sellers?
This question comes up all the time and it's easily confusing. There is a huge distinction between a real estate agent and a real estate broker. A real estate broker has passed a state exam to become a real estate agent and has worked as an agent for many years. The broker has then passed a completely different state exam and has been issued a Broker Lic. Only brokers can be paid a commission in the state of CA. Brokers can then pay their agents under them a portion of the commission. All purchase contracts used to buy property and listing contracts used to sell real estate are the property of the broker. Therefore you may hire an agent to buy or sell real estate but the broker is the one who is responsible for the transaction and should be working with the agent the entire time.
A real estate agent must pass a state exam in order to receive a real estate license. The agent then must "Hang" their Lic. under a broker. Real Estate Agents can not work independently and must work under the employ of a broker. Period.
Why was this relationship created?
To protect the consumer. The founding relationship between broker and agent was established so that newer agents could ask questions, get advice and receive guidance from their more experienced broker. This connection would help to ensure that consumers were over protected and very well taken care of.
What has happened to this relationship?
With large brokerages, like Keller Williams, Compass, or Sotheby's many agents have never even met their broker! They do not have a clear line of communication to ask advice and guidance. It is important when one is buying or selling to ask your agent if they even know who their broker is? Can they call their broker if need be? Is their broker available to help? Will the broker oversee your transaction?
The Shelhamer Group and Realpro Eastside Difference?
Kendall Key BRE: 01874944 is the broker owner of Realpro Eastside and the broker of The Shelhamer Group. Kendall Key personally oversees all transactions. She is available to all agents on her team 24/7 and is always available to contact clients directly. This close connection is invaluable to consumers. Having a broker work directly with their agents allows more focus on exactly what matters: Extreme client satisfaction.
If you are interested in working with an agent and broker who work DIRECTLY together please call Glenn Shelhamer (310) 913-9477 today! BRE 01950995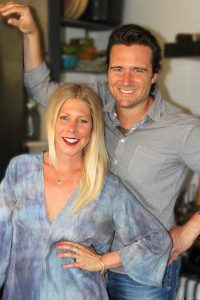 Kendall Key & Glenn Shelhamer
Highland Park Homes For Sale | Highland Park Houses For Sale | Highland Park Real Estate
This article, What is a Real Estate Broker? Why is the Agent Broker Relationship so important to buyers and sellers?, was provided by Glenn Shelhamer of The Shelhamer Real Estate Group. If you are selling your Highland Park home, I have a comprehensive marketing plan, including preparing your Highland Park home properly that will help get your home sold in less time and for more money. Call me at 310-913-9477 or contact me to discuss how I will get your home sold.
Contact Joe Tishkoff, from Skyline Home Loans for a mortgage Pre-Approval.
Original Source: SilverLakeBlog.com