Calling all investors for a "buy and hold" with an attractive Cap Rate. Find all properties for sale in Los Angeles right here at silverlakeblog.com. Here's a fully occupied multi-family building near USC 263 W 41ST Pl Los Angeles CA 90037.  High Cash Flow on Properties for Sale in Los Angeles and on this current income property!
We're pleased to present the opportunity to acquire Properties for Sale in Los Angeles and this quadruplex, located only one mile from the USC campus. With 2, large 4BR units and 2, large 3BR units, The property was recently rehabbed including all new water heaters, roof work, electrical upgrades in all units, and many new fixtures. There are separate washer and dryer hookups for each unit & 5 garages in the rear of the property. The garages were recently converted to separately-rented storage units, with all already rented. The current tenants are Section 8, providing automatic income collection and enforcement through the Los Angeles Housing Authority for properties for sale in Los Angeles under the section 8 guidelines.
263 W 41ST Pl Los Angeles CA 90037
14BR/4BA
Offered at $950,000
Owner requires accepted offer for property tour. Please call me for more information 310-913-9477 or contact me.
Strong Cap Rate & Section 8 Tenants: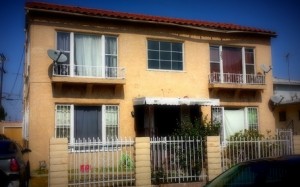 The Section 8 program offers tenant-based assistance.  Participants find their own housing to rent in the open market, and pay a portion of their income towards rent.  The Housing Authority subsidizes the balance of the monthly rent in direct payments to the owner.  The Housing Authority administers Section 8 in the  jurisdiction of Los Angeles County only, though eligible participants may transfer their rental assistance to other parts of the country where programs are readily available.
This is a helpful link to learn more about Section 8 in Los Angeles: