"If you want something…Make it." That about sums up Sub_Urban RIOT, a casual, lifestyle focused fashion collective born in Venice, California circa 2006. The company's co-founders, Nathan Koach and Jason Reed, started the line because they were sick and tired of the status quo.  Sick and tired of not doing exactly what they wanted to. Sick and tired of watered down brands who try too hard. So, they made a change. They quit their corporate jobs, and created their own line of clothing, never bothering to ask anyone 'how' along the way.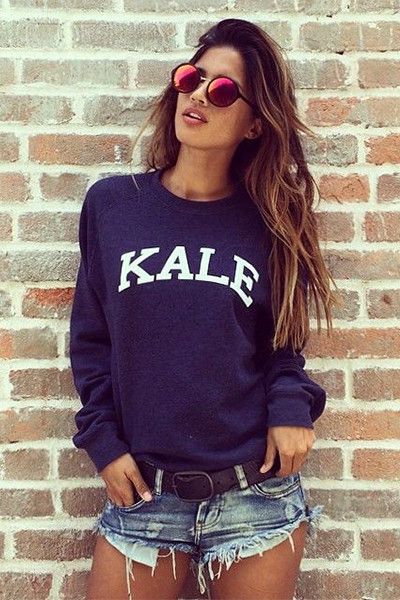 Enzyme wash is the trick with this French Terry sweater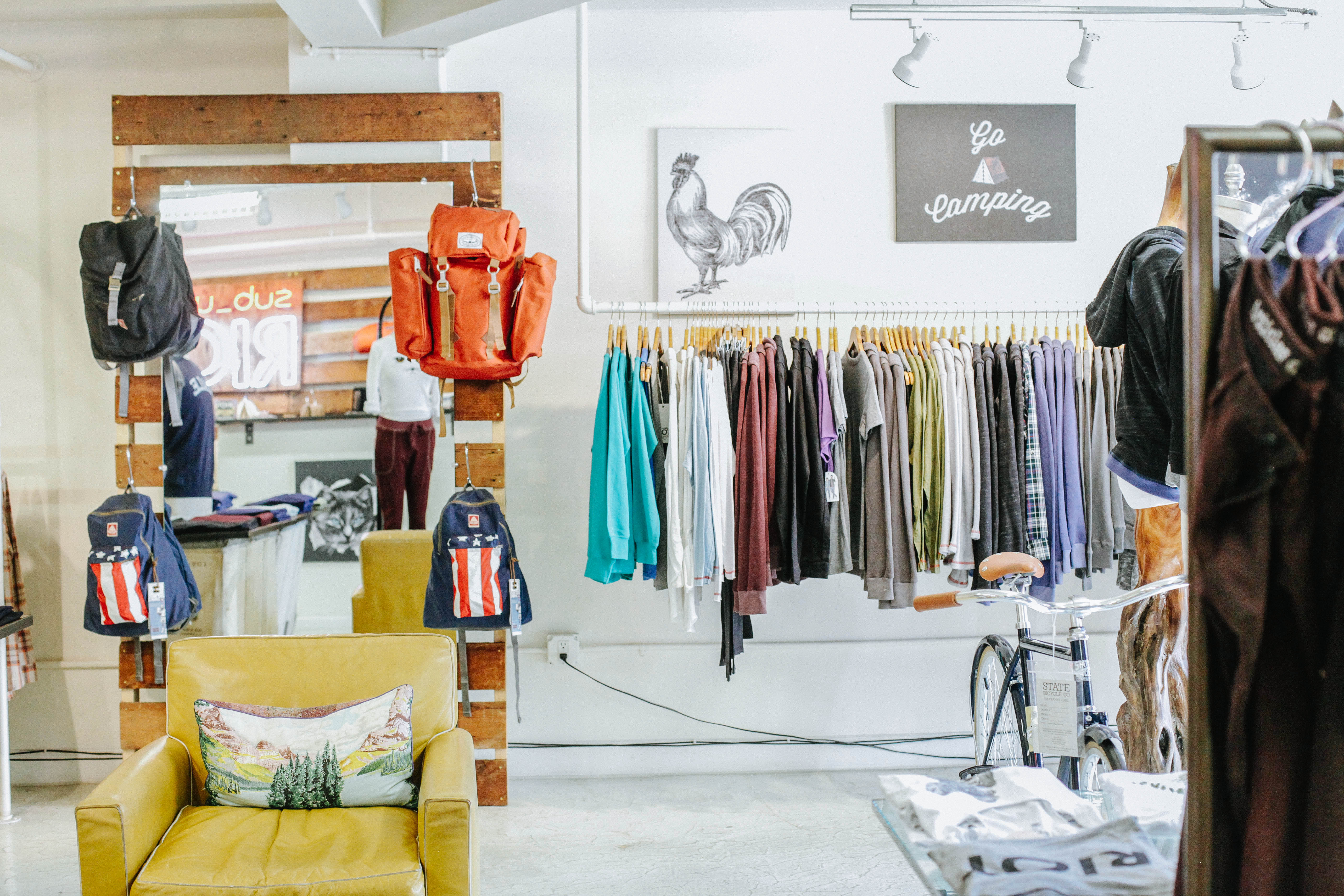 Riot Downtown Los Angels flagship boutique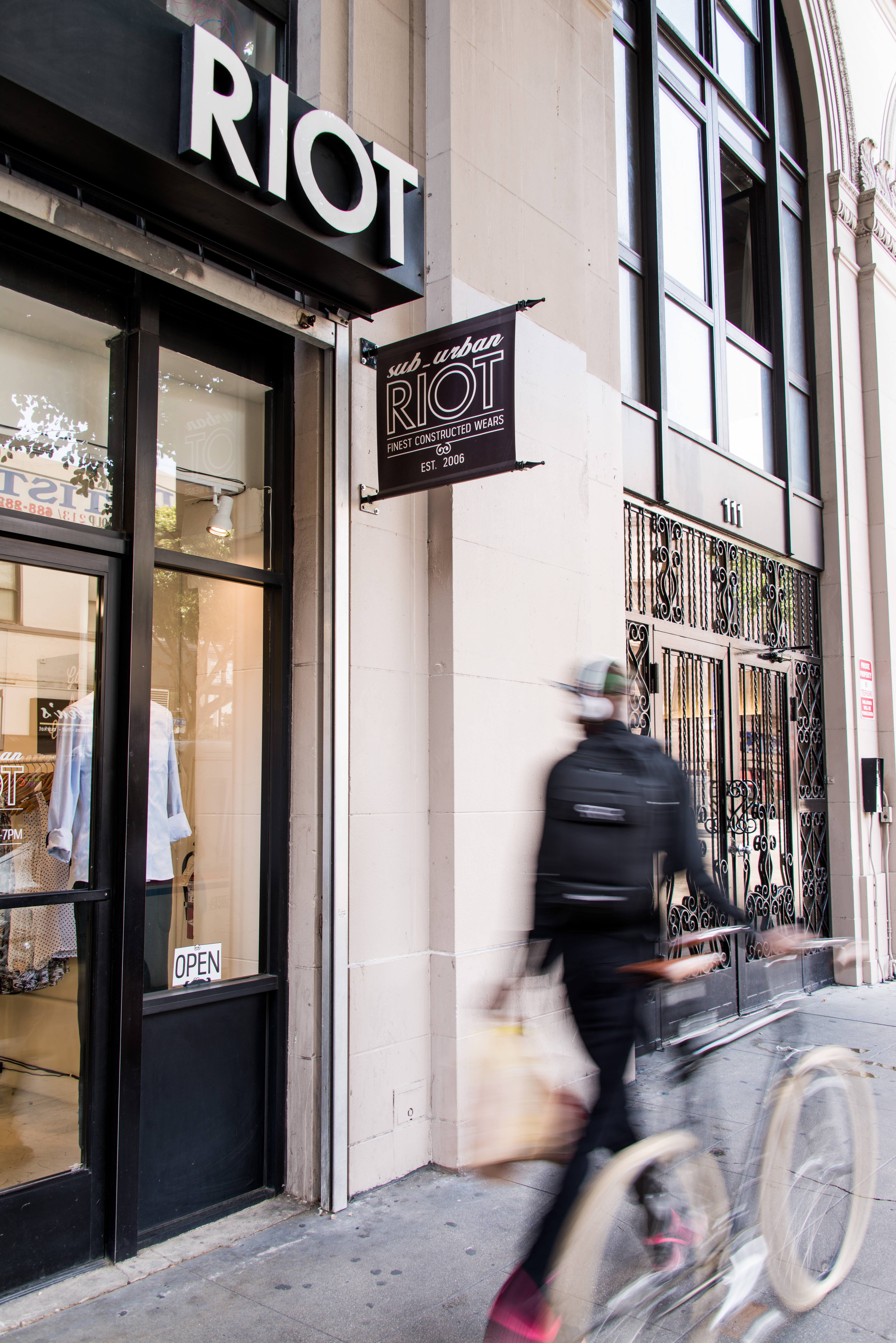 The store location is in-between Main and Spring Street off 7th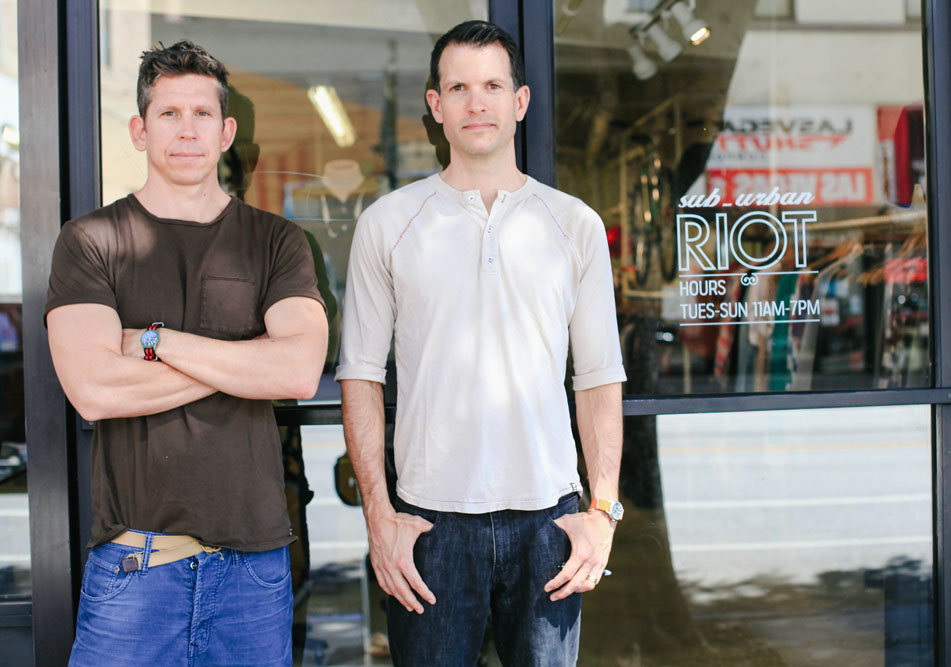 Co-founders Nat Koach & Jason Reed stand proudly out front their DTLA boutique
I dropped in the DTLA store located at  111 W 7th St, Los Angeles, CA 90014 last week and chatted up co-founder Nat Koach. Here's what he had to say… 
Why DTLA for the Urban Riot?
DTLA is a hub for the west coast fashion industry. It's also a dynamic neighborhood full of young, creative, interesting people. It's the perfect spot for us.
How long have you lived in Los Angeles?

13 years. 7 years in Venice, and 6 years Downtown.
What are your thoughts on how DTLA is changing?

It's changing for the better. There is a huge homeless problem and until that is really addressed, it will be the primary inhibitor to DTLA becoming a world-class urban center.
Where do you live?

In the DTLA Arts District.
Do you own or rent?

Own.
What are your favorite local spots for dining and relaxing?

Bestia, Blacktop Coffee, Pizza Nista, Spring Street Bar, Cliftons

What was your first job out of school and how long did you have it?

I worked for a graphic design company for a few years before starting Sub_Urban Riot
How and why did you transition your career into fashion?

I realized soon after moving to LA that there is a huge manufacturing center here. There is still a large amount of apparel production that happens here. I have always been drawn to the fashion world, so I figured it would be fun to try to make something from scratch (both from a product, and a brand standpoint.)
When did you discover your passion for design?

I don't consider myself a true designer in the classic sense. I've surrounded myself with talented people from within the industry who are far better than I am at actual design. My goal is to build on a vision I had when I started this brand 10 years ago.
Tell us about your design process with Urban Riot.

I focus on what's happening at contemporary/high fashion, and find a way to make it casual. However, lately I have learned not to try to do everything, so my process lately has been to simplify what I do, and do it really well. Right now, simple graphic tees are what seem to be cranking for us. So, that's what we're focusing on. It's not my forte, but it's fun.
Tell us about the process of starting Urban Riot. What was your first step and how long did you think about the idea for Urban Riot before it became a reality? What concerns did you have with a startup fashion line?

I was a naïve kid when I started Urban Riot, so my only concern was doing something that I loved every day. I assumed the rest would work out. In hindsight, people who enter this industry thinking they are going to strike it rich are usually the ones that crash and burn the fastest. It's really a labor of love. I started it, because at the time, there was no progressive lifestyle brand offering high trend at a reasonable price. Keep in mind that was 10 years ago before the explosion of Zara, H&M, and the big boom of fast mid market fashion.
Do you carry other brands?

Yes, we have lots of organic skin care products, sunglasses, general store products, denim, sandals, and several other brands that we just personally love (Birkenstock, Pendleton, Casio, Richer/Poorer, Cheap Monday).
How did you learn the ins and outs of running an apparel company?

It has taken 10 years, and I'm still learning. It's a fun, frustrating, maniacal, weird industry. I made a lot of mistakes, and learned the hard way. Lost a lot of money in the early years. This industry is not exactly a bastion of intelligence, and one of the hardest lessons is that people do not necessarily do what you ask them to do, no matter how clearly it's spelled out.
Where you in the cooperate side of apparel before Urban Riot?

No. I have no corporate experience. However, we work with large retailers (Nordstrom, Bloomingdales, Urban Outfitters, Revolve, Amazon, etc). That side of our business has taught me a tremendously regarding the larger corporate side of the industry.
Tell us about your design process? Where do you find design inspiration for Urban Riot? How long does it take to design a collection for Urban Riot from start to finish?

I find humor, and design in the everyday mundane of life. I used to joke that I could spend a day on the subway in NYC and have an entire collection conceptualized. For me, the key is to offer a point of view, and commentary that brings a smile to people. I'm not saving babies, or solving climate change… so I can't take myself too seriously. That being said, I have made it a business, and enjoy coming to work every day.
What's the mission behind Urban Riot? Do you think having a mission helps guide your brand and designs?
Our mission: Sub_Urban Riot is a women's and men's progressive lifestyle apparel brand that embraces the casual side of life, with a humorous wink at the mundane.  Founded in 2006, RIOT has become a leader in active/casual with collections found in retailers worldwide, at the flagship retail store, and online. Go against the grain, stand out from the herd.  Start a RIOT. it certainly helps having a mission. We resisted it for years because it felt "corporate", but a mission, and goals at this point is what keeps us moving in the right direction.
If we had the chance to peek at your schedule, what would an average day look like?

We work in the basement of our store. It's "cozy". Much of the day is spent with my team of 5 bouncing from logistics and operations, to development, design, and sales. Basically, everything.
What advice do you have for others who want to try to launch an apparel brand? Have you always had an entrepreneurial spirit?

You must have a handle on basic operations, logistics, sales and money. If you don't, then find a partner who does who you trust with your life. If you have a vision that is unique, and you really believe in it, then GO FOR IT! This industry is about as tough and competitive as they come. I joke that the only riskier business is acting, or restaurants.
How do you see the Urban Riot brand evolving?

On one hand, I would like to see us evolve into a full collection of contemporary/casual apparel collections. On the other hand, I would be happy if we just became a fantastic tshirt, and sweatshirt brand that people love, and know. We have had success with both. I used to think I needed the collection side in order to be respected in the industry, but the more I do it, the more I think that being a successful tshirt company is actually a creative pinnacle. It's hard.
What has been the most valuable thing you've learned since launching Riot?

There is no escaping hard work if you want to be successful in whatever industry you are a part of. Talent will only take you so far.
How have you overcome obstacles and stayed driven?

Ego, drive, refusing to give up, and frankly enough naiveté to believe that there's no reason I couldn't overcome or stay driven.
Many people struggle to turn their passions into careers. What advice would you give them?
Sometimes passion isn't enough. The key is combining passion with a plan for making enough income to support the time and energy put in. Start with a business plan, and really do the digging to see if your passion can be a business, or if it should be a weekend hobby. Sometimes, passion can be clouded by having to work a job that you hate. Try to keep that separate, as not loving your job isn't necessarily a ticket to success at your own small business.
Sub_Urban Riot
111 W 7th St, Los Angeles, CA 90014
(213) 689-3271
www.suburbanriot.com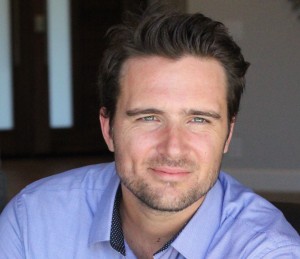 Lofts in Downtown Los Angeles for Sale
I'm a local real estate agent with Sothebys International Realty and It would be my pleasure to help you find the perfect property to call home in Downtown Los Angeles, or if you're thinking about selling a house, condo, or multi-family building in Downtown Los Angeles, Silver Lake, Los Feliz, Echo Park, Atwater Village, Glassell Park, Mount Washington, or Los Angeles, it would be a privilege to help you get top dollar for the sale of your property.
Lets chat sometime. 310-913-9477 or contact me.