Is Echo Park C.A. ready for Lauren Wolf designs or more specifically The Eastside of L.A.? It looks that way… At least it's the buzz on Sunset Blvd. Us hipsters, artists, and progressive style conscious urban dwellers signed up for the Northern California girls vibe. I had the pleasure of chatting it up with Alexis from the shop… Here's what she had to share on Jewelry design, guest designers, and Echo Park Real Estate.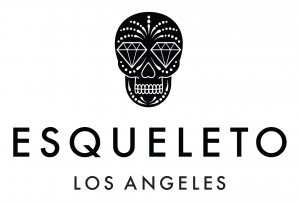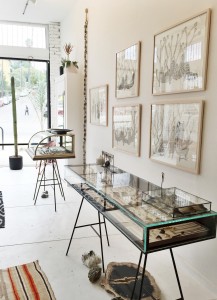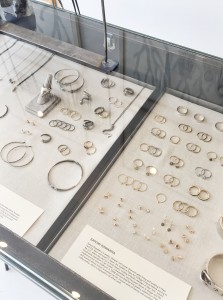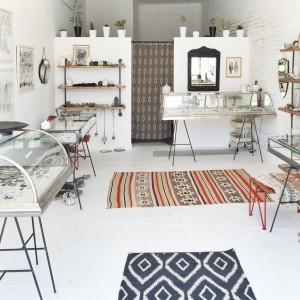 Why Echo Park for your second shop?

We were really attracted to the explosion of creativity that is happening in Echo Park and Downtown right now. When we decided to expand ESQUELETO to Los Angeles, we knew Echo Park was where we wanted to be. We love that this location is so close to everything happening in Echo Park and Silverlake, and is also so accessible to DTLA.
How long have you been in L.A.?

I moved to Echo Park in June, to work on the build out of the shop. ESQUELETO opened our doors on July 1st.
What are your thoughts on how Echo Park real estate is changing?

Having not been here very long, I can't really speak to any level of change but I do love all the energy, activity and diversity of my new neighborhood! Our little block of Sunset is really coming into its own, with all the vacant storefronts being leased, and new small businesses moving in.
Where do you live?

Just up the hill, in Angeleno Heights – so convenient to the shop! I hardly ever drive anymore, I can walk to everything I need in Echo Park.
Do you own or rent your home?

Rent.
What are some of your favorite local L.A. spots for dining and relaxing?

I love Button Mash, which just opened a block away from our shop. It's quickly become our after-work-meet-up spot! Café Stella in Silverlake is great for a romantic date night dinner or drinks. My husband and I love exploring everything in Little Tokyo (I could eat ramen every single day). And of course, with the super-delicious Guisado's right across the street from the shop I get tacos two, three times a week.
Any admirations for a crossover to apparel?

I don't think so – we keep the shop pretty tightly edited to handmade jewelry, fine art, and sculptural ceramic works. We do carry some handbags, but I think apparel would be a big leap for us. Also, I'm not sure we have the room in our tiny little shop!
I understand you carry other collections besides your own. Tell me about your curation process.

We receive artist submissions almost every day! When we bring a new artist into the shop we are looking for designs that are fresh and interesting, and not something we've seen elsewhere. While we certainly have an ESQUELETO "look", we also want to curate a variety of styles that appeal to different customers. Each artist that we carry has a distinct style all their own.
What should we anticipate from ESQUELETO in 2016?

We continually add new artists to our collection and new work from our existing artists. Our gallery wall rotates every two months, and I'm really excited about some of the art shows we have planned for 2016 – ceramicist Heather Levine, photographer Ramon Felix, and fiber artist Ghost Dancer to name a few. We'll continue to host trunk shows with our jewelry artists – this is such a great way to meet your favorite designer in person and see the entire scope of their work. You can always find info about upcoming shows and events on our website, www.shopesqueleto.com.
I love the skull design logo. Where did that come from?

The skull logo was designed by Lauren's husband, Patrick Dunaway, who is an artist and graphic designer. His work is incredible; we have several of his original drawings and also prints in the shop.
ESQUELETO
1298 Sunset Blvd, Los Angeles, CA 90026
(213) 947-3508
Looking to buy Echo Park Real Estate…
…Or Los Feliz, Silver Lake, and Downtown Los Angeles or other neighborhoods. Connect with an experienced Realtor like me who specializes in helping people like you in buying Echo Park Real Estate that's for sale in Los Feliz, Silver Lake, Echo Park, and Downtown Los Angeles. 
We (Heart) The new Eastside of L.A especially Echo Park CA.