How to Beat the LA Commute: Los Angeles has a legendarily terrible commute. Some spots in L.A. see nearly a million cars a day. Beating the commute is something that everyone wants to do. The problem is that it takes some planning and forethought.
Why worry about beating the commute?
Would you rather spend half an hour by the pool or that same time in your car? There are probably 100 things you can do rather than sit in your car crawling along the highways of Los Angeles.
Here is a list of ways to beat the LA commute:
Telecommute – If you have a job where you mostly work via computer, you work from home. Your commute will be about 5 minutes, including stopping in the kitchen for coffee and tripping over the cat or dog.
In the recent past, bosses were very reluctant, constantly concerned about security. As long as you aren't working with the nuclear codes, you should be able to work from home. If you work on a system where you are logging into a long distance server, you can easily do that from home. If your work is on a server at work, offer to pay for an encrypted line.
One day of not driving can save you an hour of driving and the gas that costs you. And you're likely to be even more productive. If the boss is still unsure, ask to do a trial for a month, one day a week. That way, you can prove that you're worth more at home than in the office.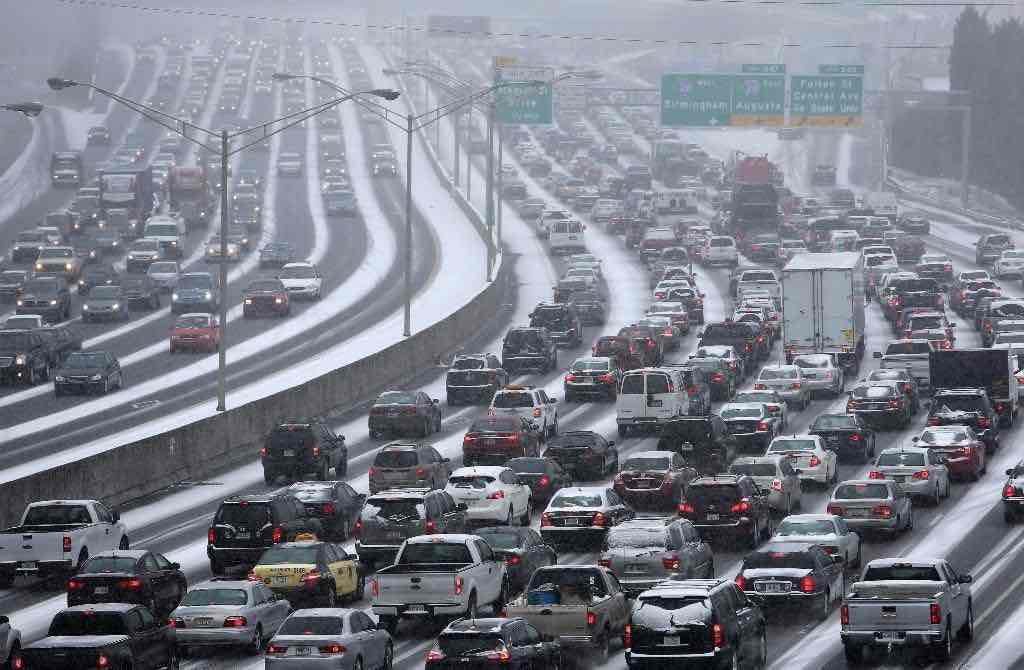 Heading towards DTLA on the 101 FWY
Change shifts – Many of us don't need to be at work the same 8 hours as everyone else. Consider going to work at 4 am and leaving at noon instead of working 9 to 5. There will be no one on the roads when you go in and you won't be commuting home during rush hour. If you can move your shift to overnights or even second shift – 4 pm to midnight – you can be commuting against the flow and save time and hassle.
Carpooling – This is still a simple way to try to get to work. One thing you can look to do is find people outside of your company to carpool with. There are a number of websites that will hook you up with other people who are going your way. You can all get together and carpool so at least some of the time, you can relax instead of drive.
Freelance – A job change can be scary, but according to the US Bureau of Labor, over 50% of Americans will be freelancers by 2020. That means that not punching a timecard is becoming normal. If you decide to freelance, even for your own company, they cannot, by law, set a schedule for you. That means that you can come and go as you please. That way, you can set up your own times.
Flex time – One thing that has worked well in other parts of the world is to allow employees to use flex time. Employees are able to come and go, but they are required to be in the office a specific number of hours per week. They often will coordinate with a work partner so that someone is in the office at the right times, for clients and meetings, but both don't need to be there all the time.
Satellite office – More for upper management in specific businesses, it might cost you less and save you pain to offer to open a satellite office near your home than to commute. If your business is a service business you can easily take care of customers in different parts of the city so that you don't have to drive and some of your customers are closer.
Move – This is a bit extreme, but if you're really sure that you'll be with this same company for years, you can move closer to it. We recently had a gentleman, a CFO moved from Orange County to Silverlake because his work is in the northern part of the city.
Consider the surface – Sometimes surface streets through small neighborhoods can cut off a huge part of your commute. It might not save a ton of time, but you can be working your way toward the office or on the way home without sitting in a car that's going 10 miles an hour.
The Los Angeles commute is a fact of life. If you wanna live in this city you have to pay the price, sometimes. Unfortunately, it can't be used as an excuse for being late. In fact, we once knew a hotel chain CEO who told people that if it has a name, you can't use it as a reason to be late. "Rush hour traffic," "beach traffic," and "construction traffic" are all things you can avoid.
---
Your Los Angeles Real Estate Agent
This article, How to Beat the LA Commute was provided by Glenn Shelhamer of The Shelhamer Real Estate Group. If you are selling your Los Angeles home, I have a comprehensive marketing plan, including preparing your Los Angeles home properly that will help get your home sold in less time and for more money. Call me at 310-913-9477 or contact me to discuss how I will get your home sold.
Source: SilverLakeBlog.com