I'm sure you'll agree with us, The Frog Spot and Frog Town Art Walk is one of the most popular events of the summer on the Eastside. But, lets back up a bit and explain what makes it all so special: the Los Angeles River. The LA river runs 52 miles from the San Fernando Valley through the heart of our beloved City of Angels, and down to the ocean in Long Beach. Many people have only seen it through a car window or perhaps when walking over one of its many bridges (yes, people walk in LA).  Then, there is another group that is immersed in the river culture and who's number one priority is to bring it back to life so that all can once again enjoy this treasure that is oftentimes taken for granted.
The talk of revitalization has been going on for some time now, and it seems that we are right smack in the thick of it. With projects such as the rebuilding of the 6th Street bridge and the masterplan around the channelized downtown LA portion, to the proposed in-channel bike path study, to the countless initiatives to restore local habitat, to kayaking in the Elysian Valley portion, there is a ton of buzz around the river restoration. And it's about time.
The group that is leading the way is Friends of the Los Angeles River (FoLAR) and it's their passion and dedication that have spread the word to the importance of the river restoration through education of its biodiversity and creative engagement activities. One hidden little gem along this mystic river is the Frog Spot, a pop-up summer visitor center. Located along the breathtaking Elysian Valley bike path in Frog Town, the Frog Spot is FoLAR's summer getaway to the LA River.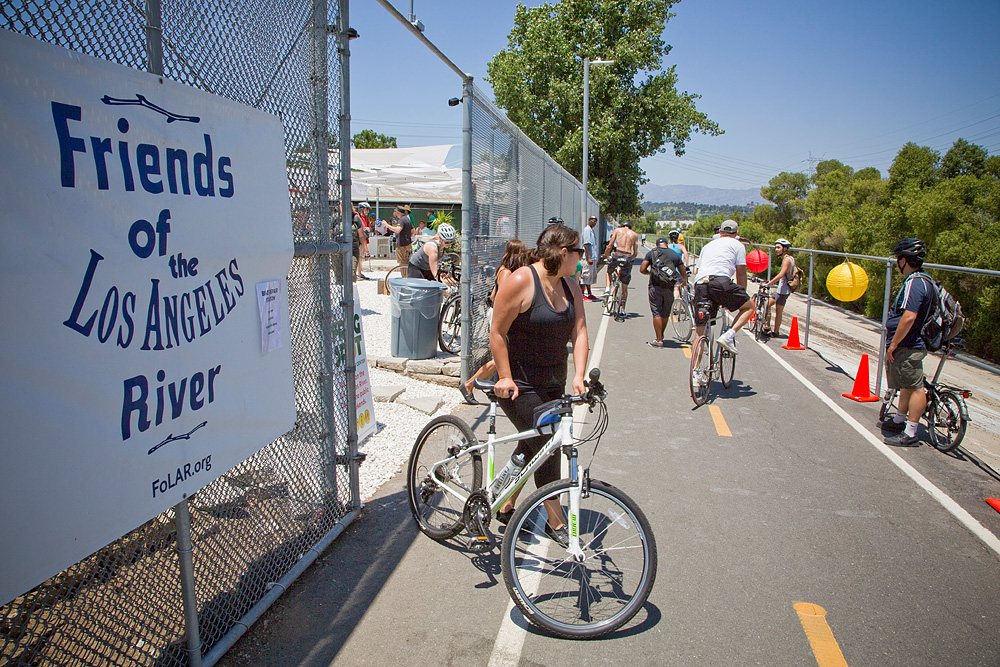 The Frog Spot is an oasis for cyclists | The Frog Spot and Frog Town Art Walk
The mission with the Frog Spot is to connect people with this amazing urban wilderness in the middle of the city and inspire all to become part of the LA River movement. The Frog Spot was the first riverfront café and beer garden on the Los Angeles River Bike Path offering a free rest stop and repair station for cyclists. An outdoor oasis for bikers (offering free water and wifi if you need a break from the afternoon sun) and visitors alike, the Frog Spot's signature weekly event is three live bands playing every Saturday night. Every band donates its time, playing for the community and to support FoLAR. Since opening three years ago more than 90 bands have played at the Frog Spot making it one of the hottest music venues in Northeast Los Angeles. Beyond music the Frog Spot offers everything from community yoga to art lessons to River policy talks where people can come and learn about what's going on and ask the questions they want answered.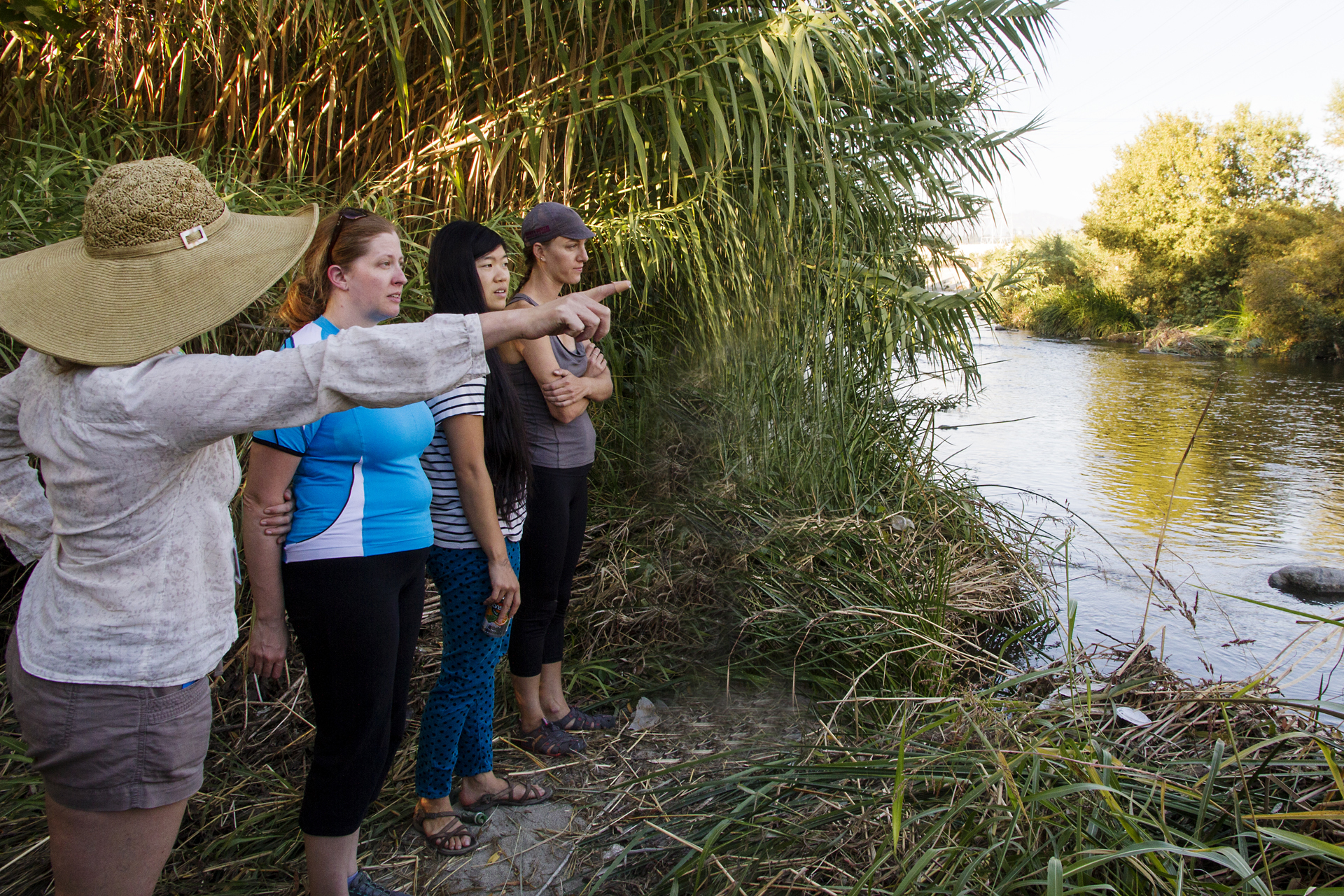 Frog Spot provides educational tours for LA River restoration | The Frog Spot and Frog Town Art Walk
Some might ask…where the heck is Frog Town?! Well, it's that sliver of land between the I-5 fwy and, you guessed it, the LA River. A quaint neighborhood with cute bungalow homes and where everyone truly knows each other. This coming Saturday, August 13th, you'll be able to come out and visit Frog Town and the Frog Spot at the 10th Annual Frog Town Art Walk. The event is also currently sponsoring the CURRENT:LA WATER commissioned art project with art installations along the river path. The family friendly and FREE event offers tours of the artist's and artisan's studios, and the Frog Spot is sure to be the epicenter of all the action! Expect bands, food, beer+wine, art enthusiasts, summer fun seekers, LA River lovers, and all around good vibes.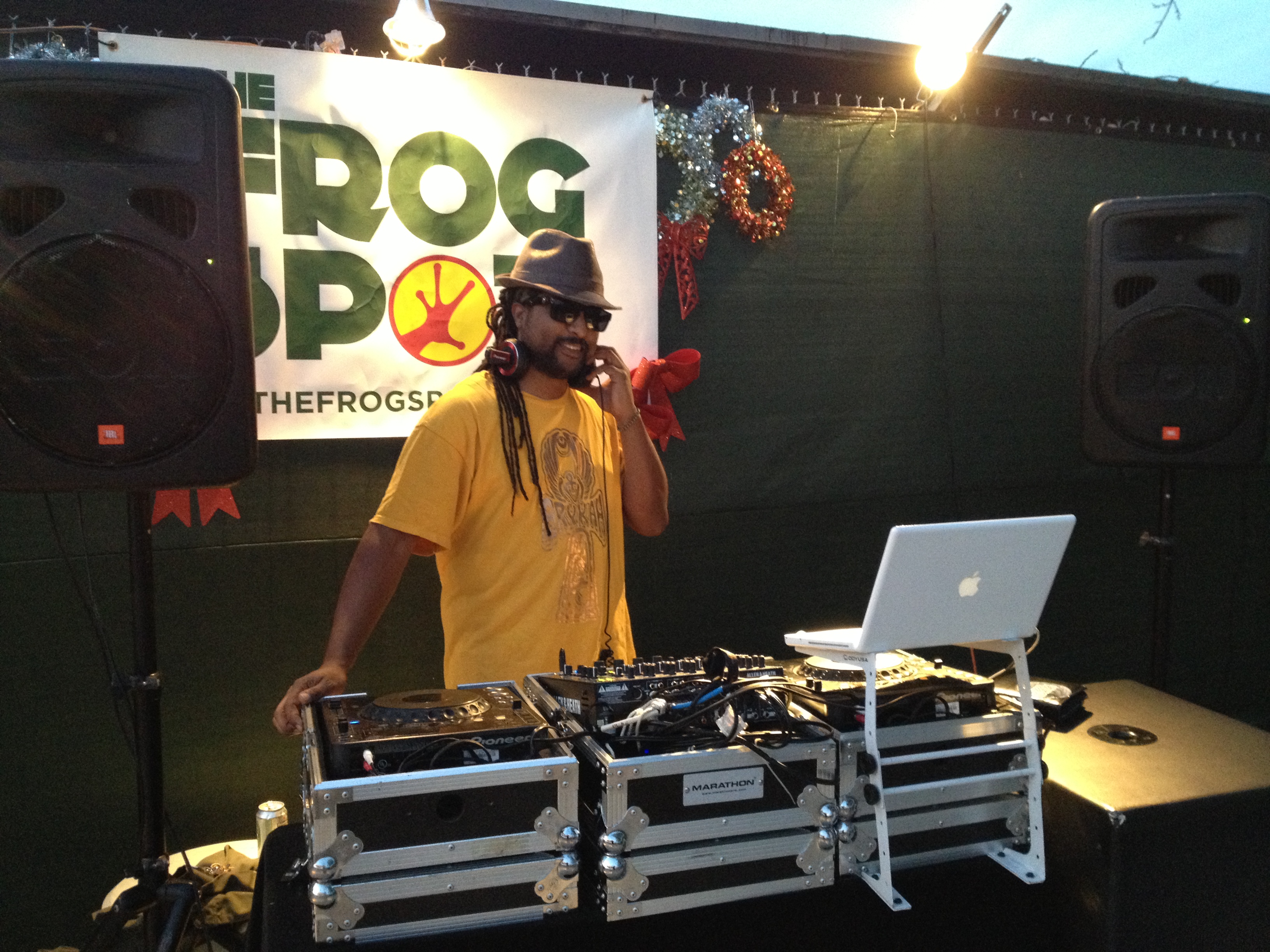 The Frog Spot and Frog Town Art Walk
Silverlakeblog recently caught up with Johanna Hackett, Frog Spot and FoLar Special Programs Managing Director, to learn a bit about her role and the importance of the LA River for all Angelenos.
How long have you lived in Los Angeles?
I have lived in LA my whole life/48 yrs
What are your thoughts on how the Eastside of LA is changing?
I believe anytime we have a chance to beautify any part of Los Angeles, it is a positive thing for all Angelenos. It reflects the pride and respect we have for our great city.
The Frog Spot is a little hidden gem, how did you first hear about it and become involved, and what is your role today?
I was initially hired by FoLAR as a contractor to design Frog Spot, build a financial structure/ budget, a business plan, and then launch all branding for opening. I fell in love with the river, I decided I wanted to be involved with FoLAR as a staff member so soon after I was hired as staff. Now I run our annual clean up, this year will be the 28th Annual FoLAR Great River Clean Up, I also became the GM of Frog Spot and lastly, I do our largest fundraiser called Fandango. My plate is full of FoLAR good work. I am Special Programs Managing Director at FoLAR which is a very broad title so I have the privilege to engage community, work with artists, outreach, advocate for the river and be on the river most days. The river is now like a friend to me.
What are some of the biggest challenges around restoration of the LA River?
The biggest challenge around river restoration right now is funding.  While exciting plans like Alternative 20 have recently passed and a multitude of potential projects in the proverbial pipeline, getting the necessary funding appropriated from the State and Federal levels through legislation such as Proposition 1 and the Water Resource Development Act are crucial.  This coming November there will be a few ballot measures – the Safe Parks Measure and Measure R2 – which will provide sorely needed funding for projects like the River bike path gap closure and River-adjacent open space.  These are region-specific funds that will benefit the entire Los Angeles community.  We urge your readers to get out and vote in support.
There has been a lot of focus on Frog Town and a handful of "river front" housing development along this part of the LA River, are you concerned with negative impacts this influx of both residents and construction may bring?
Friends of the Los Angeles River is not in the business of land development.  We understand that projects of all types and sizes present potential impacts to the surrounding communities. At FoLAR we are really primarily focused on the river, all 52 miles of the river. We are very interested and we understand the impact of issues like gentrification, homelessness, graffiti, but we are an organization who prides its self as a grassroots, for the people, for the river organization.
Friends of the Los Angeles River is an advocacy organization dedicated to a healthy, accessible and equitable LA River and are proud to serve as a voice of the River community.  We invite all of your readers to stay informed of certain River activities and to get involved at FoLAR.org.
What are some of the more popular activities that people come for at the Frog Spot?Most popular activities at Frog Spot are our Nature Walks, the bands, and the education series we curate.
There has been some major legislation wins for the LA River lately, what do they mean?
Over the past several years, legislation like SB 1201, AB 530, and Proposition 1 have provided many new opportunities. SB 1201 was championed by Friends of the Los Angeles River and created a recreation zone making it possible for the River community to kayak through its waters.  AB 530 – on which Friend of the Los Angeles River holds a seat – created a working group tasked with a comprehensive and collaborative planning effort on the Lower LA River (South of Vernon).  Proposition 1 provided $7.45B in bond funding to water infrastructure improvements and we're working hard with California Assembly Speaker Rendon and Senate Pro Tempore de Leòn to get $100M of those funds appropriated to restorative projects on the Los Angeles River.
A little birdie told us we can kayak in the LA River, is that true?! What other river activities are a MUST for Angelenos?
We, all Angelenos, have been able to kayak on the river for 5 years, it is called the "Rec. Zone" recreational zone. Angelenos can swim, bike, fish and boat the river.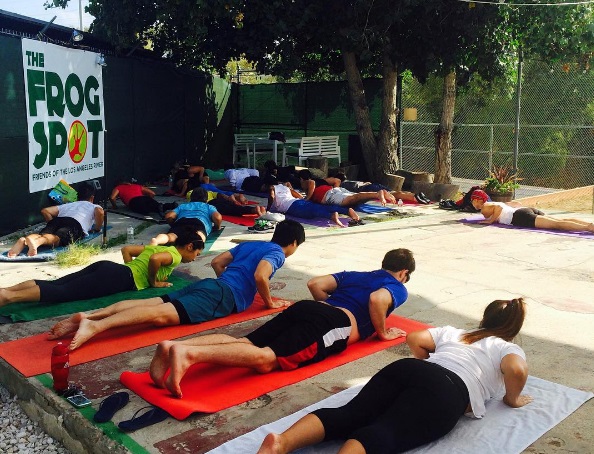 Early morning Yoga for the soul | The Frog Spot and Frog Town Art Walk
Has there been any consideration of opening another "frog spot" along the river bikepath? Seems like a long route with little amenities.
We are open to having another Frog Spot along the river where Angelenos have the most needs.
The Saturday night music series is a happening night at the Frog Spot, is it family friendly?
The music series is awesome, it is open to all ages and dog friendly.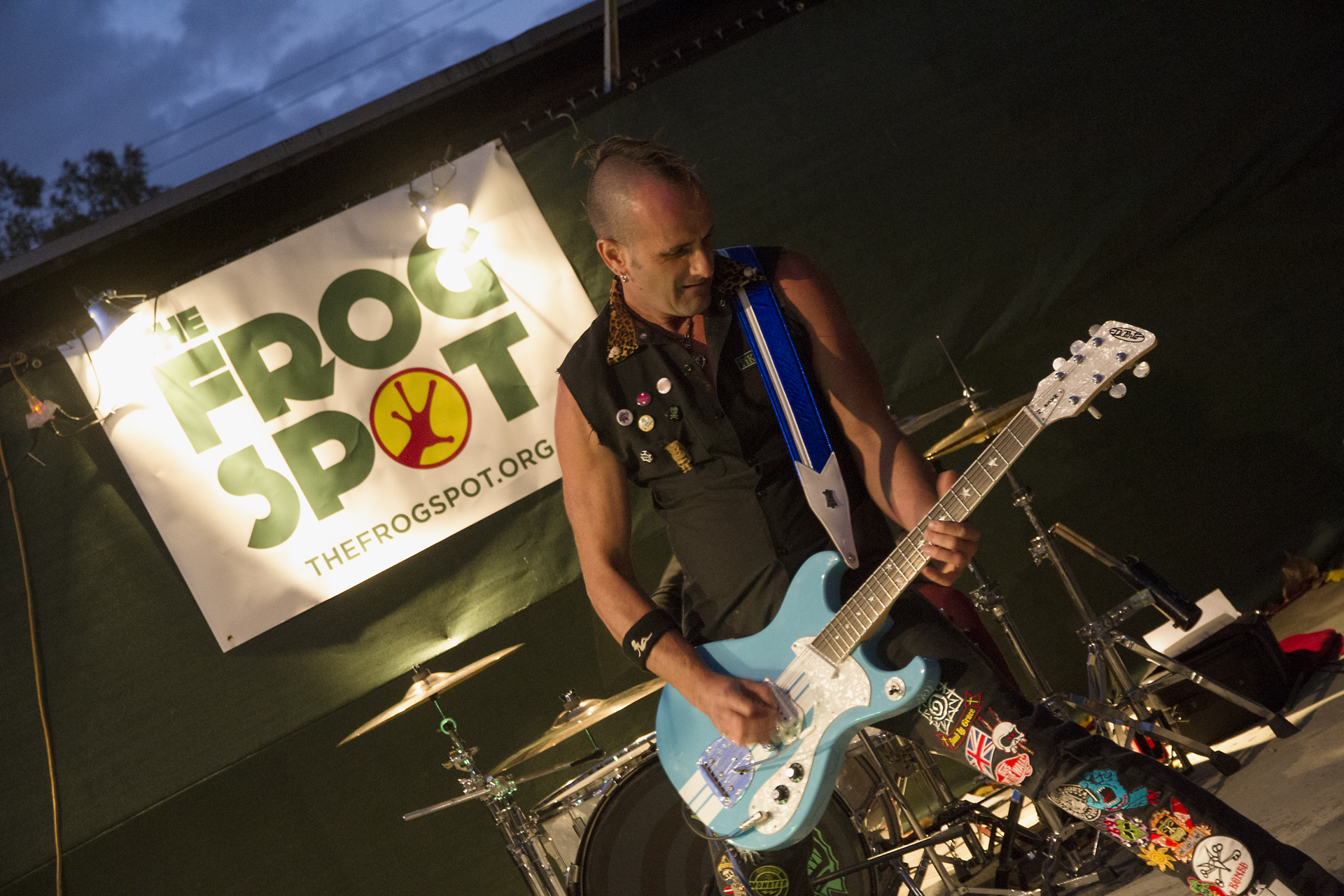 Rocking out on Saturday nights @ the Frog Spot | The Frog Spot and Frog Town Art Walk
We're proud participants in the annual Great Los Angeles River Cleanup, what other year round education/events can folks participate in?
The Clean Up is our signature event but we have many year things to participate in, year round clean ups, educational events, our mobile educational unit the River Rover, folar.org/events
Biggest life lesson learned?
Biggest lesson I have learned working with FoLAR is how much the river ties all of us Angelenos together. We would not have a greater Los Angeles if it wasn't for the river.
If we had a chance to peek into your schedule, what would an average day look like?
It varies from day to day because I am always engaged with the community the river and making a better LA, doing events, working with elected officials, planning the clean up since it takes a year to plan, truly anyway to engage more people with the river. I baffles me that some people do not know we have a real working live river.
What inspires you everyday?
Being part of a better future Los Angeles
What is your dream for the LA River?
Our dream of the Los Angeles River is a restored, accessible, and equitable ecological resource for wildlife and Angelenos alike.  Los Angeles deserves a River which provides opportunities to safely swim, boat, bike, fish, and play.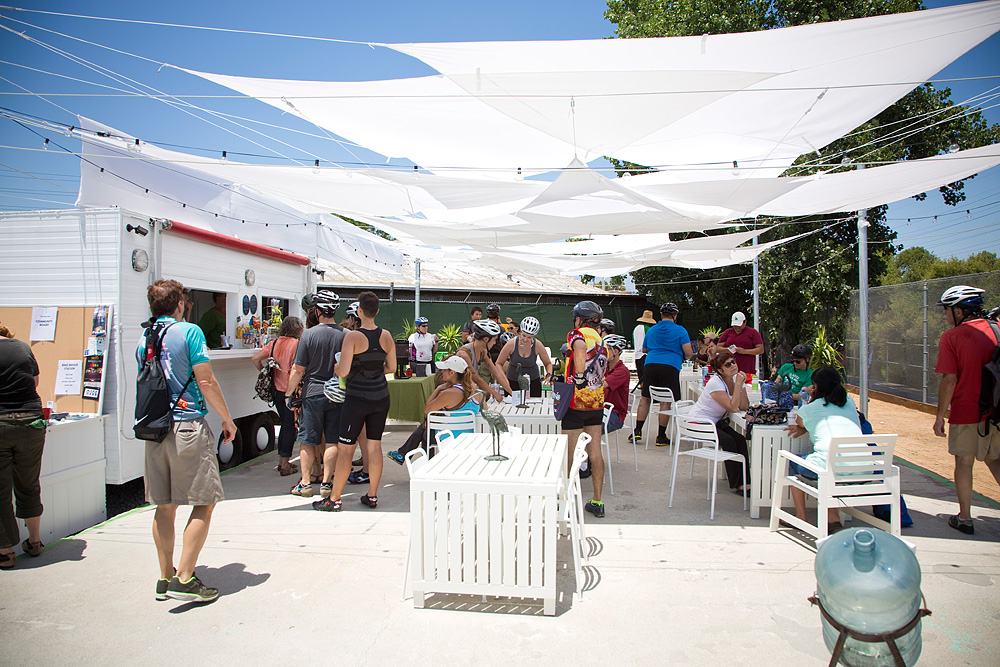 The Frog Spot and Frog Town Art Walk | The Frog Spot and Frog Town Art Walk


Your Eastside LA Real Estate Expert
I'm a local real estate agent with The Shelhamer Real Estate Group, and it would be my pleasure to help you find the perfect property to call home in Atwater Village CA, or if you're thinking about selling a house, condo, or multi-family building in, Elysian Valley, Los Feliz, Hollywood Hills, Silver Lake, Glassell Park, Mount Washington, or Downtown Los Angeles, it would be a privilege to help you get top dollar for the sale of your property.
Let's chat sometime. 310-913-9477 or contact me.