Ah, Bottega Louie. It holds a special place in our hearts. Since the beginning it's never let us down. We come with family, we come with friends, we come for a lunch meeting, and on a first date. The pristine marble floors, shiny glass walls and French cafe-inspired ambiance set the tone for the experience. We've all been here on a Saturday night, sipping on a martini at the bar, elbow to elbow with strangers (and after a few drinks, friends)  as we anxiously wait for the maître d to let us know our table is waiting. We've all browsed the pastel colored shelves of gourmet chocolates and candies impeccably wrapped and topped with the signature BL bows. Feeling as though you're walking into a gleaming, grown-up version of a kid's candy store.
And if you haven't done all of these things, then, where the hell have you been?! Since 2007, Bottega Louie has been bustling with people from far and wide coming to this stretch of 7th street in Downtown LA to indulge in the BL experience: the food, the visually exquisite space (built on the ground floor of the 1912 Romanesque revival Brockman Building) and of course, the famous macaroons.
The patisserie has always caught our eye and would be worthy of Paris. The colorful mini cakes, gold leaf compliments, endless rows of eclairs filled with pastel yumminess. Lately, there has been an even dreamier look to the delectable sweets. Silverlakeblog caught up with the man behind the gourmet goodies, Alejandro Luna Executive Pastry Chef, to hear what inspires him.
Bottega Louie: Your sweet tooth says THANK YOU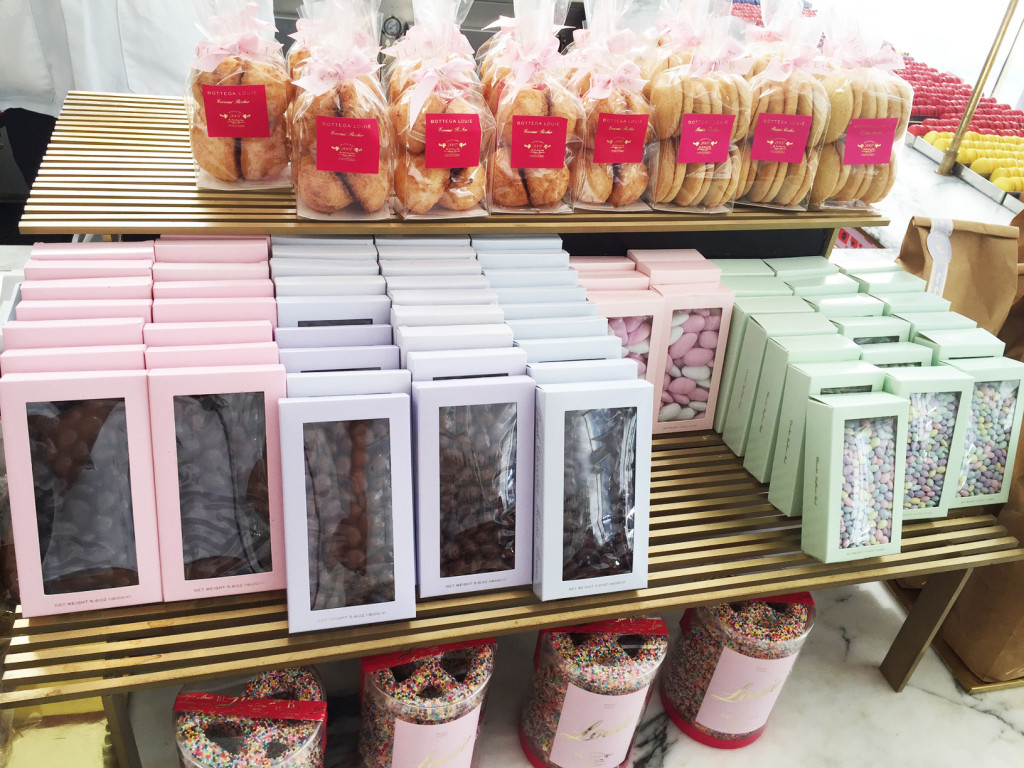 How long have you lived in Los Angeles?
I moved here three years ago this week.
What do you think of DTLA and how it's changing?
I love the evolution of the Food & Beverage scene in DTLA. It has become much more dynamic and interesting; I love how everyone is "doing their own thing" when it comes to flavors and dining.
 Where were you before Bottega Louie and what lead you here?
I was living and working in Singapore as an Executive Pastry Chef when my wife and I had our first child. We thought it was time to move back to the United States to be closer to family when I was offered the position of Executive Pastry Chef at Bottega Louie.
Tell us a little about yourself. Have you always had a passion for pastries?
I have been baking ever since I was a child. My grandmother loved baking from scratch and as she got older, I would help her scale ingredients and really enjoyed this time.
I worked at a small bakery for a summer job that was around the corner from our house after we moved to Miami. I fell in love with it! I love the instant gratification that comes with baking and the creativity that one has to put in to succeed. I have never looked back and it's been 20 years now that I've worked in a kitchen.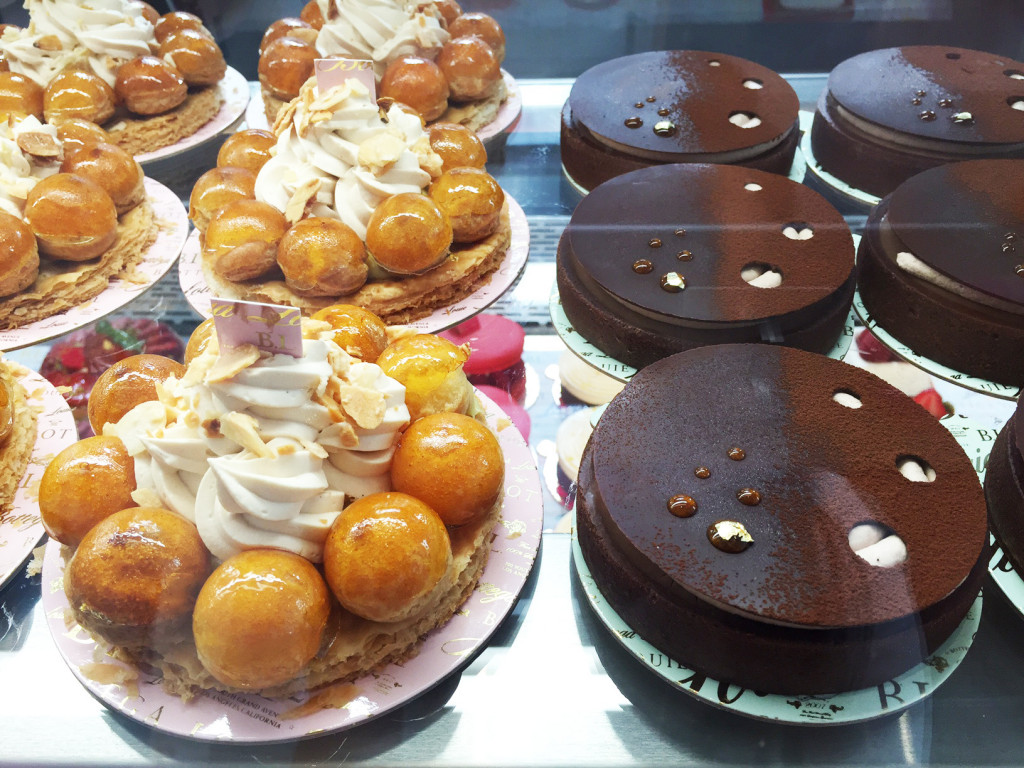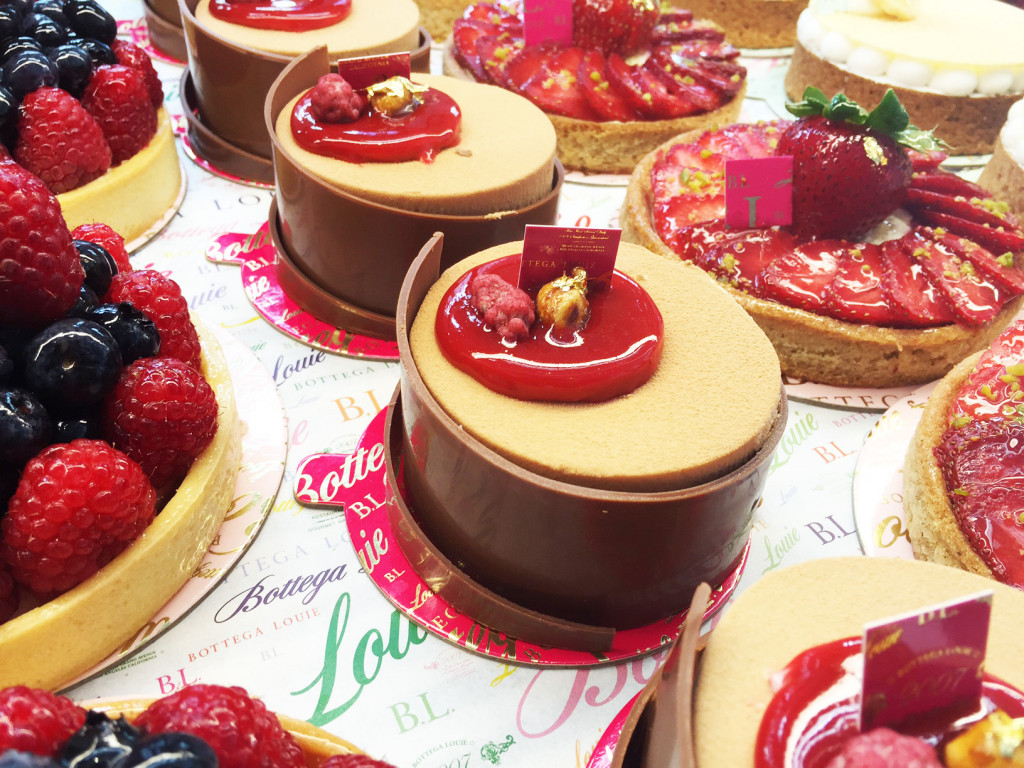 What are some ways in keeping that excitement for the patrons and keeping their sweet tooth coming back?
Since the first day it opened its doors, Bottega Louie was bustling and people LOVE it! It's a high end experience with an impeccable attention to detail and quality.
The key to keeping our patrons excited and returning to our restaurant is our consistency! We work very hard to ensure we execute at the highest level on a daily basis across all of our products. We do not cut corners when it comes to sourcing the best ingredients to make our desserts.
More so, we have really gotten into a groove of releasing new and seasonal products which invites patrons to come back and try what's new on our offering.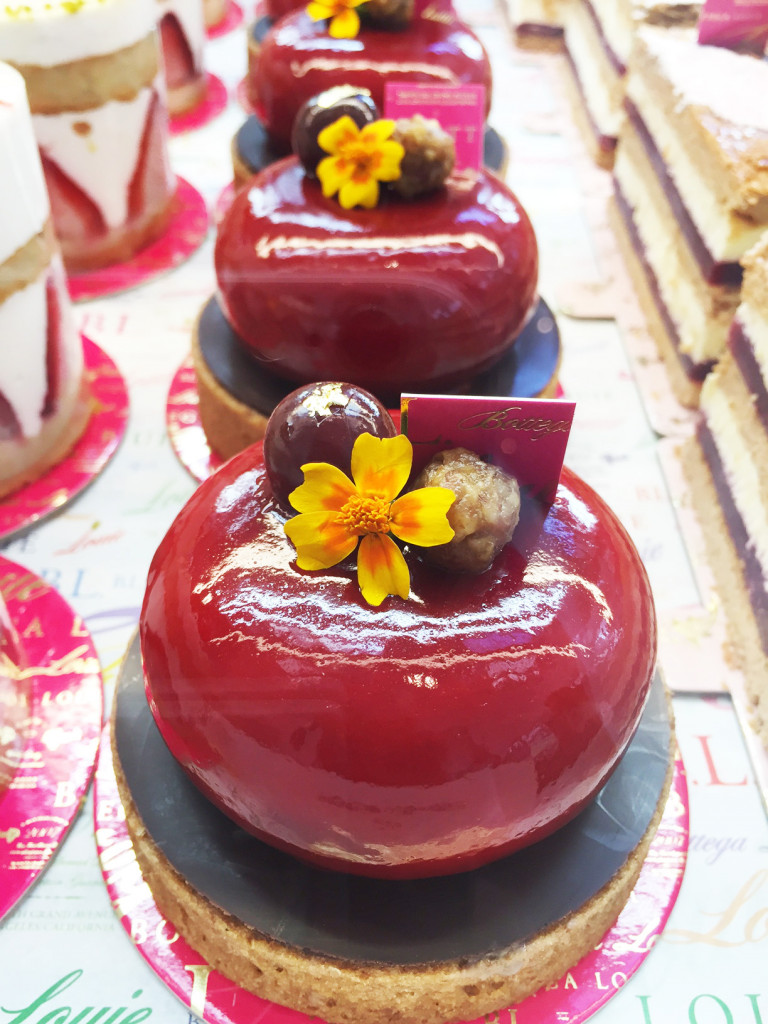 Do you have any favorite techniques?
I personally love glazing. It's my favorite technique because to me, it gives more class. You'll see glazing on a variety of Bottega Louie pastries. It's hard to execute properly and I enjoy challenging our team to produce the highest quality product.
Our bread program is another area that requires special techniques in our commissary. It's hard not to fall in love with the hands on labor and artisanal process that goes into making fresh bread for the restaurant and market every day.
The per-piece chocolates really look like mini art pieces. What's the inspiration behind them?
Jewelry is a huge inspiration for the Bottega Louie line of per-piece chocolates. Given the size, we need to craft flavor and texture into a small bite while still creating a beautiful looking product. To do this, we treat each and every chocolate as an individual dessert experience. With a dedicated chocolate team, we give the same level of attention to per-piece chocolate production as to any other pastry.
Salty or sweet?
The perfect balance!
Was there ever a macaroon flavor that just didn't work?
Many! Savory macarons can be challenging to pull off and our team here at Bottega Louie loves to experiment and push the boundaries. Foie Gras is great, but Salmon Mousse, not so much. This is also a question that varies in the eyes of the beholder. I love Black Truffle and Chocolate, but other people hate it!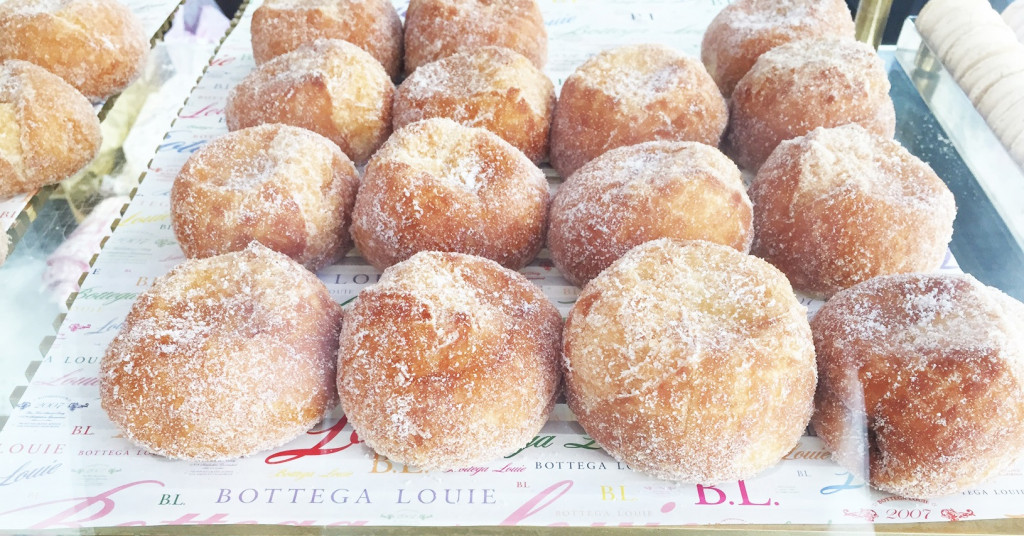 BL Beignets = HEAVEN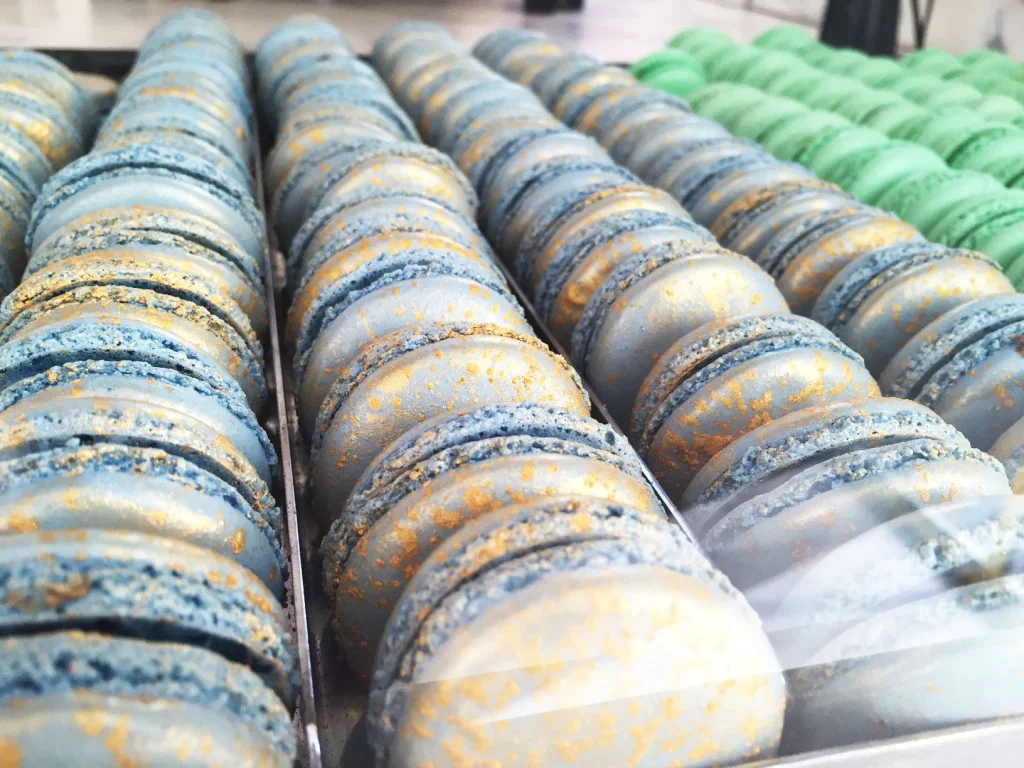 What are some restaurants or pastry shops you frequent (besides Bottega Louie clearly)?
Well, I love eating at Bottega Louie of course, but I'm also a sucker for simplicity. I think Sprinkles are great cupcakes. I also love the Chocolate Soufflé at CUT.
Any thoughts on a pastry cookbook, or are your recipes top secret?
I would love to! This is right at the top of my bucket list! It's been brought up many times at Bottega and we hope to seriously consider a pastry cookbook in the future. That being said, many of our recipes are top secret, especially our macarons!
Some would say pastries are the most difficult element of any meal. Do you agree?
It's easy to ruin a meal if it doesn't end with a bang and that element most people look forward to most. The challenge is making sure the dessert is in balance with the entreé and not an entire departure of its own.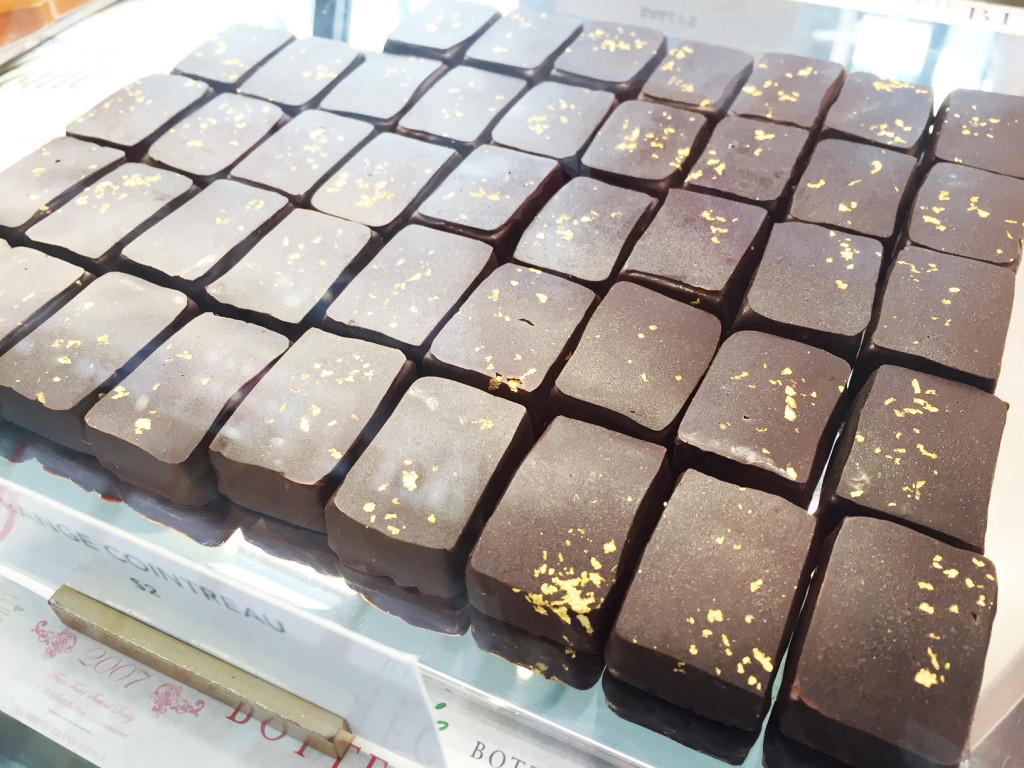 You're like a modern day Willy Wonka, do you have a secret factory with little blue people making chocolate with you?
Well… they do wear blue aprons! Hahaha. We operate out of a "secret" commissary that is separate from the restaurant where all the pastries, chocolates and breads are made. It takes a village to produce the pastries at Bottega Louie and nothing would be possible without our team. It's one thing to make a pretty looking pastry, and another to produce it consistently for the volume that we do here every day.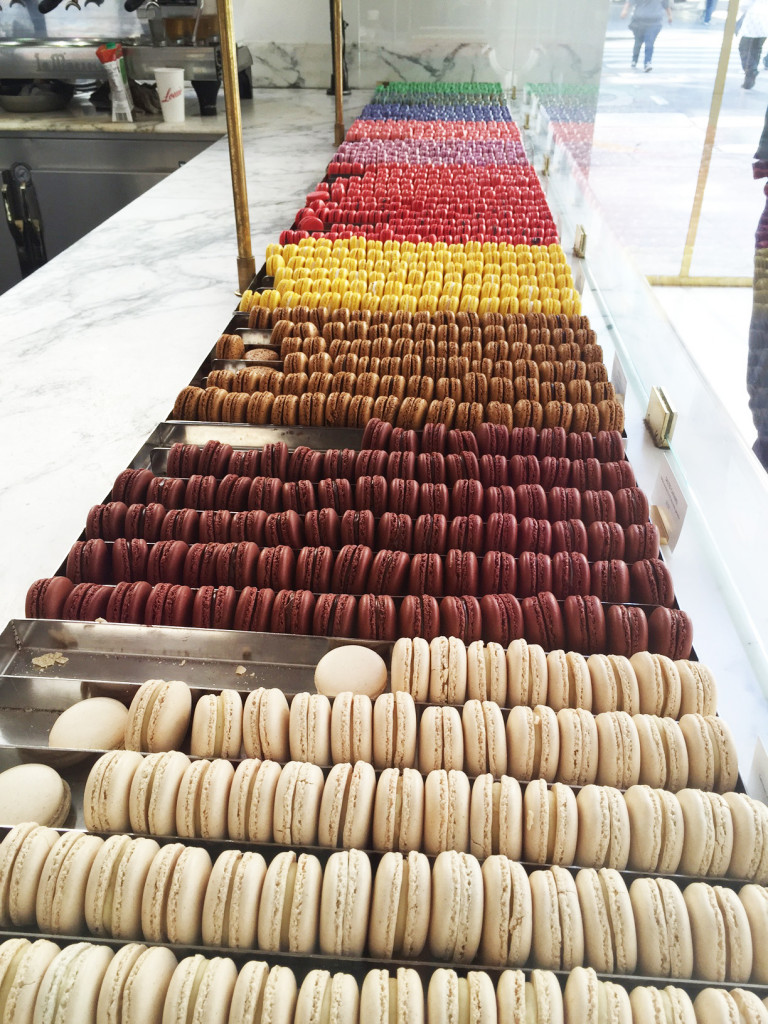 Macaroon Rainbow
Can you tell us the secret or 'trick of the trade' if you will of cooking with chocolate?
I'll give you two. First, buy quality ingredients—you need to get the good stuff. Go to Whole Foods and buy Valrhona chocolate to start. Second, chocolate pairs really well with salt. Whatever you are making, whether is a sauce or a cake, finish it by sprinkling a small amount of sea salt (Maldon works really well) on top. You can see (and taste) this trick used in our line of enrobed salted caramels, finished with a delicious grey salt.

 That attention to detail though…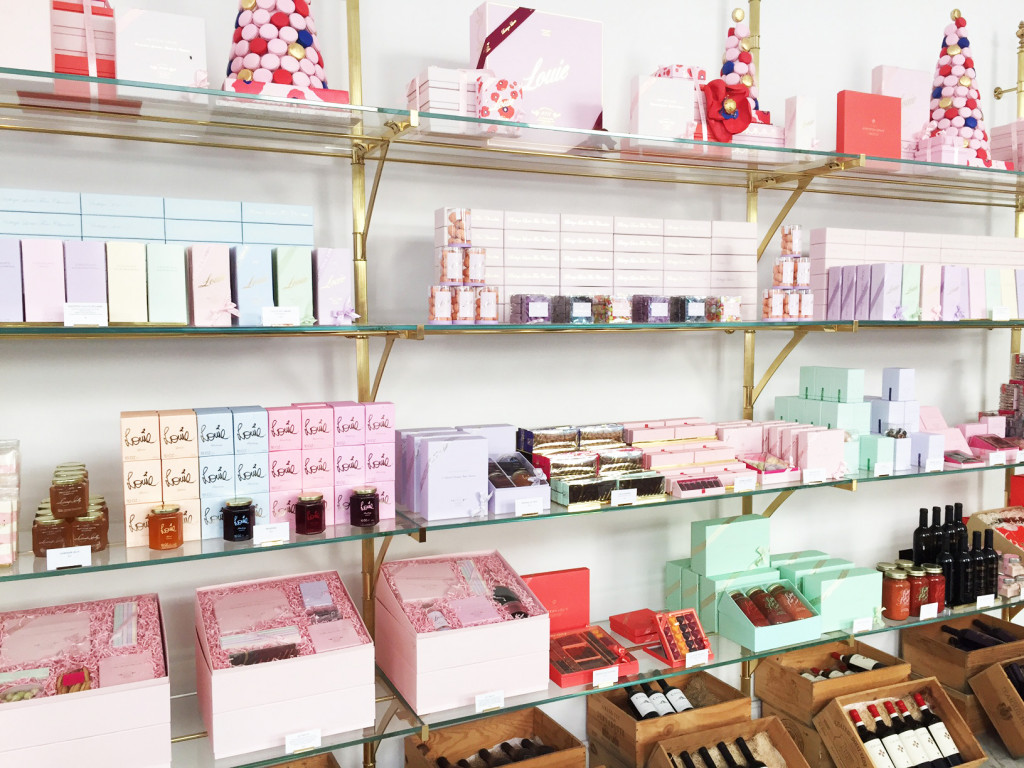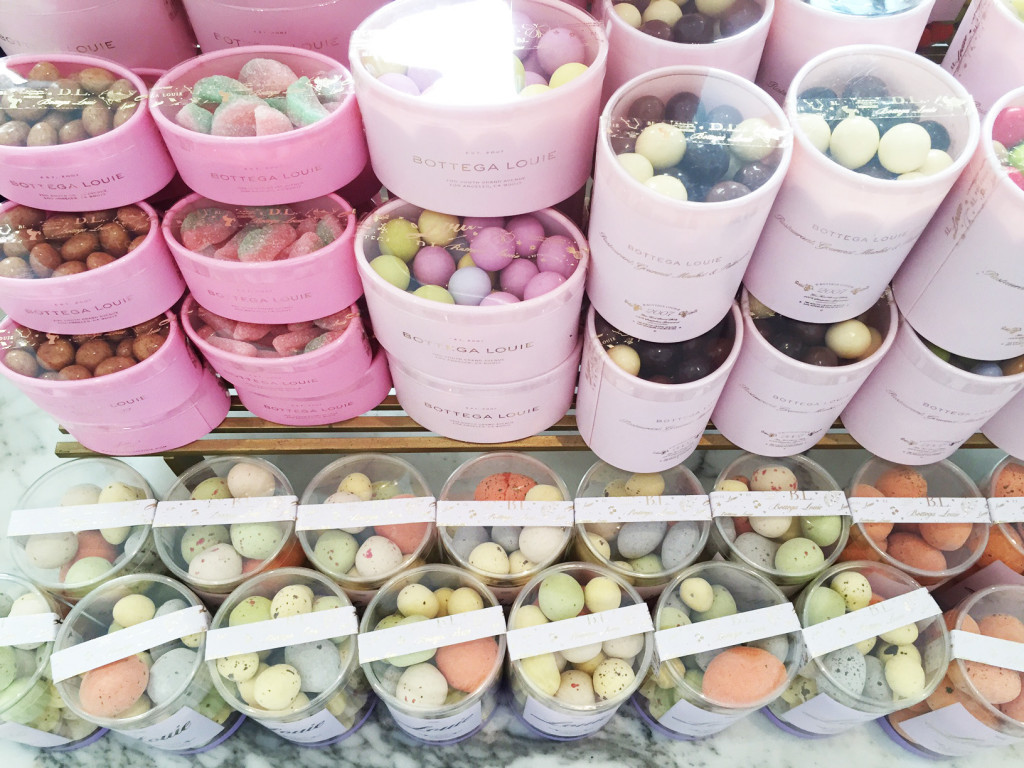 What inspires you?
My family first and foremost. I work for them, so they inspire me to work harder and to try as hard as I can to succeed. After this, I am inspired by my peers and team here. The Bottega Louie brand is inspired by French and Italian patisserie concepts, so many of our product ideas start there and get a classic Southern California / Bottega Louie twist. Additionally, I love the change in seasons so try to showcase them through color and flavor in pastries.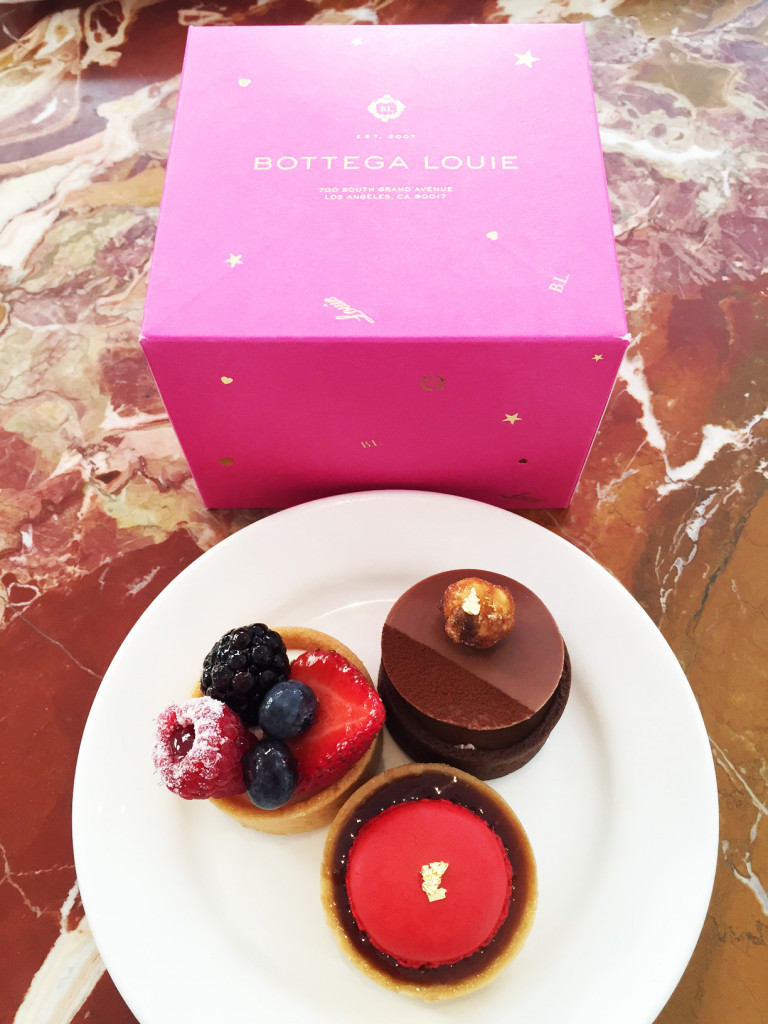 Bottega Louie: Your sweet tooth says THANK YOU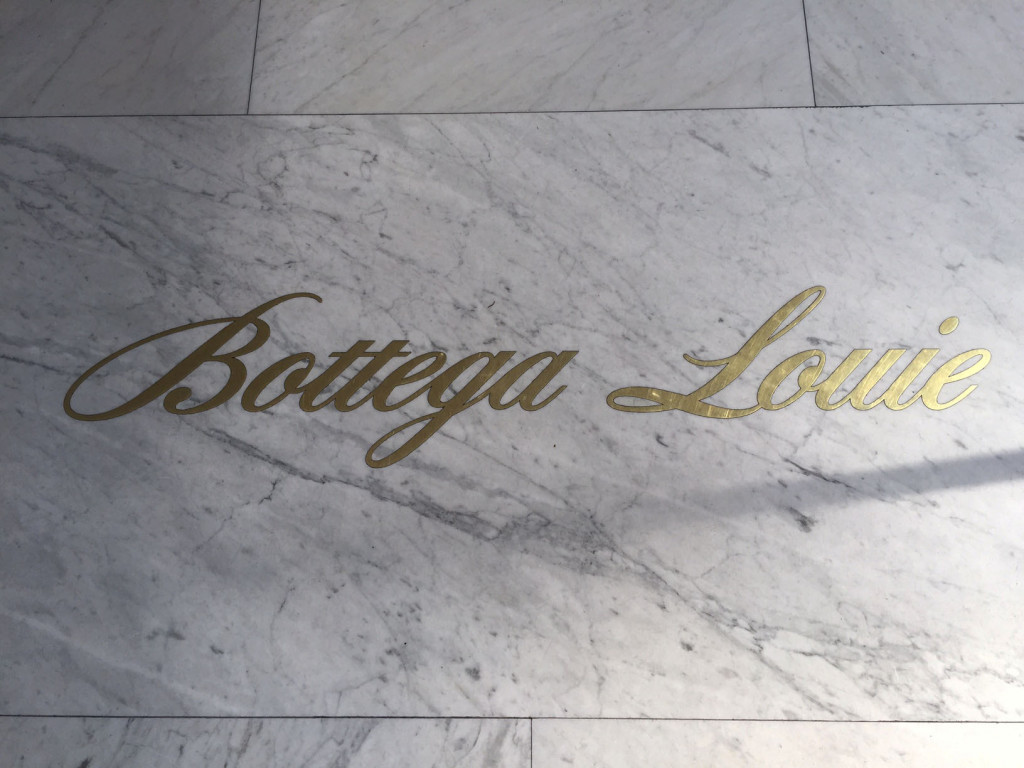 If you haven't stopped by Bottega Louie lately, or sadly haven't been, make a brunch or dinner date of it or stop by for an afternoon coffee….and if you can't decide on just one dessert, pick two (or three) and share. Your sweet tooth will thank you.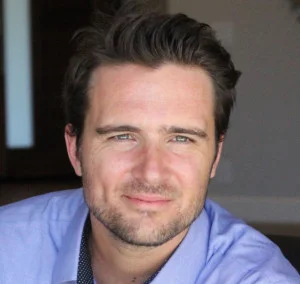 Bottega Louie: Your sweet tooth says THANK YOU
I'm a local real estate agent with The Shelhamer Real Estate Group, and It would be my pleasure to help you find the perfect property to call home in Downtown Los Angeles, or if you're thinking about selling a house, condo, or multi-family building in, Los Feliz, Silver Lake, Atwater Village, Glassell Park, Mount Washington, or Downtown Los Angeles, it would be a privilege to help you get top dollar for the sale of your property.
Lets chat sometime. 310-913-9477 or contact me.