The Downtown Center Business Improvement District is buzzing for good reason. I'm sure you'll agree with us, the DTLA residential renaissance is exploding while the 2016 expansion is firing on all cylinders. Housing demand is holding strong, with occupying rates and average rents rising and the supply pipeline expanding with several large-scale developments, including mixed-use project completion dates on the near horizon.
SLB caught up with Nicholas Griffin, Director of Economic Development, Downtown Center Business Improvement District. He shares with us about his work, his passion, his life lessons, and finding his lucky hundred dollar bill!
Why did you choose to work in DTLA versus anywhere else?
Because I love cities and DTLA is becoming a great city in its own right and is booming for all the right reasons: organic growth, progressive government policies, influx of sophisticated investment capital, and the overarching trend of re-urbanization that is revitalizing cities across the country and globe, and is particularly significant in an urban center that took the brunt of suburbanization as badly or worse than any, but is now roaring back with a velocity and scale that rivals the previous move out.
When did you discover your passion for the DTLA community?
When I started working for the Downtown Center BID I discovered a community of Downtowners – both residents and workers – that were truly passionate about DTLA's past, present and future and were bringing an energy and creativity to the work of revitalizing it that is truly inspiring. I've also found that there is a certain, I'd call it "hometown pride" across the city and region – even for folks who don't live or work here – about what DTLA is becoming. Angelenos are excited about their downtown being a world-class urban center.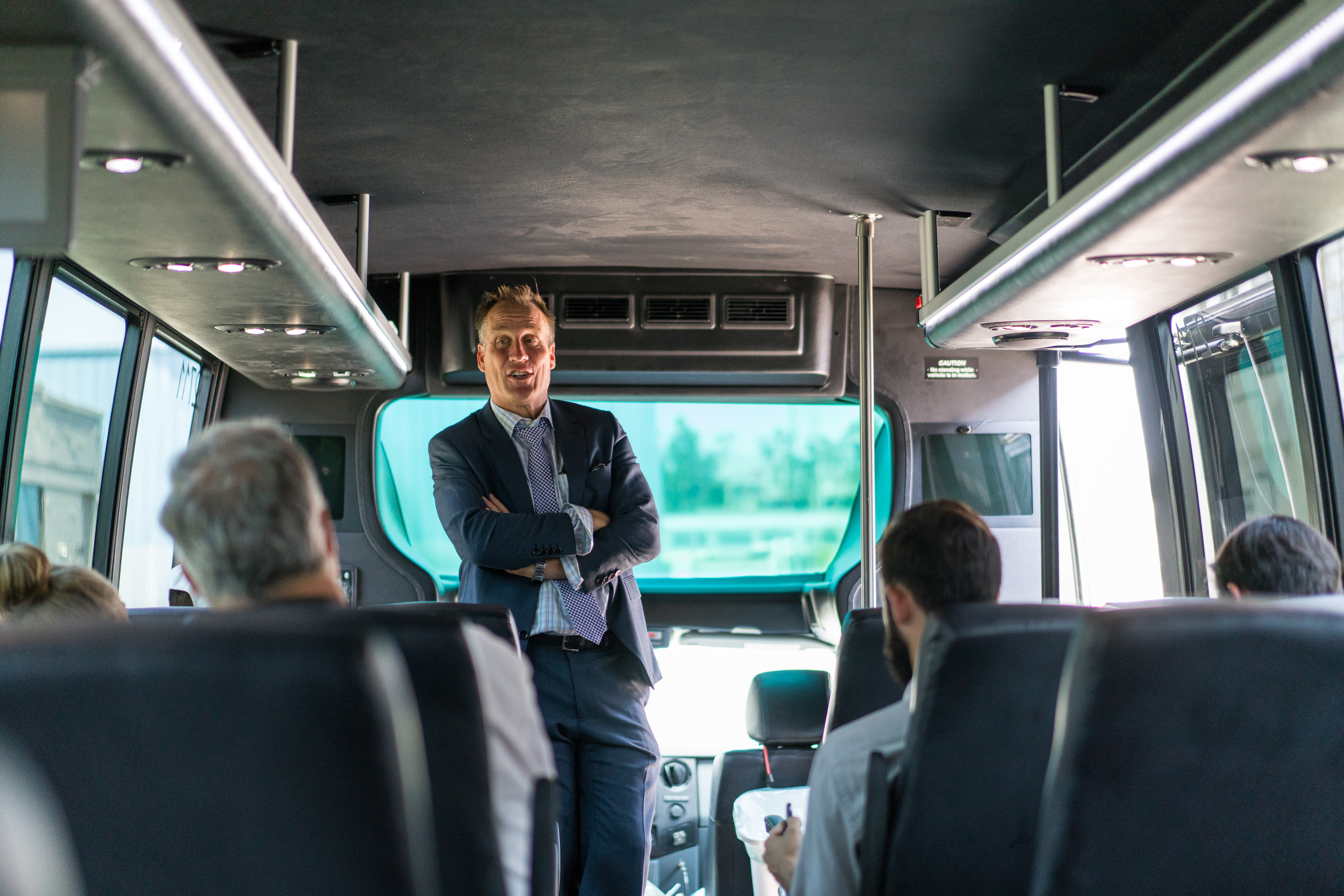 Nicholas Griffin, Director of Economic Development | Downtown Center Business Improvement District| DTLA Housing Bus Tour
What are your thoughts on how quickly DTLA is changing?
I think change is natural, good and inevitable and one of the things I love about cities in general and DTLA especially. Are there growing pains? Sure. Does everything evolve smoothly? No. Are there winners and losers? Challenges along with the opportunities? You bet. But cities are like ecosystems, and like the most dynamic ones, like a rain forest, they are so dense and diverse that they are constantly evolving, catalyzing new growth, cross-pollenating new species, while old ones adapt or disappear. I think you just have to embrace that. Which doesn't mean you don't engage and try to channel growth in certain ways, preserve certain elements, mitigate the impacts, etc., but that at the end of the day, it's the nature of the environment to grow and change, and the less healthy condition would be stasis and stagnation. I'm old enough to remember when cities were not growing, when they were withering, and I can assure you that is worse.
What are your favorite local spots for dining and relaxing?
Too many places to possibly list, but two of my very favorites are The LA Athletic Club, which I use for everything from their fantastic pool and gym facilities to their restaurant, bar, meeting rooms and event spaces. They recently completed a major renovation, that brought the place up to a very high level of design and function which is really appealing to the new generation of members they are attracting. The other is Grand Central Market, which has survived for a century in various forms and is now thriving with an amazing mix of the new higher-end artisanal purveyors and a nice compliment of heritage vendors that continue to do great business with the older customer base. The combination gives the market a really dynamic energy, and, as Adele Yellin, who owns and manages the property was quoted in our recent DTLA Retail Report: "It is a microcosm of how in any great city's downtown area diverse individuals and families, both in front of and behind the counters, come together."
Who do you most admire in local government and why?
Again, there are too many folks to list here, but I'll mention a few. My boss, Carol Schatz, CEO and President of CCA and the DCBID, has been a driving force behind the Downtown Renaissance for over two decades. Blair Beston who runs the Historic Core BID is doing great work on the front lines of both the most challenging aspects – such as homelessness and the most creative, in terms of farmers markets, new restaurants and bars, Shop Walk and much more. Jessica Lall of South Park BID is also doing very innovative city-building and placemaking work in an area that is exploding with growth. And Rena Ledy and Kent Smith are bringing energy and creativity to the Fashion District.
Now I just realized that you asked about local government people, and actually those are all BID folks, which are not actually government entities. So I'm going to throw in Jose Huizar, his recently departed lieutenant Sara Hernandez, and Mayor Garcetti, and his team, all of whom are doing great work for the city and DTLA in particular.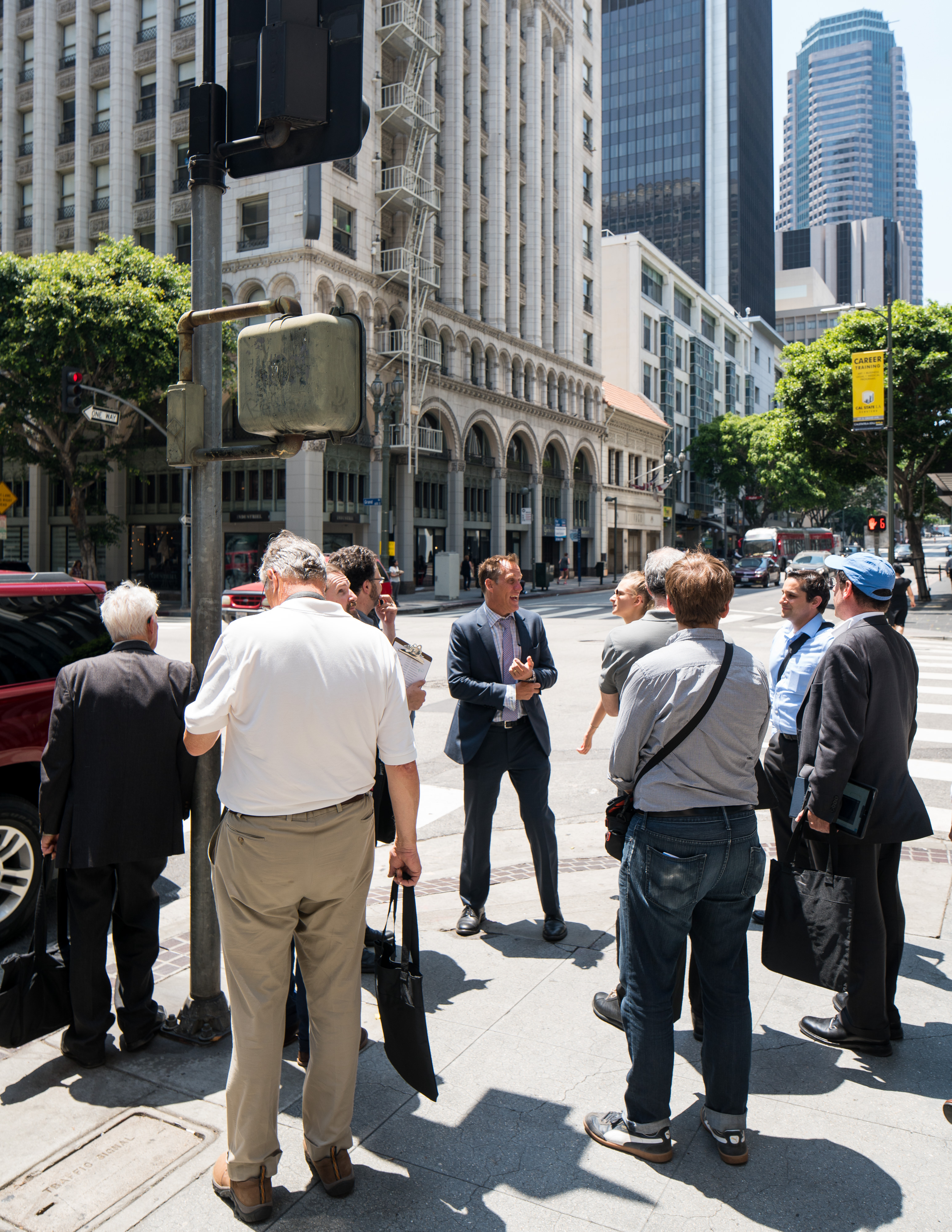 Nicholas Griffin chatting with DTLA visitors | Downtown Center Business Improvement District
Which book changed your life?
I don't know about "changed my life" but in this context, one of the most influential for me is "A Country of Cities: A Manifesto for Urban America" by Vishaan Chakrabarti.
 What is the most important lesson life has taught you?
Life, particularly the more challenging chapters, has taught me to have faith, and to care, a lot. To find flow and also let go.
 What was your first job and how long did you keep it?
I was a delivery boy and eventually a store manager for the local pet store – The Beastly Bite – in Brooklyn Heights all through junior high and high school. And learned everything I ever needed to know about showing up, working hard, and playing well with others.
How and why did you transition your career into Director of Economic Development, Downtown Center Business Improvement District?
It was a somewhat serendipitous combination of events that led me to this position, but in hindsight, it was meant to be and has become about as close to my dream job as I can imagine – combining my love of cities and all the people and processes behind them – policy, design, planning, etc – with my broad ranging business background and innate abilities as a salesman, marketer, broker.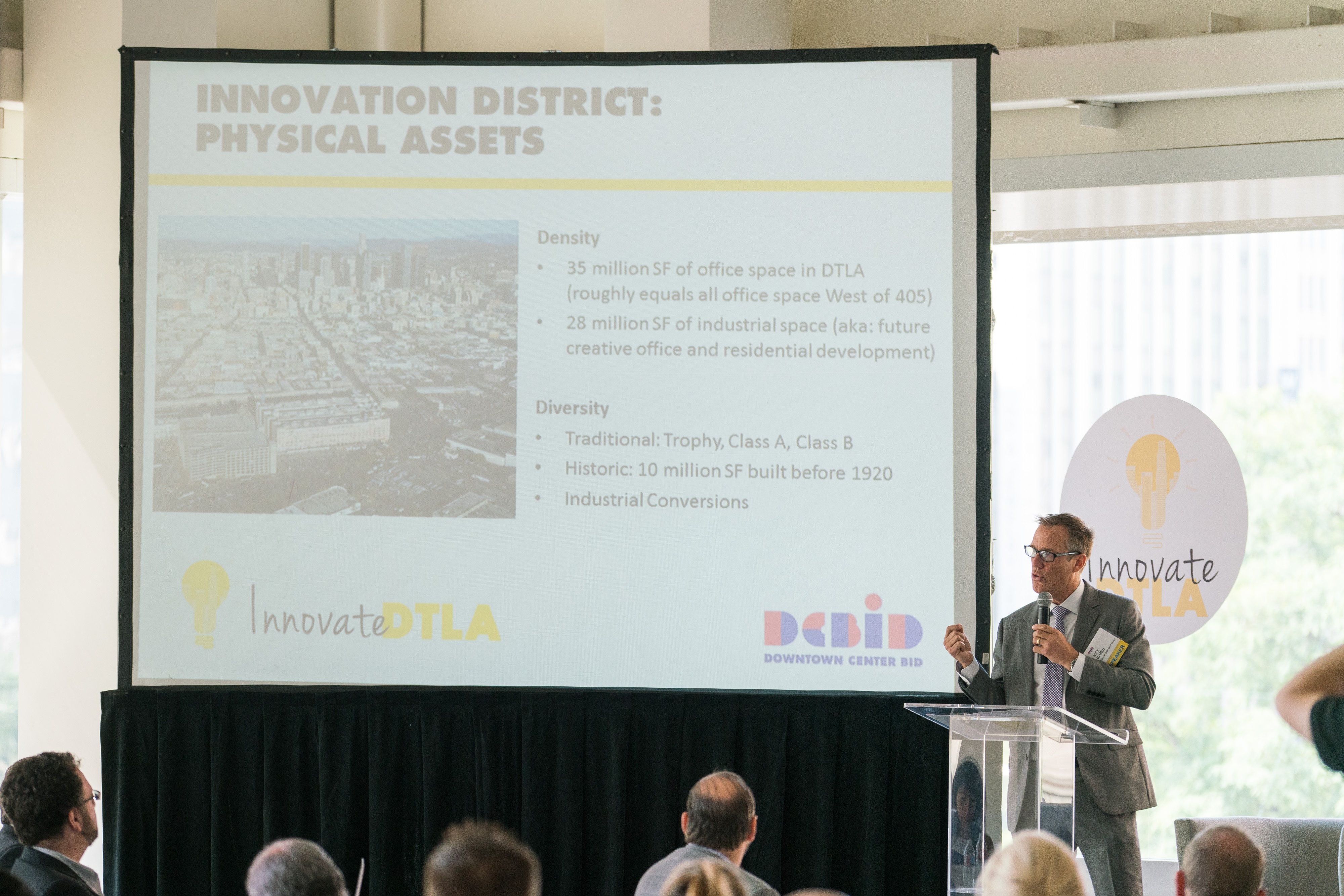 Innovate DTLA Leadership Symposium | Downtown Center Business Improvement District
What's the mission behind Downtown Center Business Improvement District – in your own words?
To make DTLA all that it can be by focusing on the intersection of all the key sectors that make it tick – office and industry, residential and community, hospitality and tourism, retail and restaurants, arts and culture, streetscapes and public spaces – and which, when firing on all cylinders, are mutually reinforcing of one another and make the city a truly diverse and dynamic place for people to live, work and play.
If we had the chance to peek at your schedule, what would an average day look like?
Most days you'll find me meeting with a wide range of people, from investors and developers to small business owners, city officials and people from the worlds of arts and culture, technology and media. One of the most valuable roles a BID can play is as a conduit and connector between the various sectors that comprise an urban center like DTLA. The success of a city depends in large measure on the compatibility and synergies of these sectors, but as is often the case, they are to some extent silos that don't interact in all the ways they could and should, so we can help make that happen by bringing people together, sharing information and insights, crafting a holistic vision and finding ways to collaborate on making that vision a reality.
Or you might find me on a bus, since we do a number of regularly scheduled tours showcasing various aspects of DTLA, including monthly installations of our Get Urban Creative/Tech Office Tour on the fourth Thursday, and our Downtown Housing Tour on the first Saturday. We also do custom tours for investors, developers and new business, focused on areas like residential, retail, and hospitality.
I also try to make time to simply walk around the district and the greater downtown area because that's the best way to connect with, understand and enjoy a city, and because with all the change happening down here, it's the best way to stay abreast of our progress – what new businesses are opening up, how's construction going on various projects, what's the street-life like in our diverse mix of neighborhoods.
How do you see Downtown Center Business Improvement District evolving?
The DCBID is evolving with the city around it. As DTLA has gotten more complex and sophisticated, we've had to up our game in terms of what we do to support that growth and improvement. And if I can return to the theme, we are focusing a lot of our effort where we think we can have the most impact, which is at the intersection of the key sectors – the ways that the Office & Industry is impacted by the Arts & Culture, the ways that Retail and Residential are symbiotic, how Transit, Streetscapes & Public Spaces affects Hospitality & Tourism.
The basic model we apply to each of these sectors is "Content, Convening, Consulting" – whereby we craft a vision, bring people together around those ideas, and help implement by working directly with investors, developers, businesses and other stakeholders.
What has been the most valuable thing you've learned about business since working with Downtown Center Business Improvement District?
What I already knew – that business is critical to the success of a city – has been reinforced 10-fold. Whether it's a major property owner or corporation, a restauranteur or start-up company – they are the drivers of our growth and improvement – they create the jobs and provide the products, services, infrastructure and amenities that make it all work and make it all worthwhile.
Tell me about your lucky $100 bill.
Great story. First day on the job I'm doing my walking the district thing and I see a cute new sandwich place called Madame Monsieur and think to myself, "how lucky am I that my new job is to know about and help support businesses like this that are making downtown so great? I'm going to go in there and buy a sandwich." And just then I caught sight of a crisp $100 bill sitting on the sidewalk. I actually made it obvious that I was picking it up and looked around to see if perhaps someone had obviously dropped it, as I certainly didn't want the bad karma of intentionally profiting from someone else's loss. But no one seemed to be looking for it and I just took it as a good omen and affirmation of the thought I had just been having about helping make the city great, and I tucked it away in a compartment of my wallet where it still lives 2 years later, a nice little reminder of the magic that can happen in cities.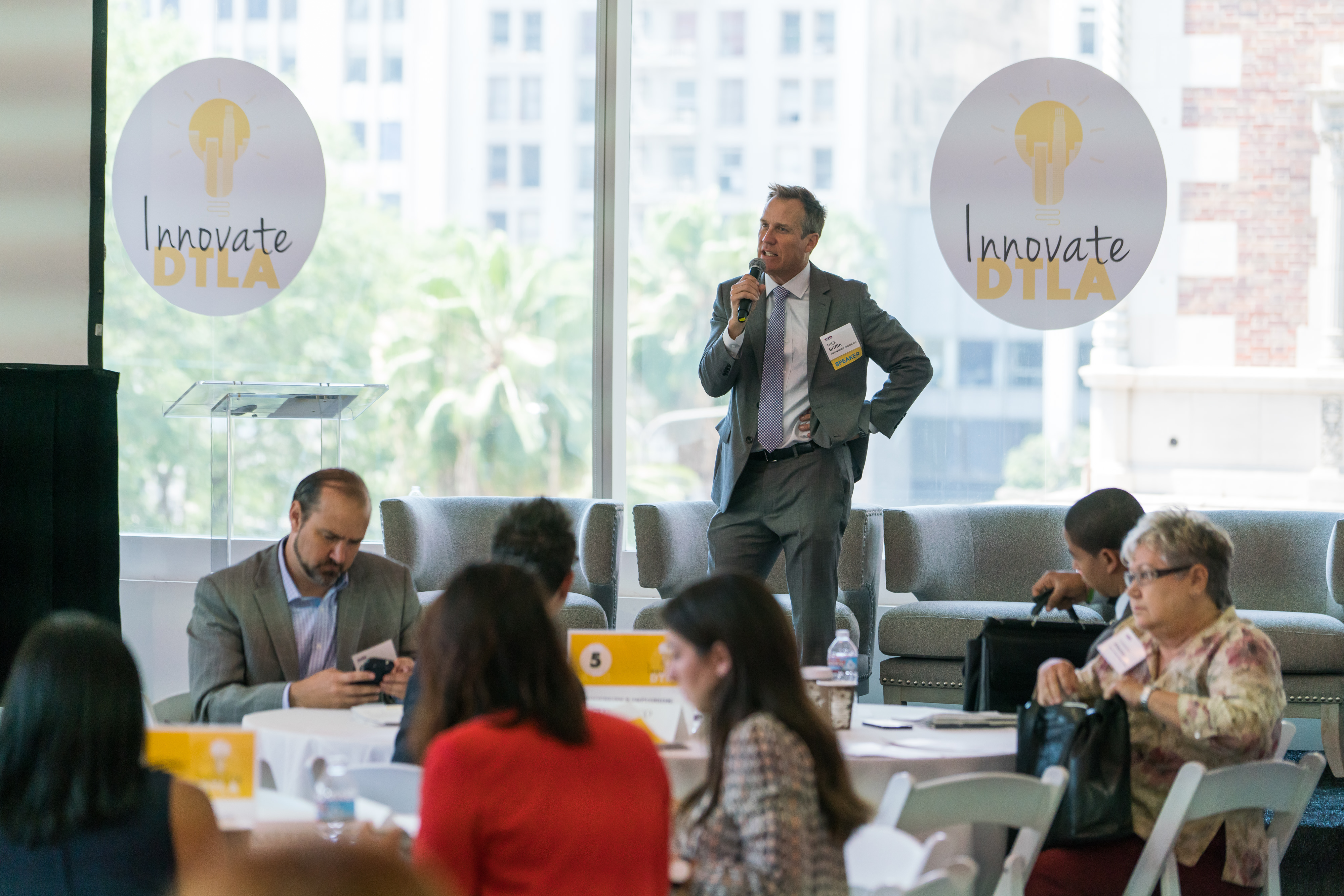 Innovate DTLA Leadership Symposium | Downtown Center Business Improvement District
How have you overcome obstacles and stayed driven?
The main challenge I face is wanting to do much more than we have the capacity for. DTLA is growing so dynamically that I think we should be doing ten times what we have the resources to do, and I'm constantly pushing myself and my team to maximize the impact we can have. Fortunately, we have an amazing team that works wonders, doing really smart, very high quality work that I am deeply proud of every day.
So we stay focused and do as much as we can and figure out how to augment our capacity through strategic partnerships and collaborations, leveraging the amazing wealth of talented people and great organizations that are also focused on making DTLA all it can be.
Many people struggle to turn their passions into careers. What advice would you give them?
Keep the faith, and let those passions guide you, even when – especially when – you aren't sure where they are taking you. And enjoy the journey along the way, because truly, that is your work, and your life, and you should be passionate about it.
Your Downtown Los Angeles Realtor Expert
I'm a local DTLA real estate agent and It would be my pleasure to help you find the perfect property to call home in Downtown Los Angeles, or if you're thinking about selling a house, condo, or multi-family building in, Los Feliz, Silver Lake, Atwater Village, Glassell Park, Mount Washington, or Downtown Los Angeles, it would be a privilege to help you get top dollar for the sale of your property.
Lets chat sometime. 310-913-9477 or contact me.